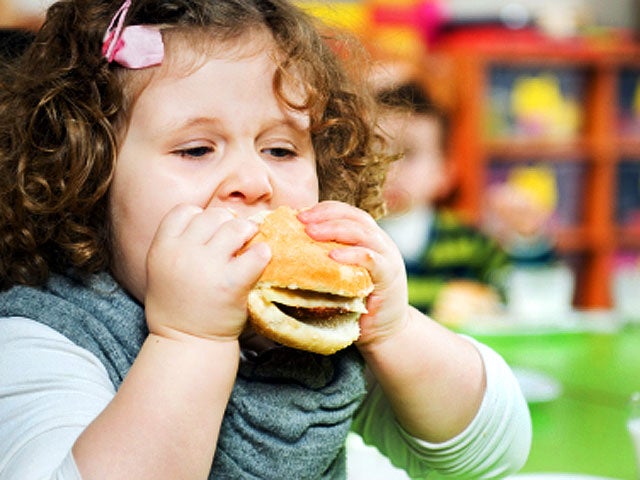 Five-year-old's removal from family spotlights obesity intervention
(CBS) As the childhood obesity epidemic continues to grow, health officials are turning to extreme measures. Now, a 5-year-old child from the U.K. has been taken from his parents due to obesity concerns, the Daily Mail reported.
PICTURES: Obesity-fighting school says no to cupcakes, yes to exercise
The child, whose name was not released, is among the youngest ever to be taken into care because of obesity. The child, who hailed from Tameside, Greater Manchester, reportedly weighed 60-pounds and had mass index of 22.6, which is considered clinically obese.
The child was actually the second young person taken from the Tameside region this week. A 14-year-old who weighed more than 182 pounds was taken by social workers, also citing parent neglect.
"The point at which obesity turns into a child-protection issue is a complex and difficult area, and in these two cases there were other determining factors that led to the children being placed in local authority care," a spokesperson for the Tameside Council, told The Daily Mail. "'Parents should be supported to address their child's obesity, and social workers should only act if parents fail to engage with the proposed plan to improve their child's safety and well-being."
Since 2007, more than 15 British children have been taken from their homes and placed in foster care because of obesity concerns, The Mail reported.
And the trend is already on its way to the States. Just last week, an obese 8-year-old boy who weighed 200-pounds was taken from his Ohio home by Cleveland social workers, CBS News reported.
"They are trying to make it seem like I am unfit, like I don't love my child," the boy's mother, who did not wish to be identified, said at the time. "Of course I love him. Of course I want him to lose weight. They are trying to make it seem like I am not embracing that. It is very hard, but I am trying."
There is custody hearing scheduled for next month in the case of the Ohio boy, who had gained 60 pounds in one month.
Nearly 17 percent of all U.S. children and adolescents are obese, according to the CDC. Childhood obesity is defined as having a BMI at or above the 95th percentile for children of the same age and sex. About 2 million kids have a BMI at or beyond the 99th percentile, Reuters reported.
Is foster care the last resort to fighting childhood obesity?
"You don't take someone out of the house and away from their parents unless they have an immediate risk of death," Dr. Arthur Caplan, professor of medical ethics and health policy at the University of Pennsylvania, told CBS News.
In Caplan's opinion, if a child is starving or has a life-threatening disease that is going untreated because of parental negligence, then these reasons would meet the imminent death standard for removing a child from his home. But as for obesity, where risk factors including diabetes and sleep apnea may take years to develop?
Caplan said "It's almost impossible to imagine," a life-threatening situation from obesity. More importantly, he said, "There's no evidence that foster care is cure for obesity"
Caplan said the U.S. foster care system is overwhelmed as is, and foster parents can barely take on kids who are hurt by their parents, let alone have a weight problem. "The notion that we got this foster care network in the fight against obesity is delusional," he said.
If society really wants to help a morbidly obese child, Caplan said, intervention should take place in the home, not away from it. If you remove an obese child from his/her home where these unhealthy habits are taking place, he said, the child is likely to return to that same home following foster care.

Said Caplan, "I understand the desire to do something, but moving the kid out is going in the wrong direction."
Thanks for reading CBS NEWS.
Create your free account or log in
for more features.