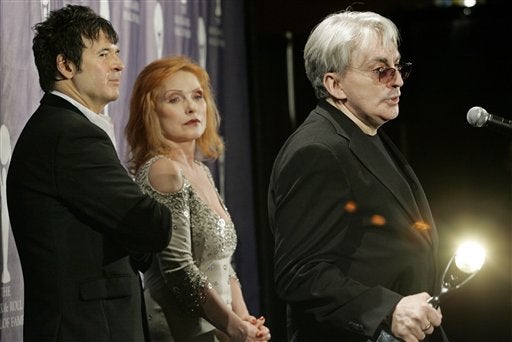 Fisk Prefers Red For Induction

Carlton Fisk and the Red Sox traded surprises Friday when he told Boston he will wear its cap into the Hall of Fame and the team told him it will retire his No. 27.
"I would like to say that this has always been my favorite hat, and I will be wearing this hat probably for the rest of my career," Fisk said, pulling the blue wool cap with the red "B" over his head. "I think I've known for a long time. It's not like a light bulb came on or I had a vision. I think this has always been a part of me."
Although Fisk had been coy about which cap he would choose, most thought he would go with the team where he had his greatest moment: his 12th-inning homer that won Game 6 of the 1975 World Series against Cincinnati.
The replay of Fisk waving frantically for the ball to stay fair, then leaping when it struck the foul pole, is one of the sport's enduring images.
"It seems like this is where I'm supposed to be," said Fisk, a native Englander who spent 13 years with the White Sox and only nine full seasons with the Red Sox. "I'd like to think I spent more years in Boston than just the years I was in uniform."
Although the news conference had been scheduled since Tuesday, when Fisk was elected, he didn't tell general manager Dan Duquette until just before the appearance.
"I said, `Do you have a 7 3/8 hat? I think it would look pretty good on me,' " Fisk recalled.
Duquette then told a surprised Fisk that the team had decided to retire his number.
"I didn't think I met the criteria," said Fisk, who now works for the team as a special assistant to Duquette. "It gives me goosebumps to think about it. I didn't think it was at all possible."
In the past, the Red Sox have said they will only retire a number for a player who is in the Hall, spent more than 10 years with the team and finished his career with Boston. When the last criterion raised eyebrows at the news conference, Duquette said: "On the basis of him working for us, he's with the club."
Fisk's number will be retired during Carlton Fisk night, an August game to be determined. It will be mounted onto the right-field roof facade along with Ted Williams' No. 9, Carl Yastrzemski's No. 8, Bobby Doerr's No. 4, Joe Cronin's No. 1 and the No. 42 all teams have retired in honor of Jackie Robinson.
"It is a very, very elite club," Duquette said. "And that's what makes it special."
As a child growing up in New Hampshire, Fisk said he and his friends played home run derby in the fields, taking turns who would get to be Williams and Doerr.
"Never in my wildest dreams did I think my number would go alongside theirs," Fisk said.
Fisk didn't expect any hard feelings in Chicago. But it was clear that he still was angry at the organization that released him in 1993 at age 44 and then wouldn't let him into the clubhouse when he came back t visit former teammates before a playoff game.
The White Sox already have retired the No. 72 Fisk wore in Chicago.
Fisk caught the most games in major league history (2,226) and hit a record 351 of his 376 career home runs as catcher. He and former Cincinnati Reds star Tony Perez will be inducted into the Hall on July 23 during ceremonies at Cooperstown, N.Y.
©2000 The Associated Press. All Rights Reserved. This material may not be published, broadcast, rewritten, or redistributed
Thanks for reading CBS NEWS.
Create your free account or log in
for more features.