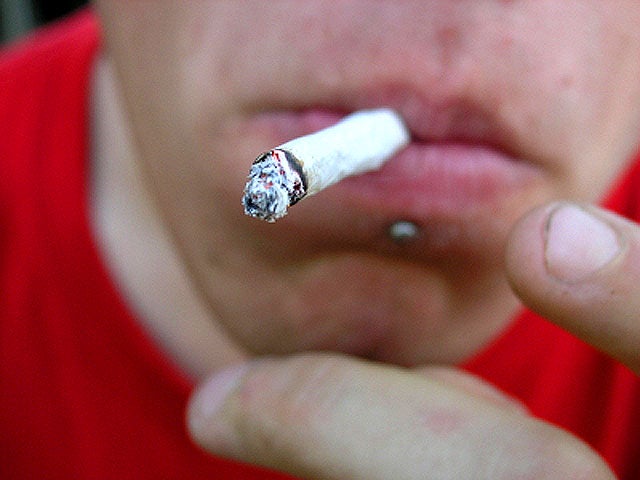 First-time teen tobacco and marijuana use booms in June and July
(CBS News) Teenagers aged 13 to 17 are more likely to start smoking cigarettes or weed on an average day in June and July than any other month in the year, according to study results released by the Substance Abuse and Mental Health Services Administration (SAMHSA).
An average of 5,000 youth start smoking cigarettes each day for the first time during the two summer months, compared to about 3,000 to 4,000 a day during the rest of the year. About 4,500 teens used marijuana for the first time each day in June and July. Average levels range from 3,000 to 4,000 kids a day the rest of the year.
Report: Frequent marijuana smoking up 80 percent among teens
Study: Teens brains' may predispose them to drug abuse, impulsive behavior
Will home drug tests help kids say no to pot on 4/20?
"More free time and less adult supervision can make the summertime an exciting time for many young people, but it can also increase the likelihood of exposure to the dangers of substance abuse," SAMHSA Administrator Pamela Hyde said in the press release. "That is why it is critically important to take every opportunity we can throughout the year to talk to our young people about the real risks of substance abuse and effective measures for avoiding it, so they will be informed and capable of making the right decisions on their own."
First alcohol use also increased to more than 11,000 adolescents a day in June and July - with similar levels in December. The number is even sometimes twice as much as the 5,000 to 8,000 teens who start drinking on any average day in the year.
Deni Carise, chief clinical officer at Phoenix House, an addiction research and policy expert, said to HealthPop that the statistics should serve as a warning for parents, especially since so many teens are out of school during the summer months, Carise said that while it can't be said that smoking leads to drug use, her work has shown that people who abuse drugs have also tried tobacco at one point. There is research to support and deny that marijuana is a gateway drug, but the fact that drinking and smoking on their own can be a destructive behavior is what is most important.
"Alcohol in and of itself is a problem, and there's no doubt that marijuana is a drug can that change how a brain functions," she explained. "We know that the brain isn't developed until 25 years of age, so when someone takes mind altering drugs while the frontal lobe of the brain is developing you don't know what it's doing to that development."
There's no denying that once a teen starts experimenting with drugs, they may be open to trying other things. Carise has seen an increase in teens who, within six months of the first time they start abusing abusing prescription opiates (like oxycotin), start using heroin
Carise suggested that four steps need to be taken in order to stop teens from developing a life of drug abuse. First, parents need to be cognizant that their children have more free time and increase activities during the summer months, as well as have more discussions about the harmful effects of drugs. They should also take care to hide prescription medications. Community programs thatkeep kids busy and offer alternative activities can also help.
Carise also believes that if anti-drug media campaigns and awareness were increased in June and July, they would have a better effect. She said that the campaigns should be targeted toward the teen who had never tried drugs before.
Finally, Carise said that law enforcement should increase their efforts to crack down on underage tobacco and alcohol sales. Many young people pick up jobs at local grocery stores or corner stores, and she pointed out that they may be more likely to sell these products to their peers.
"A certain percentage of people who try drugs are going to get addicted," she said. "The more people who try drugs, the more people get addicted."
Thanks for reading CBS NEWS.
Create your free account or log in
for more features.