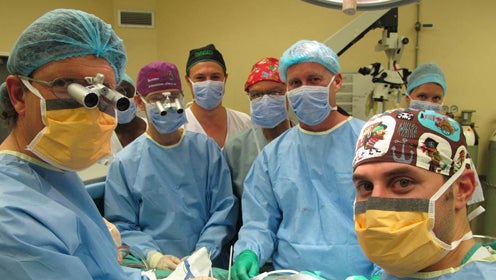 Doctors perform first successful penis transplant
Surgeons in South Africa say they've performed the world's first successful penis transplant.
The nine-hour operation, carried out by a team of doctors from Stellenbosch University and Tygerberg Hospital in Cape Town, took place on Dec. 11, 2014, but was not publicly announced until this month while doctors waited to see how the patient would recover.
Now fully convalesced, the hospital says the patient has regained all urinary, reproductive and sexual functions with his new penis. This came as a surprise to doctors, who expected him to take at least two years to recover.
This is only the second time surgeons have attempted such an operation, and the first time it's been successful.
The hospital did not identify the patient but did say the 21-year-old had to have his own penis amputated after he developed severe complications from his circumcision.
The hospital looked to medical teams that have performed successful face transplants for how to carry out this experimental surgery.
"We used the same type of microscopic surgery to connect small blood vessels and nerves, and the psychological evaluation of patients was also similar," said André van der Merwe, a professor and head of Stellenbosch University's division of urology, said in a press statement.
The procedure was part of a pilot study that began in 2010, and is a major breakthrough for this region of the world, where many men suffer through traditional circumcision practices that can cause disfigurement and loss of the organ or even death from infections. One report last year estimated that since 2006, 500 young men had died from such rituals in Eastern Cape province alone.
"There is a greater need in South Africa for this type of procedure than elsewhere in the world, as many young men lose their penises every year due to complications from traditional circumcision," Van der Merwe said.
The team hopes to develop a penile transplant procedure that surgeons will be able to perform at typical hospitals across the country.
There are no formal records on the number of penile amputations that occur each year as a result of circumcisions gone wrong, but some experts estimate that doctors in South Africa perform about 250 amputations annually. The medical team says penile transplantation surgery could also become an option for patients with penile cancer and perhaps even as a last-resort treatment for men with severe erectile dysfunction.
But their primary concern is for young men like their patient who were traumatized by a botched circumcision. "This is a very serious situation. For a young man of 18 or 19 years the loss of his penis can be deeply traumatic. He doesn't necessarily have the psychological capability to process this. There are even reports of suicide among these young men," said van der Merwe.
Thanks for reading CBS NEWS.
Create your free account or log in
for more features.