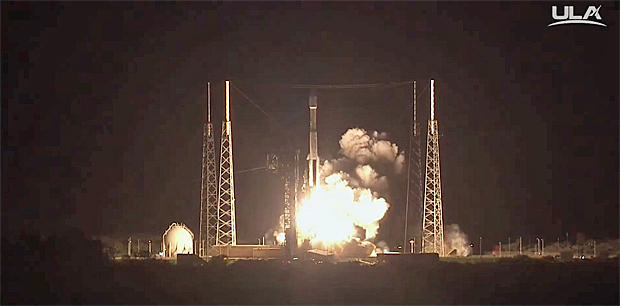 Fifth time's the charm for Atlas rocket and NRO
Running 10 days late after four frustrating delays, a United Launch Alliance Atlas 5 rocket carrying a classified National Reconnaissance Office spy satellite finally blasted off from Florida early Sunday, lighting up the pre-dawn sky with a brilliant streak of fire as it thundered through a partly cloudy sky.
Because the NROL-52 payload was classified, no details were released, and ULA ended video and commentary five minutes after liftoff -- well before the rocket finished climbing out of the atmosphere -- "at the request of our customer."
The launch was dazzling nonetheless, beginning with start-up of the rocket's Russian-built RD-180 first-stage engine at 3:28 a.m. ET, followed an instant later by ignition of two solid-fuel strap-on boosters. It was ULA's seventh flight this year and its third for the secretive National Reconnaissance Office.
Launch originally was planned for Oct. 5, but stormy weather blocked two attempts in a row, and then trouble with a telemetry transmitter in the booster forced a third delay to Saturday. High winds then forced a fourth delay to Sunday.
But this time around, the countdown ticked smoothly to zero and the 197-foot-tall rocket quickly climbed away from pad 41 at the Cape Canaveral Air Force Station, putting on a spectacular show thanks to the fiery plume spewing from the twin strap-on rockets and the RD-180.
The early stages of the flight proceeded normally as the Atlas 5 knifed through the thick lower atmosphere and accelerated toward space. ULA's mission commentary ended just after second stage engine ignition, but all appeared to be going smoothly at that point.
While the identity of the NROL-52 satellite was classified, a leading independent analyst said the spacecraft likely is the latest in a series of Space Data System -- SDS -- spacecraft designed to relay imagery from current and future high-resolution optical spy satellites.
Amateur satellite trackers believe another SDS satellite was launched by a virtually identical Atlas 5 in July 2016.
Thanks for reading CBS NEWS.
Create your free account or log in
for more features.