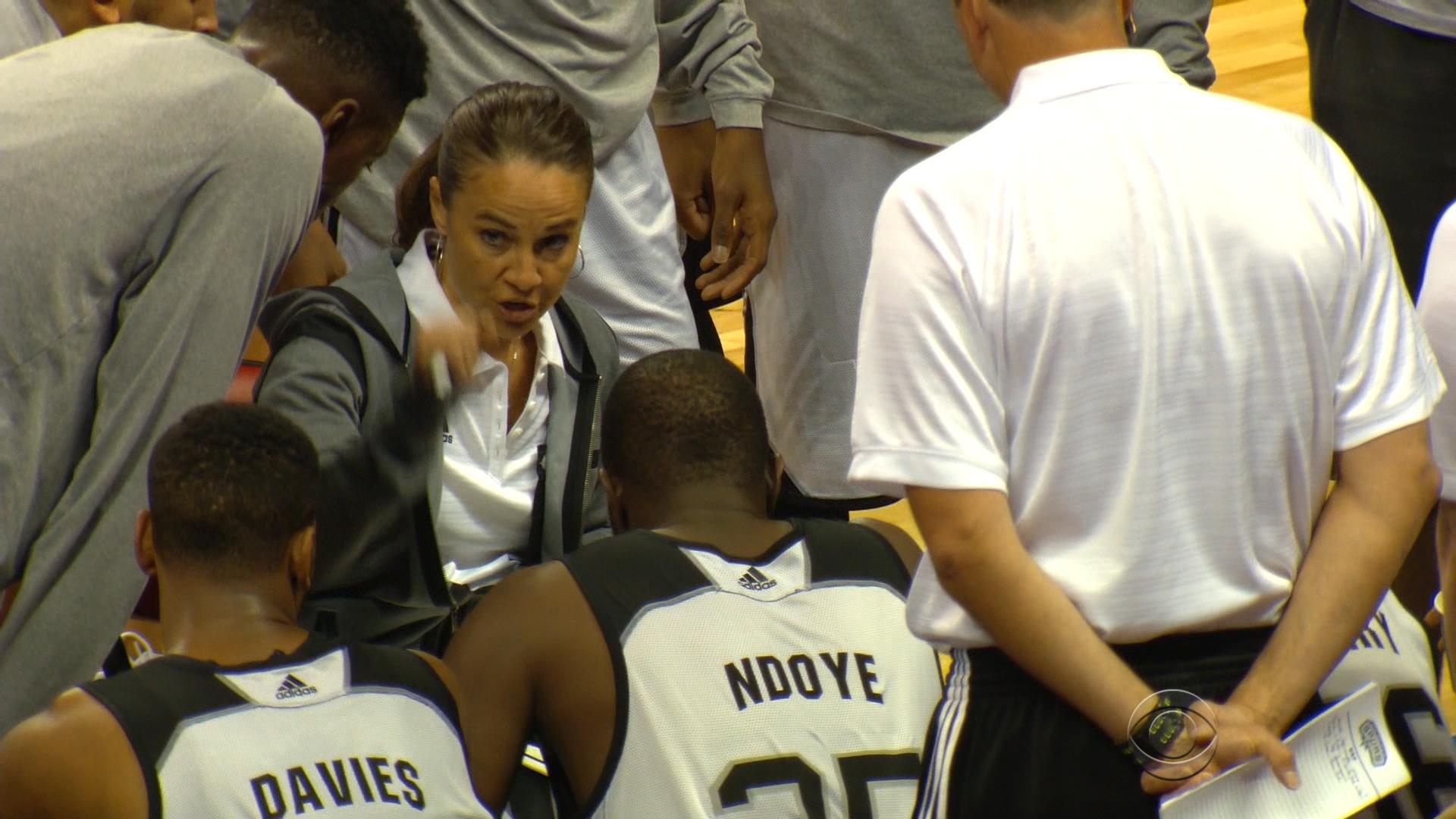 Female coach breaks glass ceiling in male dominated NBA
History was made this week in the National Basketball Association. Becky Hammon, who last year became the first woman ever to become an assistant coach, was named by the San Antonio Spurs as head coach for their summer league team.
She's coached five games so far, and won four of them. But even more than victories, what she's earning is respect.
As Becky Hammon paces the sideline, she is fully in charge. But also feeling the weight of history.
"This has just kind of thrown me into the fire a little big, and you'll either melt or it'll make you harder and stronger," she said. "Like gold."
Hammon has been constantly proving herself. Out of college, every WNBA team passed on her.
"You gotta be persistent and resilient," she said. "Whether it be people not drafting me, trading me, people telling me I'm not good enough to be on their team."
She eventually convinced teams to give her a tryout and went on to become a six-time All-Star in the WNBA. Hammon, who is 5'6, always held her ground.
She was asked if all of the resistance made her who she is.
"I wouldn't change any of it," she said. "I wouldn't change blowing out my knees. Me tearing my ACL landed me in the film room of the Spurs."
Spurs coach Gregg Popovich knew all about Hammon, who played nine years in San Antonio. They often discussed basketball strategy. Last year Popovich named her assistant coach -- the first woman ever to hold that title -- and now she's the team's summer league head coach.
"It takes some courageous men to hand women opportunities," she said. "You know everybody's talking about me being the first, well Gregg Popovich handed me this hammer to kind of smash this glass ceiling."
The NBA Summer League, held every year in Las Vegas, is where rookies and veterans try to prove their value. Same with coaches.
To be a good coach "you have to get people to buy in that you do know what you're talking about," Hammon said.
Hammon admits to being nervous.
"Honestly coming in," she said. "Probably one of my biggest questions was, you know, are these guys going to respect me?"
Rookie point guard Shannon Scott quickly put that concern to rest.
"She has a great mind," Scott said. "She knows what she wants out of her players and she's very straightforward about it."
Hammon says her biggest satisfaction will be when people drop the label "first female coach" and just call her "coach."
It's always a fine line for me, because I don't want to downplay the significance of it," she said. "Because it is a big deal. But I also want it to be known that I was hired because I was qualified."
Her actions on the court speak for themselves.
Thanks for reading CBS NEWS.
Create your free account or log in
for more features.