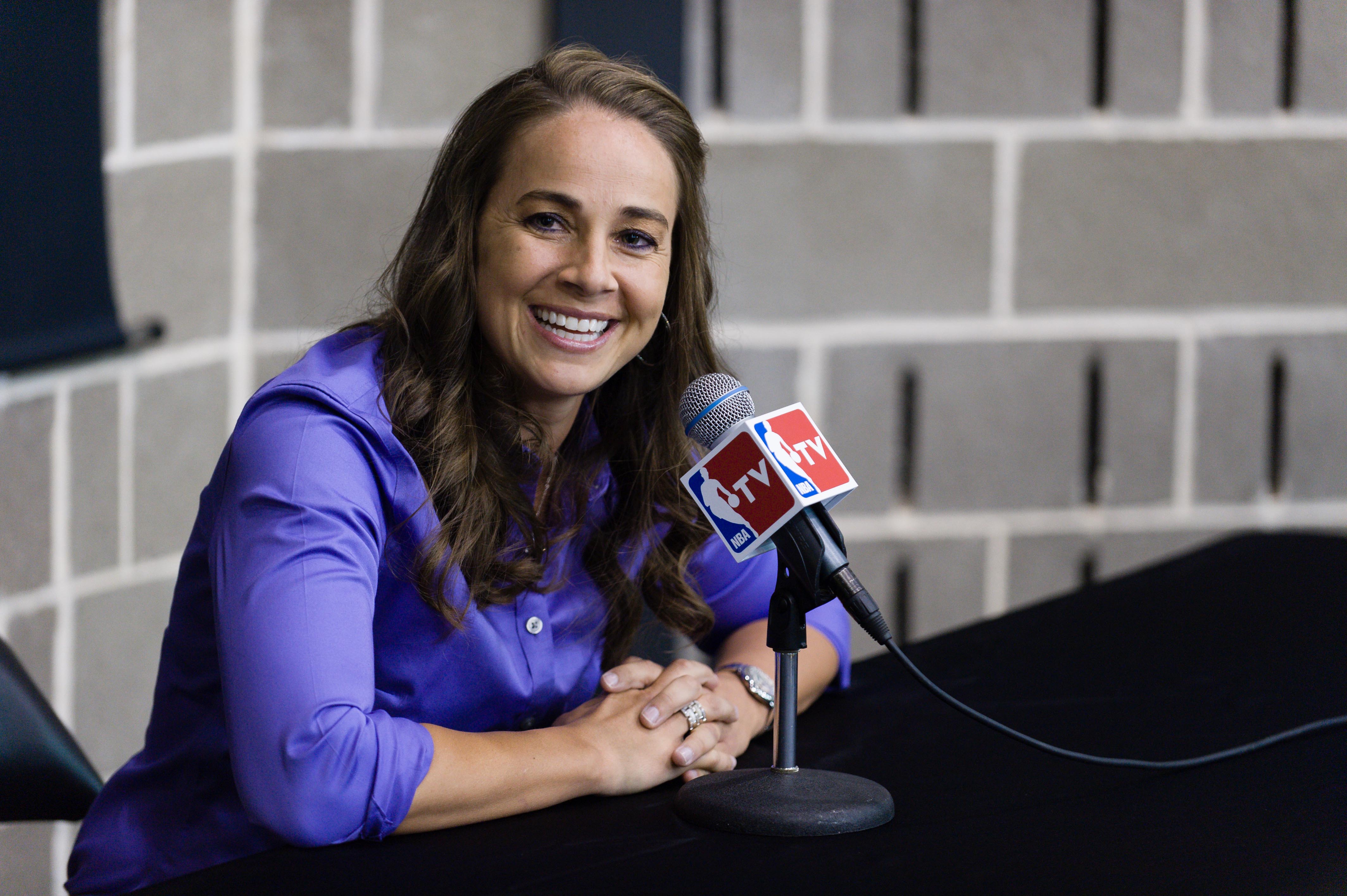 Becky Hammon on her new gig as NBA coach: "I'm a little overwhelmed"
In the sport known for shattering backboards, the glass ceiling is being broken.
The San Antonio Spurs announced Tuesday that former WNBA player Becky Hammon will serve as their new assistant coach. Hammon is not only the first woman to work as a fulltime coach in the NBA, but the first in any of the four major professional sports. (Lisa Boyer worked as a part-time assistant for the Cleveland Cavaliers in 2001-2002 but Boyer wasn't paid and didn't travel with the team.)
"I'm a little overwhelmed right now, to be perfectly honest," Hammon said at a Spurs presser Tuesday.
Her new coaching job is a remarkably close second to a childhood dream that once seemed inconceivable.
"Growing up I remember asking my dad, 'hey dad will I ever play in the NBA?'" Hammon said. "He looked at me and he's like, 'aw, sweetie no, you'll never be able to play in the NBA.' And so I'm going to have to call him up and say, 'dad, you never said coaching!'"
Hammon was named one of the 15 best players in WNBA history. The six-time All-Star also ranks in the all-time top 10 for both assists and points scored.
Spurs head coach Gregg Popovich is behind the groundbreaking decision to hire Hammon and said Tuesday he's "confident her basketball IQ, work ethic and interpersonal skills will be a great benefit to the Spurs."
"It's never been about the woman thing, it's been about hey, she's got a great basketball mind. We think she'd be a great addition to our program," Hammon said.
While there's no denying it's a historic move, Hammon takes little credit.
"To be able to have the playing experience that I have as a professional basketball player, women went before me to pave that trail," she said. "And so I'm really just reaping benefits of all their hard work and labor."
Hammon has her work cut out for her as she prepares to join Coach Popovich on the sidelines.
"I'm ready to be treated just as any other assistant coach," she said. "I'm sure Pop will be yelling at me soon enough with the rest of them."
Thanks for reading CBS NEWS.
Create your free account or log in
for more features.