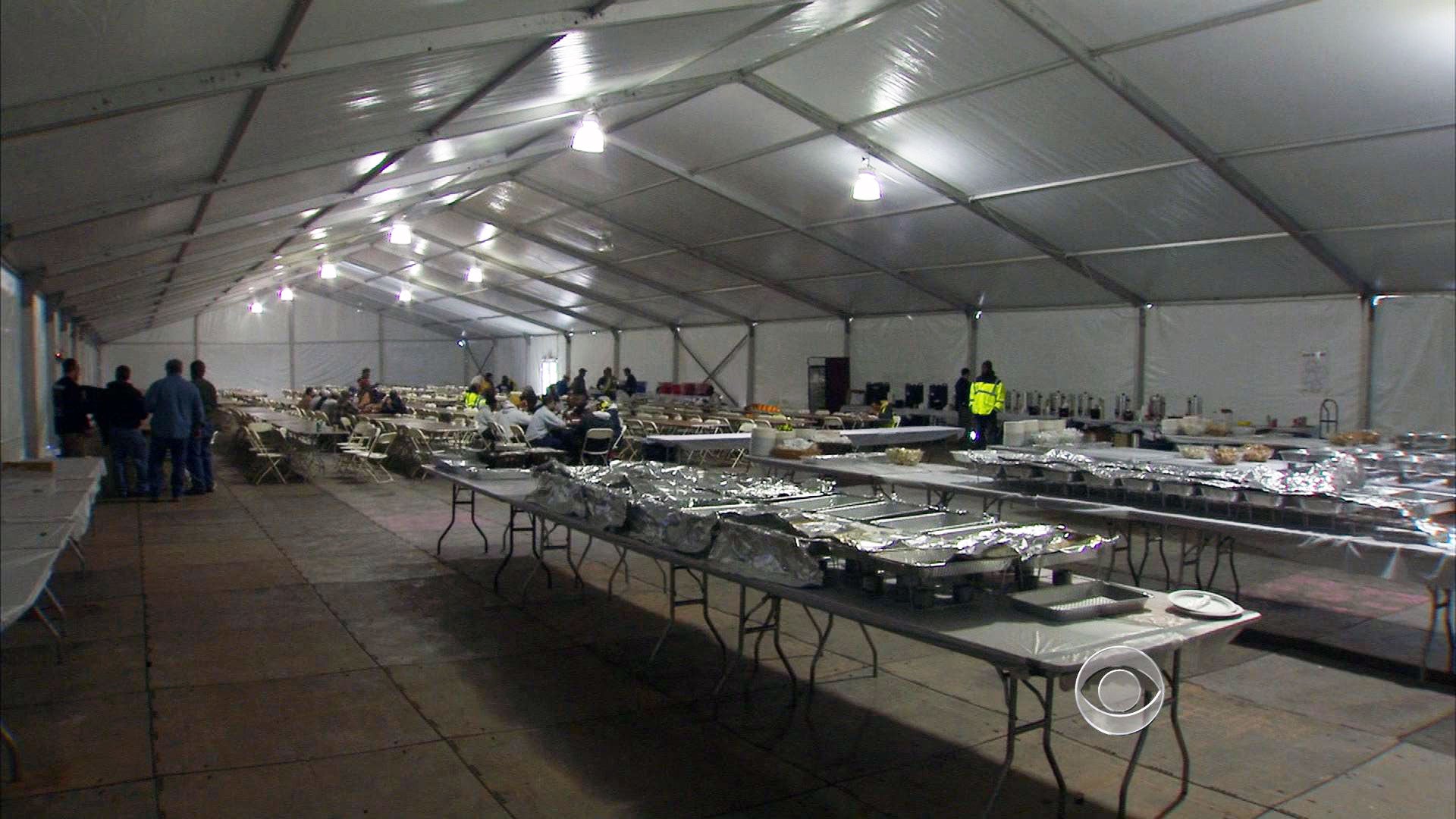 FEMA camps house struggling Sandy survivors in N.J.
(CBS News) OCEANPORT, N.J. - Superstorm Sandy was blamed for two more deaths on Friday, bringing the toll to at least 125 people.
There are still 433,000 homes and businesses without power. Tens of thousands lost everything they had.
N.J. siblings lose parents in superstorm Sandy
Landmark destroyed by Superstorm Sandy
Fannie Mae, Freddie Mac suspend foreclosures, evictions in storm-hit areas
Obama to visit Sandy victims in New York
The FEMA shelter camp in Oceanport, New Jersey looks like a mini-city. The 40 acres of emergency housing is located in the parking lot of a race track. It's part of the agency's response, along with mobile homes on the way now to areas devastated by Sandy.
FEMA's Gene Romano walked through the camp, complete with hot meals and hot showers. It was build for utility workers a week ago. It now houses 4,000 utility workers, first responders and other people in large heated tends.
"These guys are from Canada," Romano pointed out. "We're processing other people over there."
Two hundred storm victims also live here now. More show up every day.
"We're here to assist them in every way we can, but it's their plan." Romano said.
FEMA homes to relocate evacuees within a couple days to other temporary housing. Romano said the goal of everyone is "not to be here anymore."
"(The goal is) to finish the job, get the power turned back on, get them into housing and close this facility down," he said.
But 11 days after Sandy, thousands of storm victims along the coast still haven't seen the damage to their homes.
Complete Sandy cover on CBSNews.com
Karen Hutchinson got her first chance today, along with 300 residents bussed into Seaside Heights and Seaside Park, N.J.
"Total devastation in my house," Hutchinson said. "The total place has to be gutted."
They were given one hour to survey the damage and pack two suitcases with belongings.
"The whole first floor, the water went over the beds. Everything has just been torn apart," she said.
About 324,000 New York and New Jersey storm victims have applied to FEMA for help with rentals and home repairs. They can qualify for up to 18 months of housing help, a cap of $31,900.
But in New Jersey, no one knows the true scope of the housing need. Romano said the numbers will only go up.
"Tha's definite," he said. "They will increase. More people will register. We'll have more opportunities to conduct inspections and verify the losses people had to help them with that beginning step."
The Oceanport FEMA camp is only contracted to be there another week, but that could be extended. There's another similar camp in northern New Jersey, and FEMA is considering building a third one out in Long Island.
Thanks for reading CBS NEWS.
Create your free account or log in
for more features.