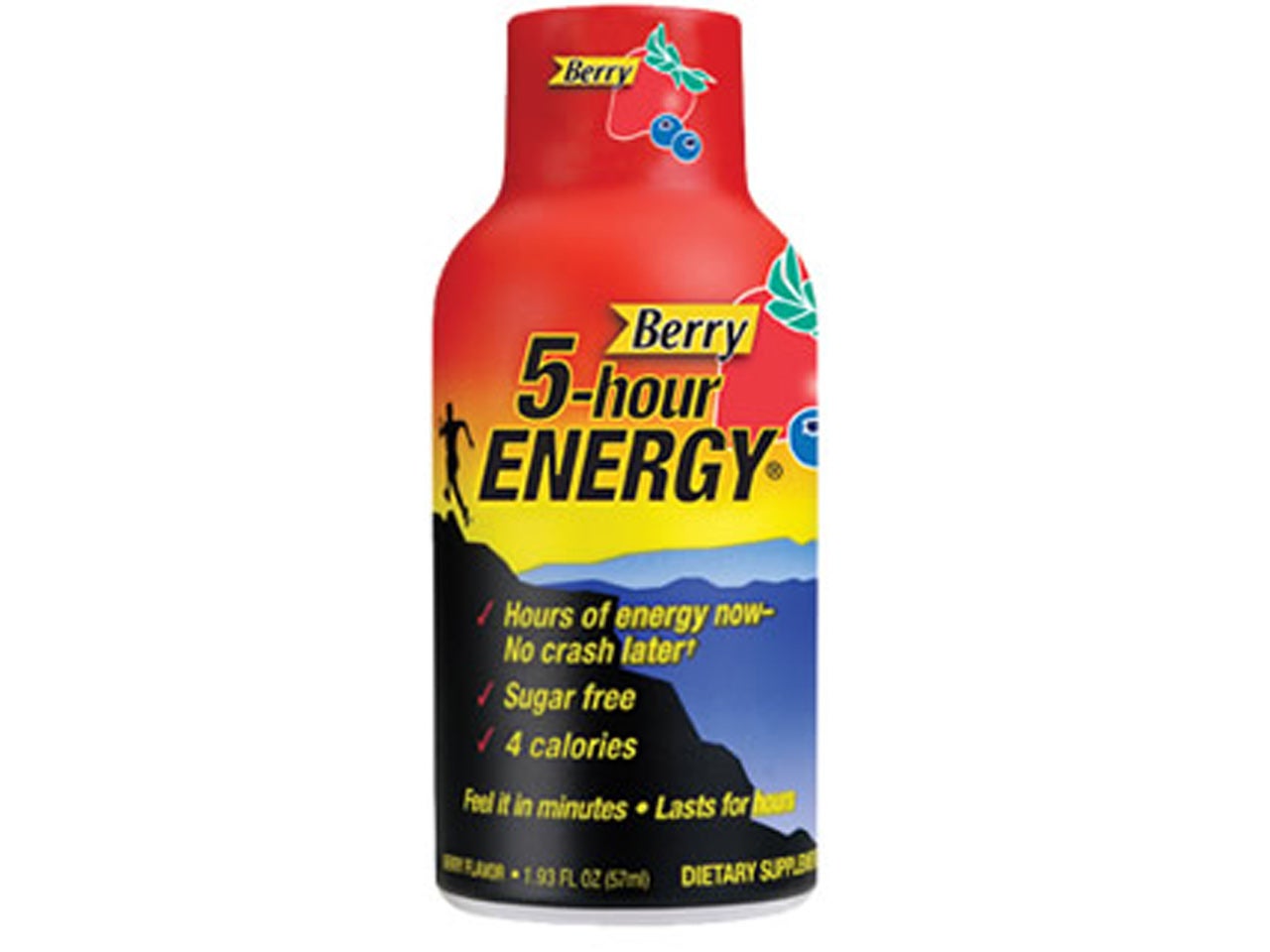 FDA investigating 13 deaths tied to 5-hour Energy
Officials are investigating several cases including 13 deaths that may be tied to 5-hour Energy products, the Food and Drug Administration confirmed on Wednesday.
The FDA has told CBS News in a statement that cases surrounding 92 patients include 33 hospitalizations and 13 deaths are under investigation due to a possible link to 5-hour Energy, which has been labeled as a dietary supplement and marketed as an "energy shot." The FDA can pull the item off the market if is unsafe for use according to the instructions described on the labeling.
"It is important to note that, while those who voluntarily report an illness or injury (such as medical professionals, family members, or the consumers themselves) typically identify the product that they assume caused the injury or illness, FDA as a scientific public health agency must carefully investigate and evaluate all possible causes before deciding whether the product actually caused the medical problem," the FDA said in the statement.
Records that the New York Times looked into show that since 2009, more than 30 of those cases were deemed serious or life-threatening. Symptoms included heart attacks, convulsion and one case of spontaneous abortion.
"We take every adverse event report seriously," Shelly Burgess, an FDA spokeswoman, said to the Wall Street Journal.
Burgess confirmed that the reports were filed by the company themselves.
5-hour Energy drinks are sold in 1.9-ounce containers known as shots. While they don't label how much caffeine is in their bottles, a Consumer Reports investigation claimed that it could range from 6 mg in their 5-hour Decaf bottles to 242 mg in their 5-hour Energy extra strength bottles.
This isn't the first time energy drinks have been under scrutiny from the FDA. In late October, the organization announced they were investigating five deaths and one heart attack tied to Monster Energy drinks since 2004. Around that time, the parents of 14-year-old Anais Fournier, a girl who allegedly died after drinking two Monster Energy drink beverages within 24 hours, said they were suing the drink maker for failure to label the risks of drinking their product.
Energy drinks growing popularity has some health officials concerned. The Substance Abuse and Mental Health Services Administration reported that energy drink-related emergency room visits increased tenfold from 2005 to 2009. In 2008 and 2009, there were 16,053 and 13,114 cases respectively. Two-thirds of the cases were deemed "adverse reactions."
About 52 percent of the visits were by patients between the ages of 18 to 25 who had used the energy drinks with alcohol or other drugs. Men were more likely to go to the emergency room, and their visits were more likely to be related to a combination of the energy drink with alcohol or illicit drugs. Females were more likely to visit due to a combination of energy drinks and pharmaceuticals.
The FDA pointed out that medical problems normally coupled with use of a dietary supplement may be due to the improper use of the product, prescription or over-the-counter medications, other foods and dietary supplements or pre-existing medical conditions. They cautioned that just because a certain product was used in a certain case did not mean the product in question caused the adverse episode.
However, Cleveland Clinic cardiac surgeon Dr. Marc Gillinov previously told CBSNews.com that in order to die from caffeine overdose, one would have to consume 10 grams of caffeine. For comparison, a tall cup of Starbucks brewed coffee is has about 260 milligrams of caffeine, while an average cup of tea only has 40 milligrams.
In a statement, 5-hour Energy makers Living Essentials LLC claimed that its product was a "compact-sized energy shot intended for busy adults," not an energy drink or beverage. They said that each product contains about the same amount of caffeine as a cup of premium coffee.
In addition, the company stressed the product should not be used in conjunction with alcohol, and consumers should not drink more than two bottles a day spaced several hours apart.
Thanks for reading CBS NEWS.
Create your free account or log in
for more features.