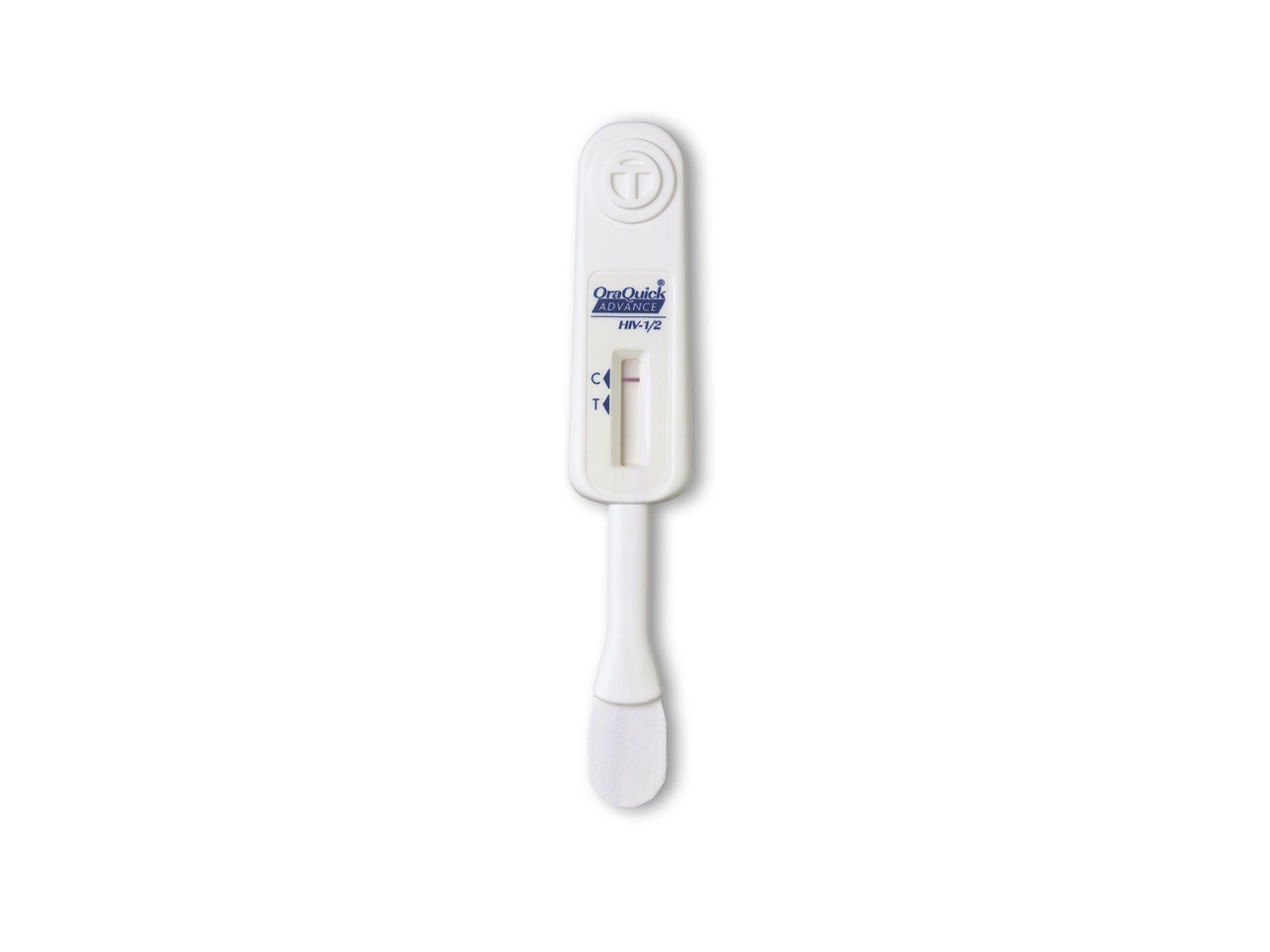 FDA approves over-the-counter OraQuick HIV test
(CBS/AP) WASHINGTON -- Americans will be able to test to see if they are HIV positive in the comfort of their own homes, thanks to a new over-the-counter FDA-approved test.
FDA panel backs at-home HIV test that analyzes mouth swab in 20 minutes
The OraQuick test detects the presence of HIV in saliva collected using a mouth swab. The test is designed to return a result within 20 to 40 minutes. FDA spokesperson Rita Chappelle told HealthPop that the test is the home-use version of a test that has been used by medical professionals and others trained to screen for HIV for the last eight years.
Government officials estimate one-fifth, or about 240,000 people, of the 1.2 million HIV carriers in the U.S. are not aware they are infected. Testing is one of the chief means of slowing new infections, which have held steady at about 50,000 per year for two decades.
FDA officials said the test is aimed at people who might not otherwise get tested. A Q&A document for consumers, as well as labeling information, will be available on the FDA's official website by the end of the week.
"The availability of a home-use HIV test kit provides another option for individuals to get tested so that they can seek medical care, if appropriate," said Dr. Karen Midthun, director of the FDA's Center for Biologics Evaluation and Research.
FDA stressed in its approval announcement that the test is not 100 percent accurate.
Back in May, a 17-member FDA panel ruled in favor of approving the OraQuick test, HealthPop reported. They did recognize that the test was not as accurate as a physician-administered test, but the benefits of alerting more people to their HIV status outweighed the negatives. The FDA had previously approved HIV tests that patients took home, according to HealthPop.
Chappelle told HealthPop that part of the FDA's review of the product included the parent company Orasure's plans to address people's concern over their results. The company has pledged to provide a 24-hours a day, 7-days a week staffed with counselors to address questions. An information book about what results mean will also be included with the test and will be available in English and Spanish.
"Each of the call-center operators is bilingual in English and Spanish, they've gone through 160 hours of training on HIV counseling and testing," CEO Doug Michels said to the Associated Press. "So they are highly trained professionals and they'll be there to support the consumer."
A trial conducted by Orasure showed the home test only correctly detected HIV in those carrying the virus 92 percent of the time. That means that the test could miss one person for every 12 HIV-infected people who use the kit.
The test was accurate 99 percent in ruling out HIV in patients not carrying the virus. That means the test would incorrectly identify one patient as having HIV for every 5,000 HIV-negative people tested.
Chappelle emphasized the importance of making sure that the person who is taking the home tests follows the instructions for accurate results, and that they follow up with a medical setting confirmation regardless if they get a positive or negative result despite the test's high accuracy rate. This is especially important because it can take people up to six months to develop high enough levels of antibodies associated with HIV that the test can detect, although 97 percent of people are reach that threshold in the first three months. Regardless of what form of HIV test a person takes, retesting at a later date if a person is engaging in risky behavior is always encouraged.
The FDA previously approved several HIV test kits designed to be used at home, although those kits -- which usually require a blood sample -- must be sent to a laboratory to be developed.
Based in Bethlehem, Pa., Orasure has marketed a version of OraQuick to doctors, nurses and other health care practitioners since 2002. When used by professionals, the test is shown to accurately identify both carriers and non-carriers 99 percent of the time.
While it's not clear why the test appears less accurate in consumer trials, company researchers said they expected the test's specificity to drop when used by consumers versus professionals.
Orasure plans to launch the test in October, selling it through retailers like Walgreens, CVS and Walmart, as well as online pharmacies. Whereas the test marketed to health professionals costs about $17.50, Orasure expects the consumer version to sell for more. The company is not announcing a price yet, but said it would be less than $60. CEO Doug Michels said the additional cost will help pay for the toll-free call center to provide counseling and medical referrals to test users.
Shares of Orasure Technologies rose 59 cents, or 5 percent, to $12.09.
Thanks for reading CBS NEWS.
Create your free account or log in
for more features.