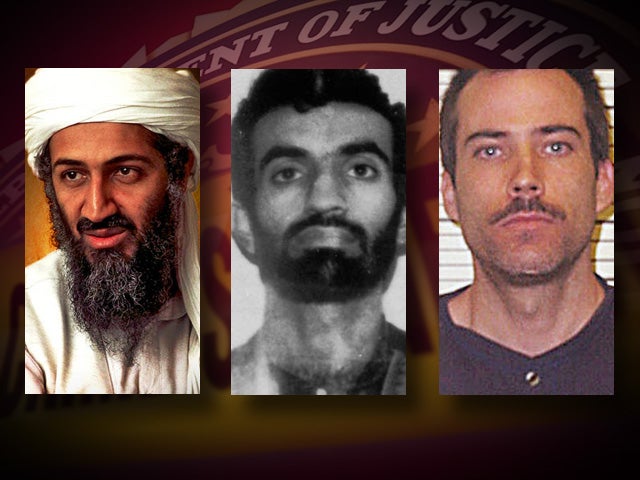 FBI "10 Most Wanted": How people make the list
(CBS News) Eric Justin Toth, 29, replaced Osama bin Laden on the FBI's "10 Most Wanted" list last week.
Toth, a former private school teacher is wanted for apparent child pornography in Washington, D.C. He's been on the run since 2008. Last seen in Arizona in 2009, it's believed that he's traveled to a number of states.
The list also has another spot open, formerly held by captured Boston mobster James "Whitey" Bulger.
CBS News senior correspondent John Miller, a former assistant FBI director, said various divisions of the FBI is now poring over piles of folders, meeting a couple times a week to fill that space.
So how are "Most Wanted" fugitives selected?
Three criteria are considered when a person is added to the list, Miller said. How long someone has been on the list - the longer the more likely the person gets added to the list - helps qualify a candidate. Also, people make the list if they're believed to be at risk of committing, usually, a violent crime, again. And finally, if national publicity could help find the person, they may be added to the listing.
Miller said, "A lot of people meet those three criteria, so they hone it down to, 'who do we really think this program will work for?'"
Toth is believed to meet all those criteria, Miller said. "He's posed as a homeless person. He has advertised as a babysitter and a tutor. And that criteria, is he likely to do it again? Have they looked for him for a long time? And is he potentially dangerous? He fits all that."
As for being added to the "Most Wanted" list, Miller said, it's not a great place to be because the program works. Miller said, "There's been 494 people on the 'Ten Most Wanted' list in its history and 463 have been caught. So, that's a pretty good batting average. You don't want to get on that list if you're hiding."
Former teacher Eric Toth added to FBI's 'Most Wanted Fugitives' list
FBI's "10 Most Wanted Fugitives" List
The FBI "10 Most Wanted Fugitives" List was developed over a card game between J. Edgar Hoover and a newspaperman who wanted to know who the 10 toughest guys the FBI were looking for. Over the years, 54 percent of those who have been named to the list have been murderers, the rest have been bank robbers, organized crime members, cartel bosses and terrorists.
For more with Miller on the rich history of the FBI's list and notable fugitives that have found themselves on it, watch the video in the player above.
Thanks for reading CBS NEWS.
Create your free account or log in
for more features.