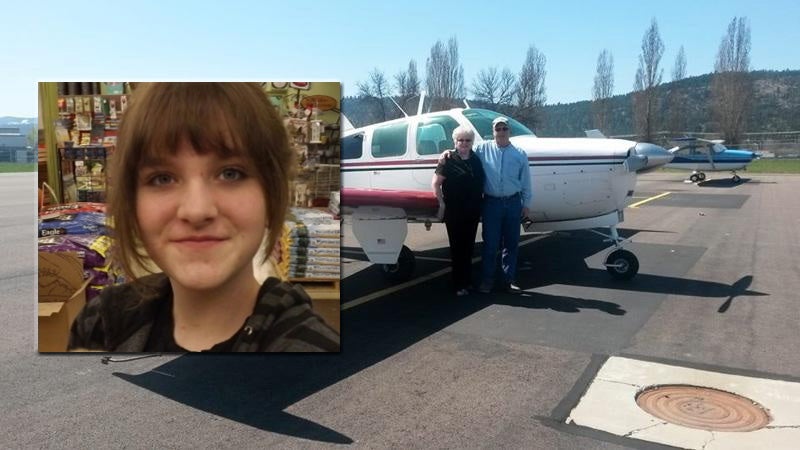 Father of Washington plane crash survivor: "It's a miracle"
MAZAMA, Wash. -- A 16-year-old girl who spent two days hiking through the woods after surviving a plane crash that killed her step-grandparents was released from a Washington state hospital Tuesday night, just over 24 hours after she made it to safety.
David Veatch, the father of 16-year-old Autumn Veatch, said his daughter hiked for two days through the rugged Cascade Mountains in Washington after the crash and is in "amazing physical shape," considering what she's been through, reports CBS affiliate KIRO.
Autumn Veatch was flying from Montana to Washington with her step-grandparents on Saturday when their private plane disappeared. The teen says she walked out of the woods two days later near Mazama, Washington.
"She's a teenager, she's young, she's strong," David Veatch said. "She has some amazing gifts."
KIRO said late Tuesday that search crews have spotted wreckage in the vicinity of where the plane Veatch was on went down. But searchers haven't been able to reach it to confirm it is the same plane or learn the fate of its occupants. Rocky terrain, thick forests and stormy weather have hindered searchers' efforts.
Autumn's father said doctors at Three Rivers Hospital in Brewster, Wash., told him his daughter is severely dehydrated, exhausted and may have muscular trauma from the crash impact into the mountainside.
"Yes, it's a miracle," David Veatch said. "We had, I don't know how many people say they're praying for her on Facebook. Yes, I believe it works. Now, if I can convince her to come to church with me."
Dr. James Wallace, who treated Autumn, said she suffered minor burns and lacerations in addition to the dehydration. "She's on the path to being rehydrated, but that's something that will take some more time, but again she's recovering tremendously well."
CBS affiliate KPAX reports that a family member of the pilot told MTN News late Tuesday morning that Leland Bowman, 62, and his wife, Sharon, 63, died in the Saturday crash in the Cascade Mountains. Autumn's mother also posted on Facebook that the pair didn't survive.
Chelsea Clark, a family friend, said at a press conference that Autumn was visiting her mother in Montana before the crash. "We never gave up hope and we just felt like she was still with us," she said.
While saying they will wait for Autumn to describe her ordeal in her own words, Sara Esperance, another friend, described her as having "a strong will. If nothing else this girl has a strong, strong will and her coming out and being able to leave the hospital this quickly just goes to show that."
"We crashed, and I was the only one that made it out," Autumn told a 911 operator, after a store employee called for her, reports The Associated Press. "I have a lot of burns on my hands, and I'm kind of covered in bruises and scratches and stuff."
The 911 call can be heard from CBS affiliate KIRO here:
CBS News correspondent John Blackstone reported that Veatch's father said his daughter told him the plane flew into some clouds over Washington when a mountain face suddenly appeared. The next thing she knew, the plane crashed and caught fire.
"She's been through a lot. And I guess they -- I dunno. I just can't believe she went through all that she did," David Veatch said.
Blackstone reports that watching TV may have saved Autumn's life.
"She watches a lot of survival shows with me, so I can't get out and do a lot of the stuff anymore, so I watch it on TV. So 'Survivorman' should be very proud of her," her father said.
Autumn told her father that because of watching those shows, she remembered to follow where water drains down the mountainside to find a clear path to the bottom.
Rick LeDuc, who owns a general store in Mazama, Washington, says when Autumn walked through the door at 3 p.m. Monday, she had cuts and scrapes. She also had an unbelievable story.
"She said she'd been through a traumatic experience and a crash, and had been out for the past two days," he told KIRO.
LeDuc said a driver spotted her walking along Highway 20 near the Easy Pass trail head. She told the driver she had spent two days hiking down a drainage basin of the dangerously steep rugged mountainside.
Autumn and her step-grandparents took off from Kalispell, Montana, shortly after 1 p.m. on Saturday headed towards Lynden, Washington in a red and white Beech 35 plane. A little over two hours into the flight, the plane disappeared from radar near Omak, Washington. But signals from a passenger's cell phone continued for about half an hour, and Veatch posted a photo to social media during the flight.
Employees at the Mazama Store treated Veatch and called 911.
"Considering the time she had been out and what had happened to her, she looked remarkably good," LeDuc said.
Autumn's friends also spoke to KIRO about how relieved they were that their friend had been found safe.
"I'm just happy she's safe," Amber Shockey said through tears to KIRO.
Three of Autumn's friends were able to speak to her on speaker phone Monday afternoon. They reported Autumn was happy and safe, and even made them laugh.
"She said she could really use McDonald's right now," another friend added.
Thanks for reading CBS NEWS.
Create your free account or log in
for more features.