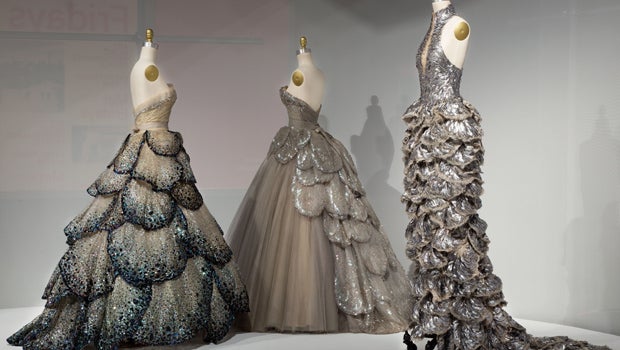 Is fashion also art? There are a number of museums trying to make the case for fashionable art... all in the tradition of one trailblazing exhibit.
In the summer of 2011, the hottest event in New York City wasn't a blockbuster show or restaurant opening, but an exhibit at the Metropolitan Museum of Art.
"It was a complete surprise to us when we started to have lines around the museum," said Andrew Bolton, the Curator in Charge of the Costume Institute at The Met. "It was so unprepared for them as well."
The exhibit featured the work of late fashion designer Alexander McQueen, and visitors couldn't get enough.
"We don't really set out to create a blockbuster, per se, and really it was the people who made that show a blockbuster," Bolton said.
And that's exactly what they did. Attendance was record-breaking. "It was more than 660,000," said Bolton. "We were probably expecting something about 300,000. So more than double what we were expecting, absolutely."
"And what did it do for Met membership?" asked Altschul.
"It was enormous. I think it introduced a new audience to the museum. So that's always great."
The McQueen exhibit is one of the MET's top ten most-visited exhibits of all time, alongside shows featuring the Mona Lisa and Picasso.
Which raises a few questions: For those who aren't convinced, is fashion art?
Bolton laughed. "I find it extraordinary the fact that in this day and age people are still debating it."
Regardless of those debates, the MET is still fashion forward, with a fashion exhibit this summer titled Manus x Machina -- a look at hand and machine made clothing.
And the MET isn't alone; museums around the world are moving fashion from catwalks into galleries.
Take Boston's Museum of Fine Art, home to an exhibit called "#techstyle," featuring technology-inspired fashion.
Co-curator Lauren Whitley described a pair of 3-D printed shoes in the exhibition: "Not particularly wearable, but they're fantastic ... There's also some incredibly interesting interactive garments called the cute circuit MFA dress."
"The attendance for fashion shows has been extraordinary," she told Altschul. "We have to remember fashion designers are artists. There is a huge aesthetic drive behind creating fashion, and it is one of the decorative arts, like ceramics, like furniture, like jewelry. It is design."
The popularity of fashion exhibits has boomed in recent years, but clothing has been featured in museums for decades. In 1944, the Museum of Modern Art presented an exhibit called "Are Clothes Modern?" taking extra care to emphasize it was "in no sense a fashion show."
Fast forward to 2016, and we're still eager to differentiate a fashion show from fashion exhibit.
"Some fashion belongs in museums, you know? And some really doesn't," said designer Isaac Mizrahi. His life and work is featured in yet another fashion-themed exhibit in New York, at the Jewish Museum.
"Sometimes you do go into a museum where they have a show of clothing, and it does feel like a store window, you know?" Mizrahi said. "So there's a difference."
"I think, 'What place does fashion really have in a museum?'And the answer to that is, you know, good work meets a level. And so, I don't necessarily think that this is saying anything about more shows that we need about fashion in museums. I'm not saying that. I just think that good work deserves to be looked at," Mizrahi said.
So maybe fashion's place in museums isn't buttoned up yet, but for the time being, this appears to be one debate with a shelf life.
"I think people just aren't afraid of fashion," said Bolton. "I think people aren't afraid to express their opinion about fashion. Fashion is very subjective. And I think people have that sort of immediacy to fashion, which I think is really part of its power. And poetry, as well, I think."
For more info:

Other current and upcoming fashion exhibitions:
Thanks for reading CBS NEWS.
Create your free account or log in
for more features.