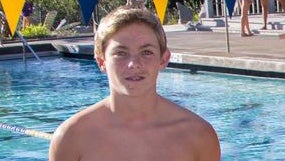 Family: Teen who killed himself after embarrassing video left suicide note
SAN DIEGO -- A San Diego family who says their 14-year-old son killed himself after an embarrassing video went viral said the boy left a suicide letter saying he didn't want to kill himself but that he had "no friends."
In a $1 million claim against the San Diego Unified School District, the parents of Matthew Burdette contend that he was "bullied, harassed and teased" after a video of him in a school bathroom was taken by a classmate and posted online.
In the claim filed in May against the district, Timothy and Barbara Burdette contend that at least one school or district employee knew about the bullying but that nothing was done to stop it, KGTV-TV reported.
Matthew killed himself last November.
The family said the boy left a letter.
"He said, 'I can't do school anymore. I have no friends. I don't want to kill myself, but I have no friends,'" said his aunt, Laura Mechak.
According to the claim, a classmate surreptitiously filmed Matthew in the school bathroom, and then posted it online saying that he was masturbating. The video was viewed by students at several San Diego area high schools.
"Kids saw this video and began to tease Matthew mercilessly," Mechak told the station. "They made his life miserable over a two-week period."
The boy, formerly outgoing, became dejected, and killed himself on a Thanksgiving holiday at his family's cabin, according to the family's claim.
The school district denied knowing about the video and refused to disclose if the student who allegedly filmed the video faced disciplinary action, according to an email sent to KGTV-TV.
Privacy laws prevent the district from discussing the circumstances of the boy's death, according to the statement.
After Matthew's death, his high school held meetings about teen suicide, but the meetings were "general" and not tied to a specific incident, the email said.
Thanks for reading CBS NEWS.
Create your free account or log in
for more features.