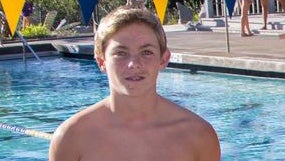 Parents say boy committed suicide after embarrassing video went viral
SAN DIEGO - A San Diego couple says their 14-year-old son committed suicide after an embarrassing video surreptitiously taken of him in a school bathroom went viral and led to him being "mercilessly bullied."
Timothy and Barbara Burdette filed a $1 million claim against the San Diego Unified School District. They say a teacher, an administrator and possibly other employees at University City High School knew their son Matthew, a Boy Scout who was studying for the Eagle rank, was being harassed but did nothing to stop it.
According to their claim, Matthew, who was on the water polo and wrestling teams, was kicked out of class on Nov. 15 for eating sunflower seeds. The teacher didn't give him anywhere to go, so he wandered the halls and ended up in a boys' bathroom, the claim said.
Another student peeked over a bathroom stall and videotaped Matthew, allegedly masturbating. That student posted the video on social media, including SnapChat and Vine, and it quickly went viral among students at schools through the district, the claim said.
"From the moment the video was posted, Matthew was mercilessly bullied, harassed and teased by students who had seen the video. This continued for the next two weeks," the claim said.
The parents said officials with the San Diego Unified School District were aware of the video and the bullying.
Two weeks after the video went public, on Nov. 29, Matthew committed suicide. His family said he left a note saying he could not "handle school" and had "no friends."
"Matthew took his life as a result of the embarrassment and humiliation caused by bullying related to the video and its distribution," the claim said.
The school district rejected the Burdettes' claim, giving the family six months to file a lawsuit, according to U-T San Diego and the Los Angeles Times.
The school district issued a statement Monday saying the safety of its students was "a top priority."
"The district also adheres to the privacy and confidentiality laws and regulations related to students, families and ongoing investigations. For this reason, the district cannot provide details about Matthew Burdette's death. Our hearts and thoughts continue to be with his family and loved ones," the statement said.
KGTV, Channel 10 in San Diego, which first reported on the claim, said the Burdettes believed the boy who took the video had been arrested. The San Diego district attorney's office declined to provide details on the case but said a hearing on the matter is set for July 23 in juvenile court.
Thanks for reading CBS NEWS.
Create your free account or log in
for more features.