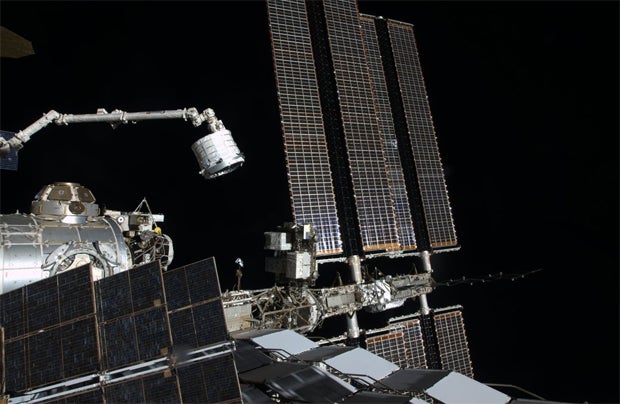 Expandable crew module attached to space station
Flight controllers remotely operating the International Space Station's robot arm pulled an experimental expandable crew compartment out of the trunk of a SpaceX Dragon supply ship early Saturday and moved it into place for attachment to the lab's Tranquility module for two years of tests.
When the still-collapsed 3,100-pound Bigelow Expandable Activity Module, or BEAM, was properly aligned with Tranquility's aft-facing port, motorized bolts in the common berthing mechanism drove home to lock it firmly in place at 5:36 a.m. EDT (GMT-4).
The module will remain compressed, measuring about 8 feet in diameter and 6 feet long, until May 27 when station air will be directed inside to begin the process of inflating it to full size. Internal air tanks then will be opened to complete the expansion, resulting in a bedroom-size compartment with about 565 cubic feet of volume measuring 10.5-feet wide by 13-feet long.
About one week later, Expedition 47 commander Timothy Kopra and his crewmates -- NASA astronaut Jeffrey Williams, British astronaut Timothy Peake and cosmonauts Yuri Malenchenko, Alexey Ovchinin and Oleg Skripochka -- will be clear to open hatches and float inside for a brief inspection.
Over the next two years, a variety of sensors will monitor temperature, pressure and radiation levels to find out how well the module stands up to the space environment. The long-range goal is to assess the feasibility of using expandable compartments with future space stations or as crew habitats for eventual deep space missions.
"We're excited to attach another vehicle, essentially, onto space station," Kopra told a reporter earlier this week. "This is an example where the commercial space industry has really been innovative in their techniques. This will be a great way for us to test out both thermal characteristics of this new type of module and its radiation protection. It's going to be a neat thing to have on station."
But because BEAM represents untried technology making its first flight, the astronauts will leave the hatches closed except for brief visits every few months to collect sensor data.
"We're not going to use it routinely," Kopra said, "but we'll go in to add sensors and make sure everything is working properly."
Expandable modules offer two major advantages over traditional metallic compartments like those making up the space station's other modules: they take up less space aboard the rockets needed to launch them and they weigh much less than comparably-sized "solid" modules.
Robert Bigelow, founder of BEAM-builder Bigelow Aerospace of Las Vegas, announced plans last week to launch a much larger module, known as the B330, around 2020 aboard a United Launch Alliance Atlas 5 rocket. The B330 features 12,000 cubic feet of volume when fully expanded, more than a third of the space station's current volume.
Bigelow said two or more such modules, each equipped with life support systems, solar power systems, communications gear and propulsion, could be linked together to form a large commercial space station in low-Earth orbit. Such modules also could be used for eventual deep space missions to the moon or even Mars.
In the near term, Bigelow said he hopes NASA will consider attaching the first B330 to the International Space Station, although he provided no details as where the module might be attached, what impact it might have on station operations or what it might take to convince the space agency to take such a step.
But Bigelow said the B330 offers NASA a low-cost way to add a large volume to the station that could be used by government, academic and corporate researchers while field-testing the technology for deep space missions.
"Our hope is that NASA would be the primary customer for that structure, and that we would be given permission to commercialize," Bigelow said. "Essentially, we would be time sharing. We're offering discrete quantities of time, a matter of one or two weeks to maybe 45 days, to various kinds of clientele."
Assuming the technical and political issues can be resolved, Kopra said he's all for it.
"I think anytime we can bring up new modules to space station we're going to be excited about that," he said. "We have a big station here, but there's room to make it bigger. So if we could add additional modules to test out the future of space exploration and the way humans are going to interact and work with modules, I think it's a great idea."
Thanks for reading CBS NEWS.
Create your free account or log in
for more features.