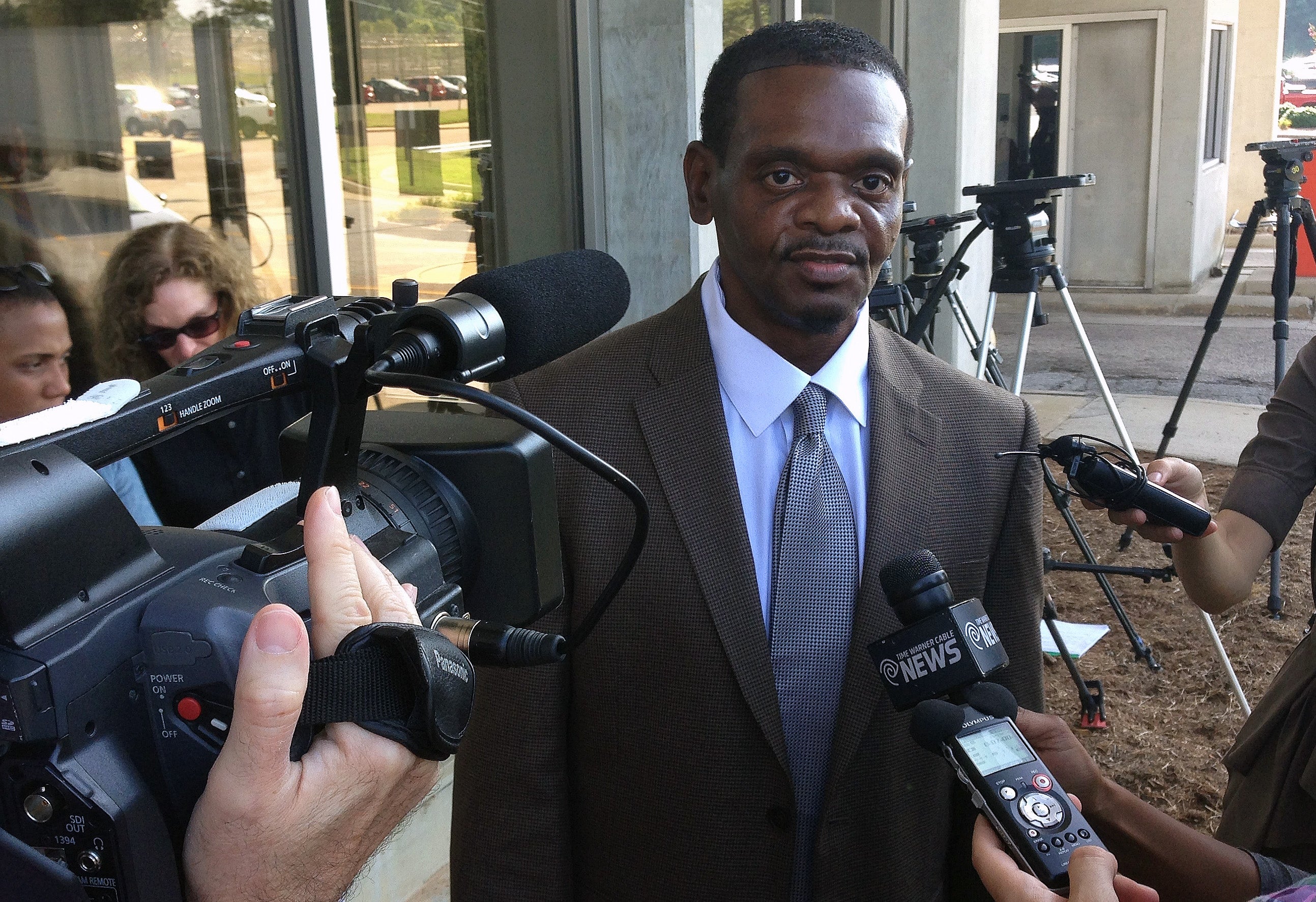 Exonerated North Carolina men freed from prison
RALEIGH, North Carolina - North Carolina's longest-serving death row inmate and his younger half-brother walked out as free men Wednesday, three decades after they were convicted of raping and murdering an 11-year-old girl who DNA evidence shows may have been killed by another man.
Henry McCollum, 50, hugged his weeping parents at the gates of Central Prison in Raleigh, a day after a judge ordered his release, citing the new evidence in the 1983 slaying of Sabrina Buie. His half-brother, 46-year-old Leon Brown, was later freed from Maury Correctional Institution near Greenville, where he had been serving a life sentence.
His first lesson in freedom was how to buckle his seat belt. A photographer from CBS News affiliate WRAL in Raleigh showed him how.
"I knew one day I was going to be blessed to get out of prison, I just didn't know when that time was going to be," McCollum said. "I just thank God that I am out of this place. There's not anger in my heart. I forgive those people and stuff. But I don't like what they done to me and my brother because they took 30 years away from me for no reason. But I don't hate them. I don't hate them one bit."
Through his attorney, Brown declined to be interviewed following his release.
During his long years on death row, McCollum watched 42 men he describes as brothers make their last walk to the nearby death chamber to receive lethal injections. If not for a series of lawsuits that has blocked any executions in North Carolina since 2006, McCullum would have likely been put to death years ago.
He often lay awake at night in his solitary cell, thinking of the needle.
"I'd toss and turn at night, trying to sleep," he said. "Cause I thought ... these people was going to kill me."
Superior Court Judge Douglas Sasser overturned the convictions Tuesday. He said another man's DNA being found on a cigarette butt left near the body of the slain girl contradicted the case put forth by prosecutors.
The ruling was the latest twist in a notorious case that began with what defense attorneys said were coerced confessions from two scared teenagers with low IQs. McCollum was 19 at the time, and Brown was 15. There was no physical evidence connecting them to the crime.
Brown and McCullum signed a confession written by police after hours of questioning.
Defense lawyers petitioned for their release after a recent analysis from the butt pointed to another man who lived near the soybean field where Buie's body was found. That man is already serving a life sentence for a similar rape and murder that happened less than a month later.
Ann Kirby, McCollum and Brown's attorney told CBS News correspondent Michelle Miller many things went wrong.
"No physical evidence, the police stopped looking after the confession," she said.
The men's freedom hinged largely on the new local prosecutor's acknowledgement of the strong evidence of their innocence.
Even if the men were granted a new trial, District Attorney Johnson Britt said: "Based upon this new evidence, the state does not have a case to prosecute."
The day-long evidence hearing included testimony from Sharon Stellato. The associate director of the North Carolina Innocence Inquiry Commission discussed three interviews she had over the summer with the 74-year-old inmate whose DNA matched that found on the cigarette butt. He was convicted of assaulting three other women and is now suspected of killing Buie. The Associated Press does not generally disclose the names of criminal suspects unless they are charged.
According to Stellato, the inmate changed his story about knowing the girl. But later he told them he saw her the night she went missing and gave her a coat and hat because it was raining, Stellato said. He told the commission that's why his DNA may have been at the scene. Stellato said weather records show it didn't rain the night Buie went missing or the next day.
Stellato also said the man repeatedly told her McCollum and Brown are innocent, but still denied involvement in the killing.
The DNA from cigarette butts found at the crime scene doesn't match McCollum or Brown, and fingerprints taken from a beer can aren't theirs either, attorneys say.
Both were initially given death sentences, which were overturned. At a second trial, McCollum was again sent to death row, while Brown was convicted of rape and sentenced to life.
The young men were not from wealthy families and their loved ones quickly exhausted their ability to pay for their legal defense. The case was taken up by the Center for Death Penalty Litigation, a non-profit law firm that provides direct representation to inmates on North Carolina's death row.
Upon his release, McCollum expressed his belief that there are still other innocent men on the inside. He is at least the seventh death row inmate freed in North Carolina since 1976, the year the death penalty was reinstated by the U.S. Supreme Court.
"It's very painful when you are attached to somebody like a brother or family, and you see that person on his last days," McCollum said. "A lot of them don't really want to die. ... And it hurt me the most to see the state take somebody's life, when they are committing murder their own self. But they don't see it that way."
McCollum said he won't allow himself to focus on the past, on all the life in the outside world he missed. He plans to someday work with young people, to try to keep as many as he can from ever ending up inside a prison.
But first, he has a lot of learn about a world that has changed dramatically during the three decades he has been away. McCollum hasn't never accessed the Internet, or owned a cellphone. He looked ill at ease Wednesday in a tie and white dress shirt, the collar at least an inch too large. Inmates on death row all wear bright red jumpsuits, indicating their status as convicted murders.
Climbing into his father's car, he put his head through the loop of the seatbelt that is supposed to cross the chest. He had never used one like it. A TV cameraman had to help him buckle it.
"Right now I want to go home and take a hot bath," McCollum said. "I want to see how that tub feel. And eat. I want to eat. I want to go to sleep and wake up the next day and see all this is real."
Thanks for reading CBS NEWS.
Create your free account or log in
for more features.