​Excerpt: Misty Copeland's "Firebird"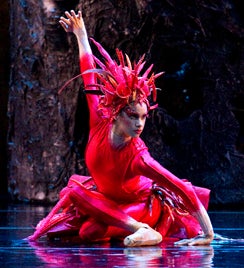 Considered a dance prodigy at a very young age, Misty Copeland became only the second African-American female soloist with the prestigious American Ballet Theatre in New York City.
She is also an author, of the New York Times bestselling memoir, "Life in Motion: An Unlikely Ballerina -- My Story of Adversity and Grace."
The following is Copeland's introduction to her first children's book, "Firebird," with illustrations by Caldecott Honoree Christopher Myers.
In it, by her example she shows youngsters how to reach soaring heights through hard work and dedication.
Reprinted by permission of G.P. Putnam's Sons Books for Young Readers. All rights reserved.
Dear Reader,
I was once a little girl searching for my voice. Quiet, scared, unique, yet alive and vibrant. I struggled, caught among five siblings. Desperate to be noticed. I never felt I fit in anywhere. Not even at home surrounded by my family. My discovery of movement became my saving grace. When I was introduced to ballet, it was like finding the missing piece to my puzzle. I danced my worries and fears away.
The beauty of dance is being a part of something that is all you, from creation to performance. You hold the power of your instrument. That instrument comes in all shapes, sizes, and colors. That instrument is your body, soul and heart. That instrument is you and me.
But when I opened up ballet books, I didn't see myself. I saw an image of what a ballerina should be, and she wasn't me, brown with tendrils sweeping her face. I need to find ME. This book is you and me. I want to expand the idea of beauty and art.
Raven Wilkinson, African American ballerina with the Ballet Russe de Monte Carlo, and other amazing women took my hand and led me. Now it is my turn to lead others. This book is bringing my existence, and nonexistence as a young girl, to life, showing other girls and boys that they're not alone. They too can find their voice, their wings, their missing piece.
My hopes are that people will feel empowered to be whatever they want to be. To feel that they have no limits, just endless dreams that are reachable. No matter what that dream is, you have the power to make it come true with hard work and dedication, despite what you look like or struggle with.
I hope to pave a more definitive path than the one that was there for me but was just a little too hidden. I want to bring many with me to trace and create an even more vivid road to acceptance of yourself and from others.
Join me.
For more info:
Thanks for reading CBS NEWS.
Create your free account or log in
for more features.