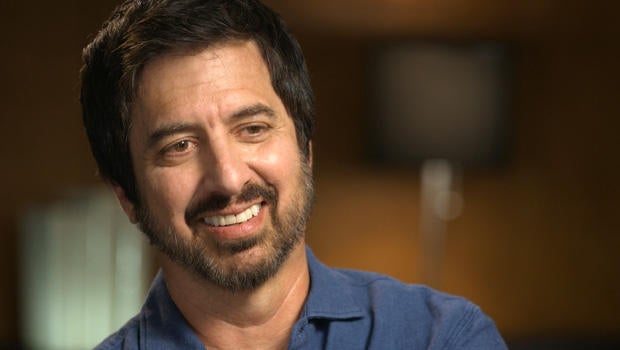 Everybody loves Ray Romano
Ray Romano won a huge following with his TV series "Everybody Loves Raymond." These days, he's still charming audiences on stage and on screen. Tracy Smith has our Sunday Profile:
"Everybody, give it up for Ray Romano, everybody!"
Smith said, "We saw you perform at the Comedy Cellar the other night."
"Yeah. You saw a good one," Ray Romano replied.
"To us, it looked like you killed."
"That one was one of my best ones I've had there. I hope you have footage of it!"
[We do! Click on the video at left.]
Ray Romano is still at home the standup stage.
His act has always been about family -- especially Anna, his wife of 30 years.
"She says, 'Can I go to dinner in this? Is this okay for dinner?' And I looked at her and I said, 'Yeah.' And she looks at me and she goes, 'I don't even know why I ask you.'"
It's helped make him one of the biggest names in comedy. But at 59, Romano still has other dreams to chase.
In "Get Shorty," a new TV series based on the Elmore Leonard book, he's a small-time film producer making a big studio movie with money from some hardcore gangsters.
Like everything else in the show (which premieres tonight on Epix), Romano's character is over the top, including the hair.
To watch a trailer for "Get Shorty" click on the video player below:
But oddly enough, Romano sees a lot of his neurotic character in himself. "Getting into a character who's like that is a little bit easy, it's a little organic," he said.
"You have those feelings inside?"
"Yes, I have it. I've always said even though I appear successful, that insecurity, that neurosis stays there. It's just at a different level. My saying is, before all this, I thought my cab driver hated me, and now I think my limo driver hates me. It's just moved on to another level!"
Truth is, Ray Romano's hang-ups have kept us laughing for years.
From 1996 to 2005, "Everybody Loves Raymond" ruled the primetime landscape -- a real-ish TV family, where people could see a bit of themselves. Romano, who has four children of his own, was a natural as the big-hearted dad.
Still, the success didn't erase his insecurity.
"You joke about these neuroses," said Smith, "but you really are a happy, content guy?"
"Yes. There's still times where I struggle with things," Romano said. "Look, my kids are all good people. My wife is a good person. I have a happy marriage. I can do what I wanna do. So I'm grateful and happy for that. But I'm no different than anybody else really, I think, in that sense."
"That's why everybody loves you?"
"Ehhhh. I hate myself enough to balance it out."
On the show, Ray was an average Joe from Queens with a loving, but often annoying, family, including his older brother, a New York City cop named Robert.
Ray's real-life older brother, Richard, who actually was a NYPD officer, helped show Smith around the Queens neighborhood where the Romanos grew up.
"I was a horrible student," Romano said. "Yeah, I drove my mother crazy. Funny, 'cause now that I have kids, every now and then I go, 'I have to apologize to my mother.' Because what they're doing to me, I did to her."
When they weren't on the ball field, the three Romano boys -- Richard, Ray and Robert -- would hang out down the street at Lillian Pizzeria. The old place is still here ... and, 40 years later, so are the owners, Tony and Lillian.
Romano says they make some of the best pizza in New York. (They definitely have the best music, as Tony's operatic aria proves.)
Tony and Lillian give Romano the star treatment, but Lillian Pizzeria's favorite customer has been on kind of a roll lately.
In the movie "The Big Sick," Romano and Holly Hunter are worried parents getting to know their sick daughter's Pakistani boyfriend, played by Kumail Nanjiani.
The film, and Romano's performance, are getting rave reviews. But he is humble as ever, maybe because of a note his big brother Richard wrote him long away before Ray left for Hollywood: "He put a quote from the Bible about, I'm not gonna get it right, but the essence of it was, what does it profit a man who gains the world but loses his soul? And I guess it was his way of telling me good luck, but just remember us and where you came from."
Romano teared up. "I get emotional. I didn't know you were gonna spring that! So, that was that."
"But it meant something to you?" said Smith.
"Yeah. Yeah. Yeah. They're both my heroes, you know, because one's a cop, one's a teacher. And I tell jokes about poop and I make so much more money than them!"
In the end, it's family that helped make Ray Romano a big star ...
"My youngest son is 16, and I don't know how to describe him. Like, my wife and I were in the kitchen and he just walks through, 'I haven't showered in four days.'"
... and keeps him the modest guy everyone still seems to love.
Smith asked, "Do they give you a hard time about using them in your act?"
"No. They don't. The kids love it. My wife on occasion, 'Ahhhh...' But whenever she complains about me using her as material, I tell her to go cry in a bag of money."
"That's a good perspective."
"But she gives me a lot of stuff. She gives me a lot of material. 'The Big Sick' came out. One of the reviews was 'Romano is stunning.' And I read that to her. And she said, 'They must've spelled stupid wrong.' Yes. So, I thank God I have her, 'cause it's half my act."

For more info:
Thanks for reading CBS NEWS.
Create your free account or log in
for more features.