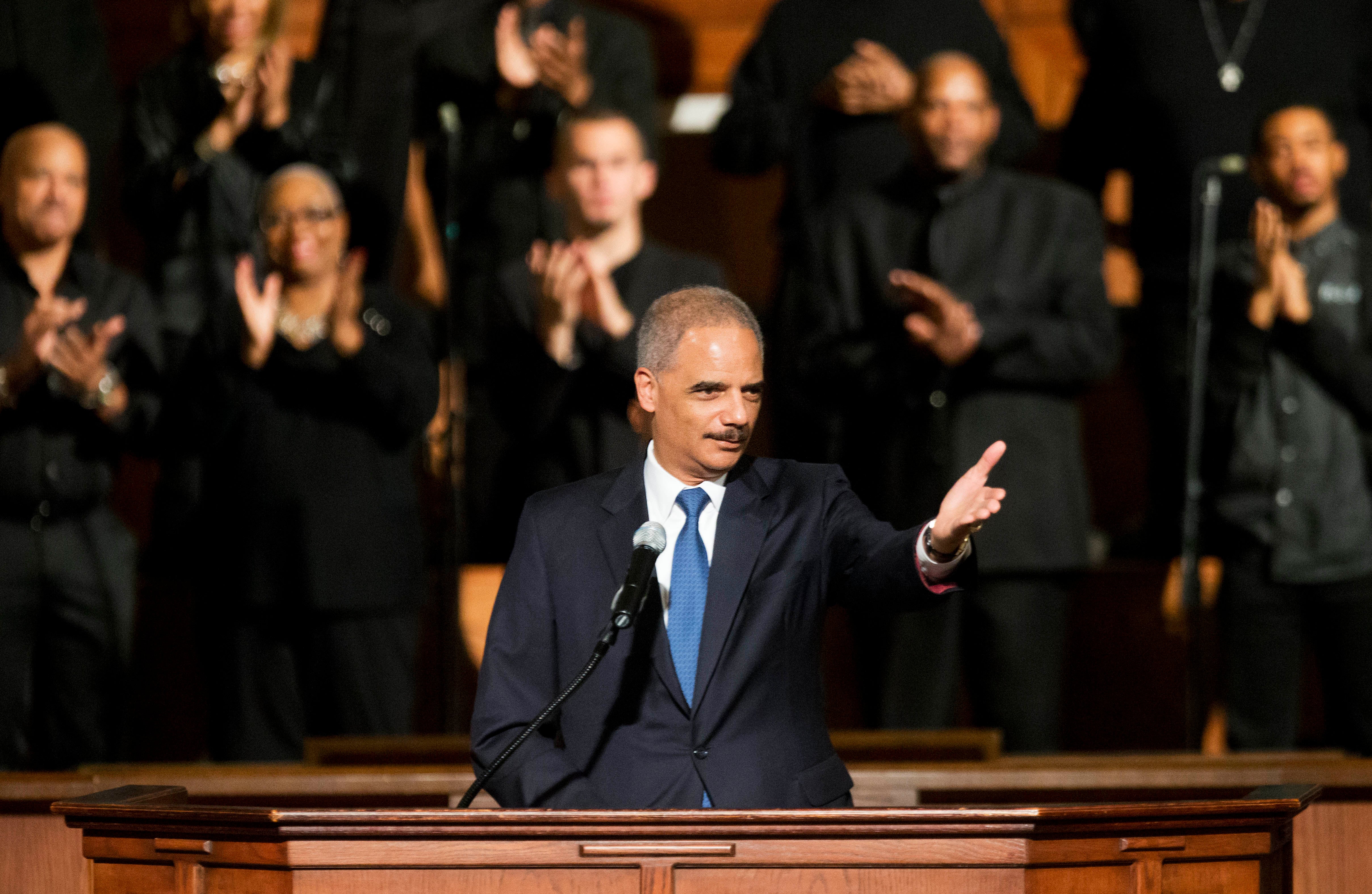 Eric Holder releases new racial profiling guidance
Attorney General Eric Holder announced the Justice Department's release of its long-awaited revised racial profiling guidance for federal law enforcement on Monday.
In 2003, the Justice Department issued its first racial profiling guidance under former Attorney General John Ashcroft. That guidance banned profiling based on race and ethnicity, but granted exceptions for national security and border protection. Civil rights groups considered the exceptions a kind of permission to discriminate especially against Muslims in the wake of the 9/11 terrorist attacks.
The newly revised guidance will expand the characteristics it protects -- beyond race and ethnicity -- to include bans on profiling on the basis of gender, national origin, religion, sexual orientation, and general identity.
"We can't afford to profile, to do law enforcement on the basis of stereotypes," Holder said Monday at an event in Northern Virginia.
The guidance applies to federal law enforcement officers and also to state and local officers involved in federal law enforcement tasks. But the new guidance does continue to allow certain exceptions for the Department of Homeland Security.
The Department of Homeland Security has confirmed that there will be exceptions for its work in screening at the borders and in transportation settings. Other exceptions have been carved out for U.S. Border Patrol interdiction activities in the vicinity of the border and Immigration and Customs Enforcement (ICE) Homeland Security Investigation (HSI) interdiction activities at ports of entry. Secret Service "protective activities" are also excluded from the new guidelines.
The Justice Department began the process of revising the guidance back in 2009. Attorney General Holder has pressed for the revised policy to be finalized before he leaves office, according to a Justice Department official. "It has been the first item on the agenda each day in his morning senior staff meetings," the official said.
"Particularly in light of certain recent incidents we've seen at the local level--and the widespread concerns about trust in the criminal justice process which so many have raised throughout the nation--it's imperative that we take every possible action to institute strong and sound policing practices," Holder said in a statement released in advance of the new guidance.
Asked whether the U.S. is still a "nation of cowards" when it comes to discussing race, Holder said Monday that "we are as a nation still too reluctant" to talk about racial issues.
"We have these conversations when we have incidents," he said. "We need something that is longer lasting... We need to talk to each other about race in times of calm."
The revised guidelines are expected to be one of the signature accomplishments of the outgoing attorney general. At a speech last week in Atlanta, Holder promised these guidelines would be "rigorous new standards--and robust safeguards--to help end racial profiling, once and for all."
But civil rights groups are not satisfied that the new guidance follows through on the promised reforms. The ACLU has been one of the groups pushing for revised racial profiling guidance.
"It's baffling that even as the government recognizes that bias-based policing is patently unacceptable, it gives a green light for the FBI, TSA, and CBP to profile racial, religious and other minorities at or in the vicinity of the border and in certain national security contexts, and does not apply the Guidance to most state and local law enforcement," ACLU Washington Legislative Office Director Laura W. Murphy said in a statement.
Holder on Monday maintained that the revised guidelines represent a "substantial step forward... certainly with regard to the Justice Department components." He added, "Those components that are part of the Homeland Security Department, they have unique needs and things they'll have to work their way through."
Holder will hold a conference call on Monday to brief local law enforcement on the changes to the federal policy. He hopes that federal law enforcement will implement these standards and then set an example for local law enforcement agencies to adopt as well. The attorney general is expected to make a series of stops in cities across the U.S. as part of an effort to improve relations between communities and law enforcement starting Tuesday with a speech in Memphis.
Thanks for reading CBS NEWS.
Create your free account or log in
for more features.