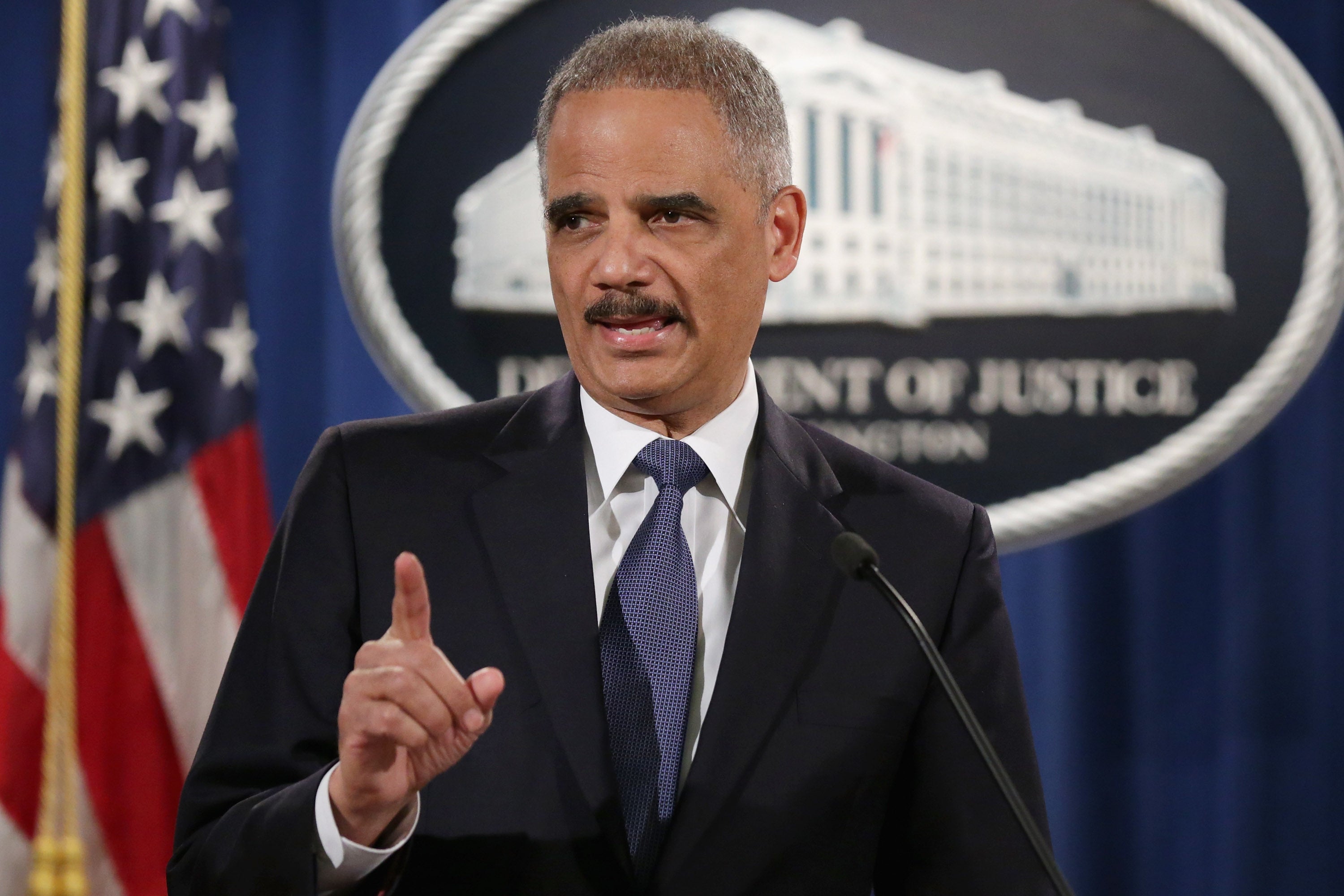 Holder: "Damn punk" responsible for shooting cops in Ferguson
Attorney General Eric Holder harshly condemned the "damn punk" responsible for shooting of two police officers in Ferguson, Missouri early Thursday morning, saying the incident "turned my stomach."
"What happened last night was a pure ambush," Holder said. "This was not someone trying to bring healing to Ferguson, this was a damn punk who was trying to sow discord."
"I want to be very clear here: I unequivocally condemn these repugnant attacks," Holder said. "All of us in the law enforcement family and all Americans across the country are praying for the safe recovery" of the two officers who were shot.
In an earlier statement, Holder said the shooting threatens "the very reforms that nonviolent protesters in Ferguson and around the country have been working towards for the past several months."
The two officers were shot during a protest that came just hours after Ferguson's police chief, Thomas Jackson, resigned in the wake of a Justice Department report that found widespread patterns of racial bias in the Ferguson police force. Neither of the two officers was a member of the Ferguson force, though - one was a St. Louis County police officer, and another was from a nearby department in Webster Groves. They both remain in serious condition at a local hospital.
A manhunt is currently underway to find those responsible for the shooting.
Ferguson has been rocked by protests since a white police officer shot and killed Michael Brown, an unarmed black 18-year-old, last August. The city's police force is almost entirely white, while a majority of its residents are black. Brown's death helped spark a national debate about racism in the criminal justice system - a debate that intensified after the officer who killed him, Darren Wilson, was acquitted.
An attorney for Brown's family, Benjamin Crump, told CNN Thursday that the family condemned the shooting, and he urged viewers not to let the incident obscure the protesters' message.
"Violence is never the solution," Crump said. "There may be a few people who are misguided or confused but in large part the majority of the protesters and the majority of Americans want justice."
The shooting is the latest in a series of incidents targeting police officers in the wake of the Brown case, a fact Holder acknowledged in his statement, noting "the killing of an officer in Philadelphia last week while he was buying a game for his son" and "the tragic loss of a Deputy U.S. Marshal in the line of duty in Louisiana earlier this week."
In December, two New York City cops were killed by a man who said he was seeking revenge for Brown's death and the death of another unarmed man, Staten Island resident Eric Garner, at the hands of a police officer last July.
St. Louis County Police Chief Jon Belmar suggested on Thursday that the lingering tensions in Ferguson were to blame for the early morning shooting.
"I have said all along that we cannot sustain this forever without problems," he said, according to Reuters.
"These police officers were standing there and they were shot, just because they were officers," he said.
In his condemnation of the shootings, Holder recalled the words of his brother, who is a retired law enforcement officer. "He always tells me that cops have the right to come home at night," the attorney general said. "And that's exactly right. These are people who protect us, keep us safe."
Thanks for reading CBS NEWS.
Create your free account or log in
for more features.