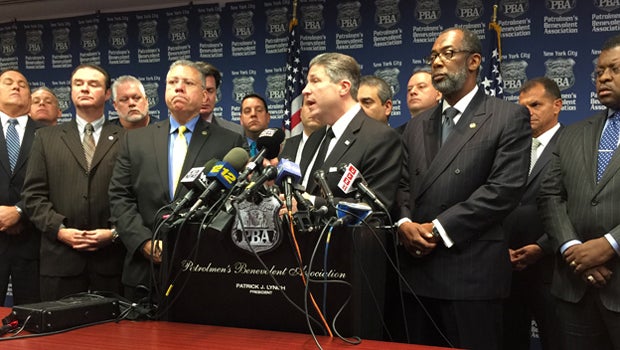 Eric Garner fallout: Cops feel "thrown under the bus," union says
NEW YORK -- The head of New York City's police union said officers felt "thrown under the bus" by Mayor Bill de Blasio following a Staten Island grand jury's decision not to indict an officer in the death of Eric Garner, CBS New York station WCBS-TV reports.
Patrolmen's Benevolent Association President Patrick Lynch said the mayor needs to do more to support New York City cops.
"What police officers felt yesterday after that press conference is that they were thrown under the bus," Lynch told reporters Thursday. "That they were out there doing a difficult job in the middle of the night, protecting the rights of those to protest, protecting our sons and daughters and the mayor was behind microphones like this throwing them under the bus."
Lynch was responding to de Blasio's speech Wednesday after the grand jury declined to charge Officer Daniel Pantaleo in Garner's death.
The mayor said he and his wife, Chirlane, have had to have painful conversations with their teenage son, Dante, about "how to take special care with any encounter he may have with police officers."
"I've had to worry over the years, Chirlane has had to worry: Is Dante safe each night?" de Blasio said Wednesday. "And not just from some of the painful realities of crime and violence in some of our neighborhoods but safe from the very people they want to have faith in as their protectors."
Lynch slammed the mayor's comments, saying "our city is safe because of police officers" and said New Yorkers should be afraid of the criminals, not the police.
"He spoke about, 'we have to teach our children that their interaction with the police and that they should be afraid of New York City police officers.' That's not true," Lynch said. "We have to teach our children, our sons and our daughters, no matter what they look like, to respect New York City police officers, teach them to comply with New York City police officers even if they think it's unjust."
On Thursday, de Blasio issued a letter to his fellow New Yorkers, calling Garner's death a terrible tragedy and outlined the city's plan to improve relations between law enforcement and the community.
"For many across our city and our nation, yesterday's grand jury ruling compounds feelings of grief with dissatisfaction and anger," de Blasio said in the letter. "This is not the end of the story - only the end of a chapter."
Garner, a 43-year-old father of six, died in July after police officers attempted to arrest him for allegedly selling loose, untaxed cigarettes in the Tompkinsville section of Staten Island.
In cellphone video of the incident, Pantaleo, who is white, is seen placing his arm around Garner's neck in an apparent chokehold and then taking him to the ground after Garner refuses to be handcuffed.
Garner, who was black, is heard saying repeatedly, "I can't breathe!" He died a short time later.
The New York City Medical Examiner's office ruled Garner's death a homicide, caused by the officer's apparent chokehold as well as chest and neck compressions and prone positioning "during physical restraint by police." Asthma, heart disease and obesity were also contributing factors.
The grand jury began hearing evidence in the case on Sept. 29, which included testimony by Pantaleo.
Staten Island District Attorney Daniel Donovan released a statement Wednesday saying his office conducted a thorough investigation before presenting evidence to the grand jury.
He said the grand jury found "no reasonable cause" to bring charges against Pantaleo. To find Pantaleo criminally negligent, the grand jury would have had to determine he knew there was a "substantial risk" that Garner would die.
Twelve of the 23 jurors needed to be in agreement for any charges to be filed.
Pataleo's lawyer and police union officials argued that the grand jury got it right, saying that the officer used an authorized takedown move, not a banned chokehold, against a man who was resisting arrest. And they said Garner's poor health was the main cause of his death.
"It was just decision, a difficult decision we understand, but it was a just decision - why? Because it was based on the facts that were on the table. Not what was going on in the street or not what others may want it to be," Lynch said.
Attorney General Eric Holder said federal prosecutors will conduct their own investigation of Garner's death. The NYPD is also doing an internal investigation that could lead to administrative charges against Pantaleo, who remains on desk duty.
Thanks for reading CBS NEWS.
Create your free account or log in
for more features.