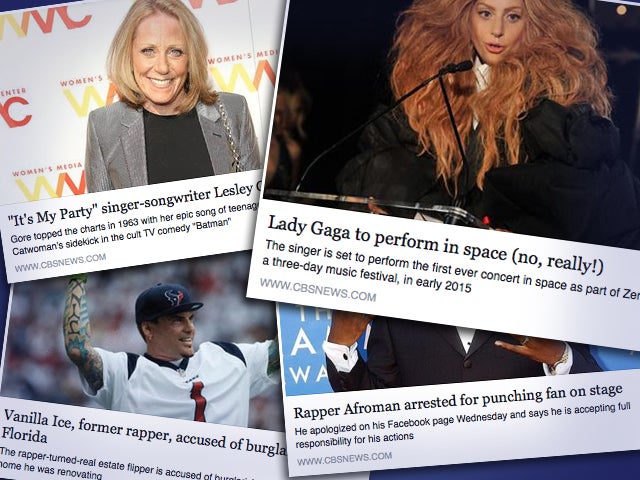 Entertainment buzz: Facebook's top moments of the week
It was a big week in the world of entertainment, from the hilarious "SNL" reunion to a Lady Gaga engagement announcement!
Facebook has tallied the top 10 hottest stories in entertainment this week. What had you talking? What popped up most on news feeds across the U.S.? What did you miss on your Facebook feed because your New Year's resolution was to go on Facebook less?
Here's our exclusive list:
1. Singer Lesley Gore dies at 68
Singer-songwriter Lesley Gore, who topped the charts in 1963 with her epic song of teenage angst, "It's My Party," and followed it up with the hits "Judy's Turn to Cry" and "You Don't Own Me," died Monday. She was 68.
2. Actress Lorena Rojas dies at 44
Lorena Rojas, a popular Mexican actress who starred in more than a dozen soap operas, died at 44 following a long battle with cancer.
She was diagnosed with breast cancer in 2008 and became an advocate for cancer education in Latino communities. She passed away at her home in Miami.
3. "Saturday Night Live" hosts 40th anniversary special
Titans of comedy assembled in New York City Sunday night for "SNL's" three-and-a-half hour special, paying homage to a program that helped launch so many of their careers. Some of "SNL's" most popular characters and sketches were brought back after years away from the stage, like Wayne's World and Celebrity Jeopardy.
4. Lady Gaga gets engaged to Taylor Kinney
No poker face needed for this happy announcement -- Lady Gaga is engaged to actor Taylor Kinney.
The singer confirmed the news Monday on Instagram, sharing a photo of a heart-shaped diamond ring from the "Chicago Fire" star. "He gave me his heart on Valentine's Day, and I said YES!" she wrote.
5. Afroman arrested after he punches a female fan during concert
Rapper Afroman was arrested for simple assault after police say he punched a female fan on stage during a concert in Biloxi, Mississippi. Afroman, who is best known for his hit "Because I Got High," was arrested Tuesday night and his show was canceled.
6. Untouched photo of Cindy Crawford photoshoot leaked
In the 1990s, Cindy Crawford became a household name for her flawless supermodel features. Now, the mom of two is making waves for a photo not hiding the effects of aging.
A leaked photo of Crawford in lingerie that appears to have minimal retouching has been burning up the Internet recently, and many are praising the 48-year-old for being, well, normal.
7. Vanilla Ice arrested for home burglary in Florida
Robert Van Winkle, also known as rapper Vanilla Ice, was arrested Wednesday for his alleged role in a residential burglary in Florida, reports CBS Miami.
Van Winkle, who rose to fame in the 1990s as a rapper and is now a real estate flipper, was renovating the home next to the Lantana property that was burglarized sometime between December 2014 and February 2015, reports the station. Items including furniture, a pool heater, and bicycles were reportedly stolen from the home that's currently under foreslosure. Van Winkle is a South Florida resident. The stolen items were discovered at a home connected to Van Winkle in Palm Beach County, reports the station.
8. Japanese animator Hayao Miyazaki says Charlie Hebdo cartoons were a mistake
Japan's "Walt Disney" criticized the French satirical magazine Charlie Hebdo for its publication of caricatures of the Prophet Mohammed, which resulted in Hebdo's offices being stormed by two Islamist gunmen in January.
Hayao Miyazaki, director of films like "Princess Mononoke" and "Spirited Away", reportedly told a Japanese radio program that he felt it was a "mistake" to publish such satirical cartoons.
"Instead of doing something like that, you should make more caricatures of your own country's politicians," he said.
9. Reba McEntire will release a new album in April, her first in five years
A day before Valentine's Day, country star Reba McEntire announced a new album due out in April. "Love Somebody" is her first full-length LP in five years.
10. Adult Wednesday Addams turns the tables on catcallers in new webisode
Adult Wednesday Addams gets sweet revenge on catcallers in the latest installment of her web series. In the episode, Wednesday follows the catcallers back to their house, and she doesn't come alone. Check it out:
*Buzz rankings reflect the top entertainment topics being discussed on Facebook, Feb. 9-13, in the United States. Rankings are based on both frequency and momentum: the Facebook conversations that not only got a lot of buzz during the week, but also saw a notable increase compared with the previous week.
Thanks for reading CBS NEWS.
Create your free account or log in
for more features.