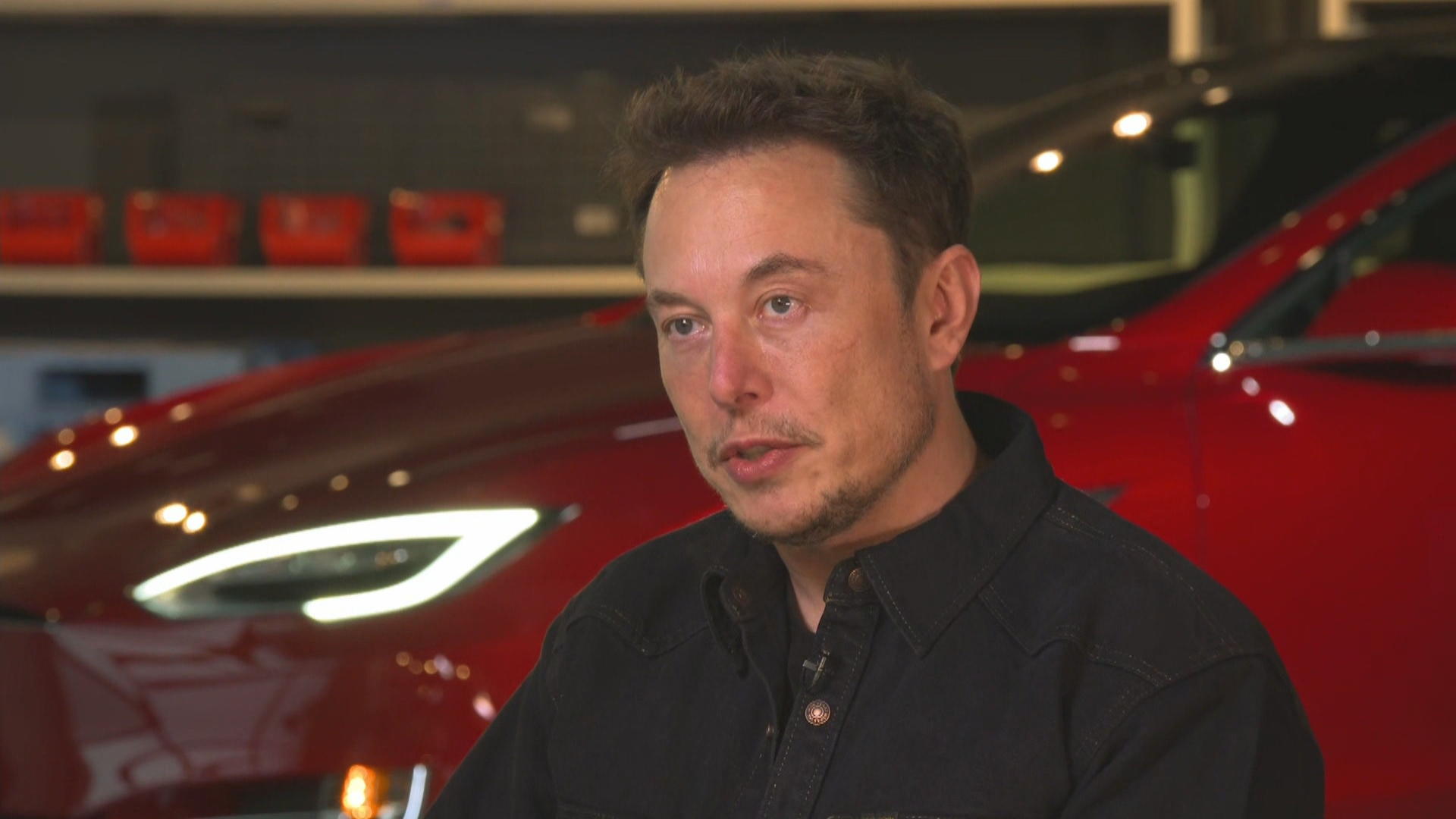 Tesla CEO Elon Musk, stressed but "optimistic," predicts big increase in Model 3 production
Tesla, the pioneering electric car company, has suffered a series of very public challenges since the beginning of this year. Its high-profile CEO Elon Musk called this a period of "production hell." Most of the troubles revolve around the company's Model 3 sedan, its first mid-priced, mass-produced electric car.
Musk, whose relationship with outside analysts and investors is going through a rough patch, took "CBS This Morning" co-host Gayle King on a tour of his Silicon Valley factory. It was the first time network cameras were allowed inside the production line.

"I'm definitely under stress, so if I seem like I'm not under stress then I'm gonna be clear, I'm definitely under stress," Musk told King.

In the past month, Tesla has issued a voluntary recall of 123,000 of its older Model S vehicles, dealt with a fatal crash of a vehicle equipped with its semi-autonomous driving system and suffered a downgrade of its credit status on Wall Street. But the most important thing on Musk's mind right now is solving production delays for the company's Model 3 sedan.
"You started saying, 'We'll do 5,000 a week.' Then, okay, that didn't work out, 'We'll do 2,500 a week.' And now it's a little over 2,000 a week. Does that trouble you?" King asked Musk, who replied, "Yeah. No, that's true….I need to figure out how to be better….And then we can be better at meeting goals."
Tesla's future is tied to that car. When Musk introduced it last summer, the Model 3 was billed as the company's first mid-priced, mass-produced electric car accessible to middle-class customers – not just the super wealthy.
While Musk had prepared his team for the production demands, he said it's been worse than expected. Why?
"We got complacent about some of the things that we felt were our core technology….We put too much new technology into the Model 3 all at once. This -- this should have been staged," he said.

High-tech goes in the cars, but it also builds them. The Model 3 assembly line is widely regarded as one of the most robotics-driven on the planet – which is part of the problem.
"In some cases, the robots actually slowed the production. Right?" King asked.
"Yes, they did….We had this crazy, complex network of conveyor belts….And it was not working, so we got rid of that whole thing," Musk said.

Realizing it needed an overhaul, Musk personally took over the Model 3 production line at the beginning of April. He said he's resorted to pulling all-nighters at the plant and, at times, even sleeping at the factory.

"When things get really intense, I don't have time to go home and shower and change, so I just sleep here," Musk told King, showing her a conference room with a couch.
"Last time I was here, I actually slept literally on the floor, 'cause the couch was too narrow," he said.
"And, Elon, I have to say, it's not even a comfortable couch either," King joked. Musk agreed, saying "No, it's terrible. This is not a good couch."
Musk feels like all the overtime is paying off and now he says the Model 3 line is back on track.

"We were able to unlock some of the critical things that were holding us back from reaching 2,000 cars a week. But since then, we've continued to do 2,000 cars a week," he said.
Asked if that pace is sustainable, Musk replied, "Yeah, yeah….We'll probably have, I don't know, a three or four-fold increase in Model 3 output in the second quarter."
But Musk's critics have heard predictions like those before. A future the automaker has yet to reach.
"The problem that people have, a lot of the analysts, is they kinda look in the rearview mirror instead of looking at the front windscreen," he said. "This has very frequently been why people have underestimated Tesla, because they would look at Tesla's – what Tesla's done in the past and use that as proxy for what we're able to do in the future."

On April Fools' Day, Musk mixed his optimism with dark humor on social media. In the midst of widespread concerns Tesla might collapse, he tweeted: "We are sad to report that Tesla has gone completely and totally bankrupt. So bankrupt, you can't believe it."

"There were all those media articles saying that Tesla's going bankrupt. So I thought, 'Well I'll just do an April Fools' joke that we did go bankrupt," he said.
"I mean, it's April Fools. People should, like, lighten up. Okay?....It should be pretty obvious, I think, that I'm not gonna joke about bankruptcy if I think it's remotely real….I'm feeling pretty optimistic about where Tesla is at this point. At this point I can have a clear understanding of the path out of hell, and I did not, until recently, have a clear understanding."
Thanks for reading CBS NEWS.
Create your free account or log in
for more features.