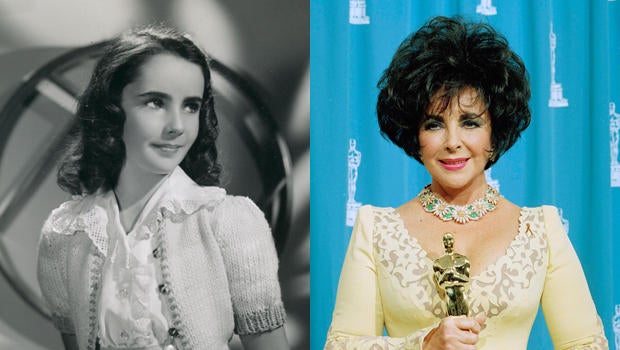 Elizabeth the Great: The life of a true Hollywood star
Two-time Oscar-winner Elizabeth Taylor counted spectacular jewels among her prized possessions. Along with the gems, she left plenty of mementos of a life well-lived, as Rita Braver shows us:
She won her first Best Actress Oscar in 1961, playing a loose woman in "BUtterfield 8"; the second was in 1967, for "Who's Afraid of Virginia Woolf?," sparring on screen with her real-life husband, Richard Burton.
But those closest to her say that it was the third one that meant the most: 25 Oscar Sundays ago, Elizabeth Taylor earned the Jean Hersholt Humanitarian Award for her pioneering work in the fight against AIDS. "I accept this award in honor for all the men, women and children with AIDS who are waging incredibly valiant battles for their lives," she said.
Taylor's activism was especially significant because it started at a time when Hollywood barely whispered about AIDS.
Braver asked, "Were you surprised? Or did it just seem something that seemed natural to you?"
"She loved a crisis, she really did," replied Naomi De Luce Wilding, Taylor's granddaughter from her second marriage to British actor Michael Wilding. She volunteers for the Elizabeth Taylor AIDS Foundation, which the Taylor estate still funds.
"It was very important for her to speak up for people who weren't being heard," Wilding said.
She rose to national prominence as a child; by age 11, Taylor was already a star, with "National Velvet." She would go on to make more than 50 films, marry eight times, and lead one of the most glamorous and colorful lives of any woman in American history.
Tim Mendelson worked for Taylor for 20 years, until her death in 2011.
"She was wonderful," he said. "I mean, she was big. She was dramatic. She was tough! The thing that I always like to say is that I had a front-row seat to the best reality show that no one will ever see!"
Much of that time he was her top assistant. Now, Mendelson is a Trustee of her AIDS Foundation, headquartered in Beverly Hills. He also helps run the Elizabeth Taylor Archive, housed here as well.
Some items have never been seen publicly before, such as childhood essays she wrote that her mother kept. There's a box of photos from her years as an MGM ingénue, including pictures on the set of "Father of the Bride" with Spencer Tracy. "They were very close. She called his character 'Pops' in the film, and she called him 'Pops' in real life, too," Mendelson said.
There are letters she wrote to her parents from her 1950 honeymoon with first husband, hotel heir Nicky Hilton: and there are love letters from Richard Burton, whom she married (and divorced) twice. One letter reads: "You make riot in the imagination … there's nothing like you."
Also, her wedding dress from her first marriage to Burton, and the yellow Valentino gown from her eighth wedding, to Larry Fortensky, a man she met while in rehab. They got married at Michael Jackson's ranch, Neverland.
Taylor's wedding album shows Naomi Wilding serving as one of her grandmother's bridesmaids. Wilding says, despite Elizabeth Taylor's glamorous public life, in private she was devoted to her family.
"She was an average grandmother in that she was unconditionally loving and supportive, and she offered us a home where we knew we were always welcome," Wilding said. "She was very tactile and very cuddly. So in some ways, especially for me as a kid, I didn't really know the difference between her and any other grandmother."
Still, she was a grandmother who helped change the world.
As she said while accepting her Jean Hersholt Humanitarian Award, "I will remain here as rowdy an activist as I have to be and, God willing, for as long as I have to be."
"She was timeless," Wilding said. "And I think that it's important to keep that memory alive, [to] remember what she did."

For more info:

Story produced by David Rothman.
Thanks for reading CBS NEWS.
Create your free account or log in
for more features.