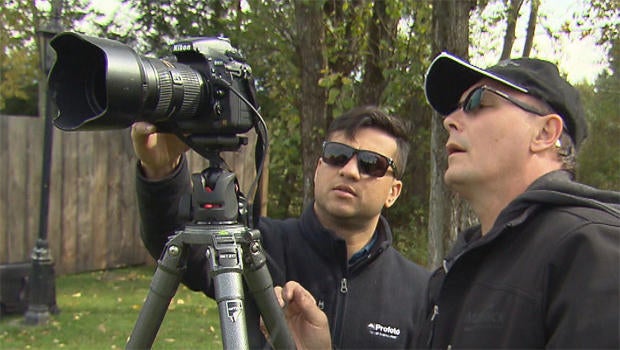 Pulitzer-winning photographers teach how to capture the moment
CAPTURING THE MOMENT is quite a challenge for photographers in the realm of news ... a goal they try to accomplish even in the most terrible circumstances. Our Cover Story is reported by Maurice DuBois:
It's been just a week, and yet images from Las Vegas already haunt us. Photos from the deadliest mass shooting in recent American history join other familiar images of our time to remind us once again that a picture can be worth a thousand words.
Pictures from Las Vegas capture the chaos, the fear, the disbelief, the pain -- those instants when time stopped.
Of course, millions of us carry around cameras and snap photographs every day. But is it possible to teach someone to take a great picture?
"On some level you have to have the instincts to understand what it is you're seeing, 'cause I don't think everybody understands what they're seeing," said Alyssa Adams. "You either see something or you don't. Can you learn to see? Yes, you can."
Adams has thought a lot about powerful photographs. In a storage room containing fragments of her late husband's career is a print of Eddie Adams' most famous photo: an unsettling image (that won the 1969 Pulitzer Prize) of the national police chief of South Vietnam executing his Vietcong prisoner.
"I don't think we ever spoke about it," she said.
"Not a once?" asked DuBois.
"Not once. Yeah, it's funny how you can live with somebody for 20 years and not talk about something like that, right?"
But before he died, in 2004, Eddie Adams and his wife did talk often about creating an opportunity for news photographers to share their stories -- to learn from each other.
Their workshop is now in its 30th year.
At the Adams' barn in Upstate New York, 100 emerging photographers are mentored by ten veterans, many of them Pulitzer Prize-winners.
It's competitive (students apply to attend the four-day workshop), but tuition is free.
DuBois asked photographer Caroline Cole, "What do you hope rubs off on the students today?"
"I hope my passion for photography rubs off on them," she replied. "And if you're ready and the next big story happens, you'll be prepared for it."
Cole's 2004 Pulitzer-winning images took readers to the bloody civil war in Liberia.
She said she uses her camera "as a way of exploring the world and learning about the world and helping other people to learn about that. It's a way of people making connections over long distances."
Her student is Roman Knertser, from Russia. "Each one of us came here and we want to prove that we are good enough to be here," Knertser said. "I'm doing my best to be as good as I can."
His workshop assignment: to focus on a local farmer struggling to survive tough economic times. As Knertser prepared to take a portrait, Cole asked the farmer, "Do you always wear your glasses, or would you mind trying one without your glasses?
"I just want to see his eyes a little more," she explained.
Instructor John Filo is proof that you don't have to be a seasoned photographer to win a Pulitzer. He was a 21-year-old journalism major on May 4, 1970, when he photographed anti-Vietnam War demonstrations on the campus of Kent State University in Ohio. Filo saw students throwing rocks at National Guardsmen, who dropped to one knee and raised their rifles.
"I remember seeing pictures. I don't remember taking them," Filo said. "I can't remember clicking the camera, to this day!"
DuBois asked, "What's coming out of the rifles?"
"I'm thinking blanks. I mean, I thought it was a scare tactic. And as I'm about to shoot the picture, this bullet goes through this metal sculpture, sort of in my line of sight, and hits the tree right next to me. Everyone's still on the ground. And then you see this body on the street, on the asphalt, and it's like someone tipped over a bucket of blood. And I noticed this girl that ran up and knelt down beside him. As I moved closer, she just sort of let out with the scream and I think I shot one more frame. And then I went, and that was it."
After years with the Associated Press, newspapers and magazines, Filo is now head of photography for CBS.
"You're only as good as your last photo," he said. "So, you're always looking to improve. You're just trying to constantly whip yourself into being a better photographer. And what does that mean? It made me a better person."
Carol Guzy says it's a photographer's task to find the truth in someone else's story.
"It's not about how great a picture you make, because we have nothing to do with it; we're just the link," she said. "It's about who's in the pictures. And that small word empathy, to me, means everything."
"Empathy" has won her a record four Pulitzers, including for her 2000 depiction of the plight of refugees fleeing Kosovo.
"You're there and they're passing babies, and you don't stop taking pictures as they're still passing babies," Guzy said. "You just continue, and then one rises a little bit above all the others you took."
Guzy also won Pulitzers in 1986, for her work at the volcano disaster in Colombia; in 1995, for her documentation of the regime change in Haiti; and for her photo from the 2010 earthquake in Haiti.
"It's about the people in the stories," she told DuBois. "Even the Pulitzers are wonderful to win, but they're not ours. They belong to the people who had the courage to open their lives to our cameras and let us tell their story and let someone else learn from it."
After spending time in the field, the student photographers show their work to the veterans, who are usually both supportive -- and critical.
And they soon discover the workshop is less about equipment and technique, and more about something deep in the soul:
DuBois, sitting to talk with veteran photographer John H. White, noticed him holding his camera at the ready. "You cradle that thing like you're not gonna let go of it," DuBois said.
"It's an extension of me," said White. "No, I would never let go! I mean, it's my partner in flight. It's my third eye. It's an extension of my heart. It's always in reach."
If the workshop has a spiritual leader, it's White, a 1982 Pulitzer-winner, known for images of everyday life in urban Chicago.
"And it says to me -- my camera -- I would never let you down. I'm here for you. You believe in me. When you need speed, I got you covered."
White says folks come here as photographers, but find themselves leaving as visual messengers.
"There's more to it than clicking," White said. "They click; we capture life moments. That's why it's important to take pictures with the camera of the heart, with the soul, with the mind, with all of one's being. You're not taking the picture. Life is taking it. I'm just a vehicle."
DuBois asked, "Is it timing?"
"No, no," White replied.
"What is it?"
"It's in here [the fingers]. It's in here [the camera]. It's in here [the heart]. It's in there [the brain]."
"You can teach that?"
"Yes. I can turn the switch on within their heart and spirit and mind/soul."
What's more, he added, "I believe it's my responsibility."
A photojournalist may end up bearing the weight of the world. "Everything stays with you," says Guzy. "I mean, it stays with me. I think there's a toll emotionally that is taken, especially covering a lot of the stories I used to cover.
"Conflict, anguish, tragedy -- it can break your heart."

For more info:
Thanks for reading CBS NEWS.
Create your free account or log in
for more features.