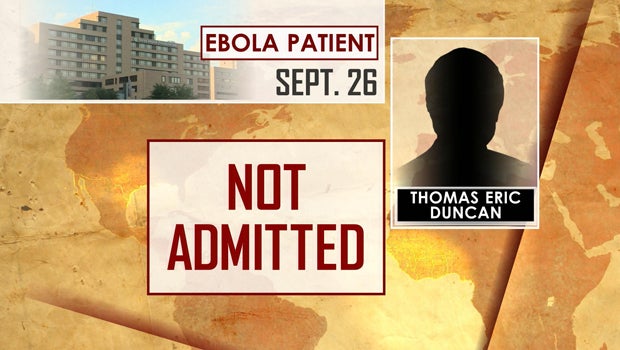 Questions surround Ebola patient's first hospital visit
DALLAS - A team from the Centers for Disease Control and Prevention was in Dallas Wednesday investigating why a hospital sent an Ebola patient home, potentially exposing others to the deadly virus.
This is the first Ebola case diagnosed in the U.S.
The patient, identified as Thomas Eric Duncan by CBS Dallas station KTVT, was visiting family from his home in Liberia. He is in serious condition and has been in a specialized isolation room at Texas Health Presbyterian Hospital since Sunday.
There are questions about why he wasn't admitted two days earlier, on Sept. 26, when he first came to the hospital with a fever and abdominal pains.
A nurse, using a checklist, asked whether he traveled from Africa. He answered yes but was released.
"Regretfully that information was not fully communicated throughout the full team," the hospital's Dr. Mark Lester told reporters.
Lester wouldn't say if there was a breakdown over whether he should have been admitted that day based on the information that Duncan had traveled from Africa.
"I can't answer that question because that's one piece of information that would be factored into the entire clinical picture," he said.
The miscommunication put more people at risk of exposure.
Texas health officials are monitoring 12 to 18 people who may have had direct contact with the patient, who was staying with relatives at a Dallas apartment complex.
That includes five children. They have not shown symptoms but will not return to school until doctors clear them.
Texas Gov. Rick Perry sought to calm fears.
"This case is serious," he told reporters. "Rest assured that our system is working as it should."
The three paramedics who brought the patient to the hospital Sunday have tested negative for Ebola. Still, they are being isolated and monitored for symptoms. The ambulance that was used has been quarantined for decontamination.
CBS News chief medical correspondent Dr. Jon LaPook reports that while the CDC remains confident that this Ebola infection can be stopped in its tracks, the agency has concerns about why protocol was apparently fumbled in Dallas.
"After all, for the last month or two, they've been sending out all sorts of e-blasts and communications - I've gotten them - saying be on the lookout for Ebola," LaPook said. "And that means that symptoms like fever or nausea or headache, minor ones that can seem like a virus, think of Ebola and always ask a travel history."
LaPook held a Facebook chat on Ebola Wednesday, and the top question was about the transmission of the disease, specifically if it was spread by coughing or sneezing.
Ebola is not spread through the air. People would need to have direct contact with fluids, and in addition to that, there has to be some kind of break in the skin or the disease would need to make contact through mucus membranes in the mouth or the nose.
Viewers with questions about Ebola can send them to Dr. Jon LaPook at facebook.com/cbseveningnews.
Thanks for reading CBS NEWS.
Create your free account or log in
for more features.