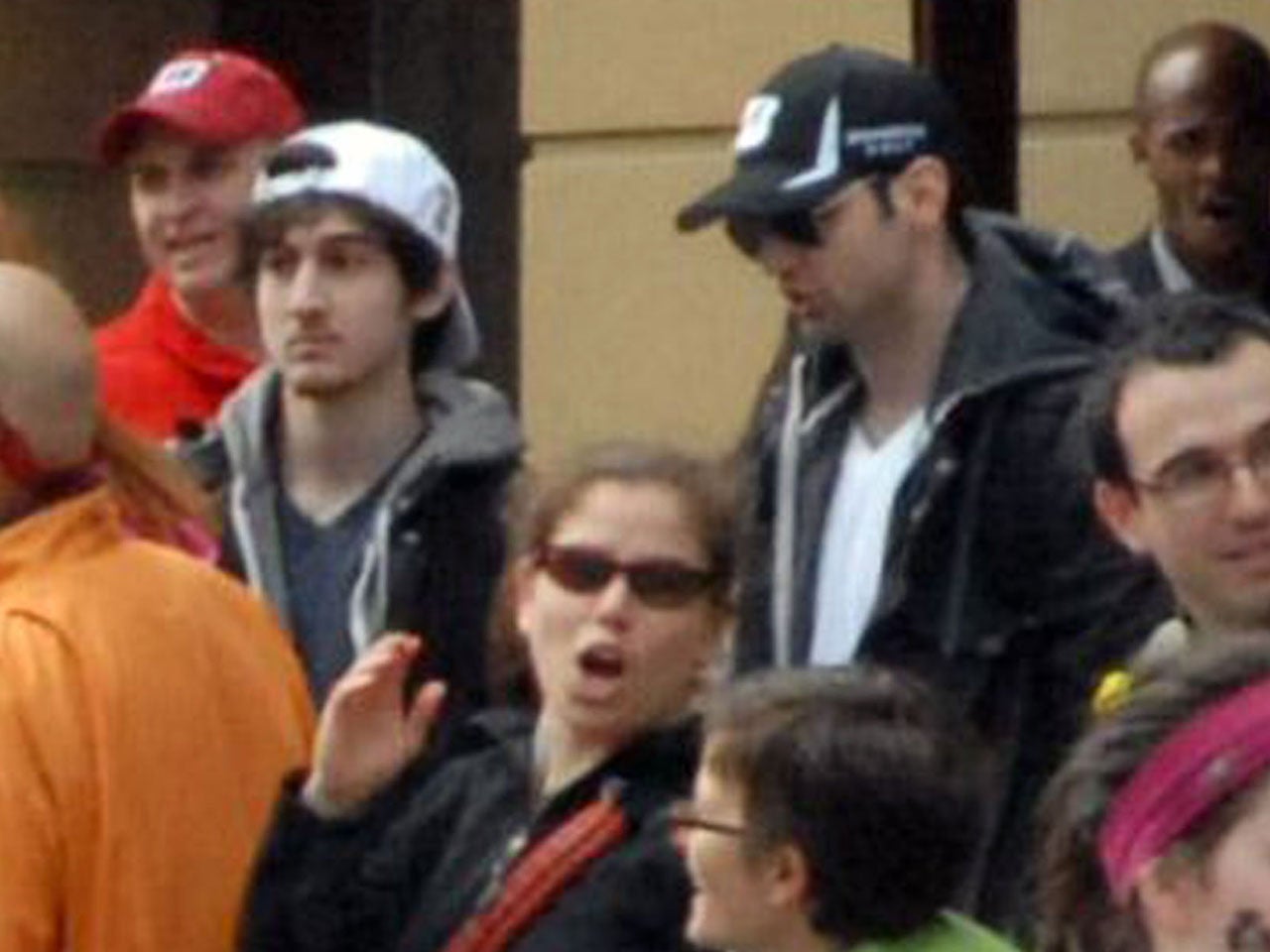 Dzhokhar and Tamerlan: A profile of the Tsarnaev brothers
There are growing concerns from Washington to treat Dzhokhar Tsarnaev - an American citizen, as an enemy combatant, not a criminal defendant. That would mean denying him certain constitutional protections.
But how could two young men who call this country home become suspected terrorists?
The brothers Tsarnaev had been in the United States for nearly a decade. Ethnic Chechens, they came with their family to Cambridge -- fleeing violence in their homeland for a better life in America. Immediately, 8-year-old Dzhokhar immediately seemed to just fit in.
Larry Aaronson, a history teacher at the prestigious Cambridge Rindge and Latin High School -- the same school Matt Damon and Ben Affleck attended - said Dzhokhar was a great kid.
"I know this kid to be compassionate. I know this kid to be forthgoing. He's a great athlete, a sportsman, he's never been in trouble,"
Aaronson said. "He was just generous, he was compassionate, he was thoughtful."
A steller athlete, Dzhokhar was the captain of his high school wrestling team and he was popular.
"Lots of friends on the teams. I mean, he was always with other kids.
He's not a loner. He was not a loner. He's not anybody like that," said Aaronson.
Video: Caught: A "48 Hours" special report on the Boston bombings
Watertown police chief recalls gunfight with suspects
Video: How vulnerable is the U.S. to a terrorist attack?
Video: Residents share tales from Franklin Street
Dzhokhar was so impressive, that in 2011 -- the year of his high school graduation -- he won a $2,500 dollar educational scholarship from the City of Cambridge. He enrolled at the University of Massachusetts Dartmouth and chose to study nursing, talking about wanting to help people.
"I never saw him out of emotion, never in rage, he was just a real relaxed kid," friend Francis Barry, a sophomore said he liked hanging out with him.
"It still hasn't sunk in that the kid on my couch was the kid planting bombs in Boston," he said.
"There's nothing about him that would suggest anything like this - politics, religion -- nothing," said Aaronson.
On Sept. 11, 2012, Dzhokhar took the oath to become an American citizen.
On the surface, at least, the younger Tsarnaev brother seemed to be thriving in America, but his older brother, Tamerlan, was clearly struggling. The 26-year-old once had dreams of boxing in the Olympics, representing the United States.
Photos: The boxing career of Tamerlan Tsamaev
Complete coverage: Boston bombing aftermath
Julian Pollard was one of his sparring partners. Tamerlan was a top Golden Gloves boxer. But for all his talent, it seems he still didn't feel entirely welcome here, telling a photographer who took photos published in 2010, "I don't have a single American friend because I don't understand them."
"The first year I met him, he had on like, leather pants and snakeskin boots," Pollard recalled. And then Pollard noticed a big change in Tamerlan.
"The second year when I saw him, he had on a T-shirt, hoodie and jeans," he said. "... the way he carried himself was much more humble. He was, ah, he only spoke about his faith. He was big into religion."
Tamerlan attended a Mosque in Cambridge with his brother. On Saturday, a spokeswoman said it is cooperating with authorities and issued a statement:
"In their visits they never exhibited any violent behavior, sentiments, otherwise they would have been immediately reported to the FBI," she said.
CBS News spoke by phone to a woman whose friend became Tamerlan's wife and the mother of his child.
"He just seemed like a really normal average guy when we met him and then really started to change," the woman said. "He became very violent toward her and was brainwashing her into converting into Muslim."
Video: Former friend describes shock of knowing suspect Tamerlan Tsarnaev
In 2009 a domestic violence complaint reportedly was filed against Tamerlan. In Russia on Friday, Tamerlan's father told a reporter the complaint was the reason his eldest son never became an American citizen.
His wife's family commented on the marathon bombings saying they were "sickened by the horror he has inflicted."
At least five years before the bombing, Tamerlan's life started to take a dark turn. He dropped out of community college and his close friend was murdered.
The victim's throat was slit and marijuana was sprinkled over the body. A search of social media sites shows two very different sides to Tamerlan: on one he jokes around about regional accents.
And on another site, he posted videos on YouTube that feature Muslim extremism.
But there's no evidence yet tying Tamerlan or his brother to any Islamic extremists. In Russia on Friday, their father defended them.
"My boys never even saw weapons," he said, "except maybe on TV."
But this was a Chechen family with roots in a region that had seen bloody civil war and serious incidents of terrorism.
In 2002, Chechen militants took more than 800 theater goers hostage in Moscow; 130 hostages died.
And two years later in Beslan, militants took more than 1,000 people hostage and killing more than 300 - most of them children.
Just a few years before the Boston bombings, big changes happened in the brothers Tsarnaev's lives. Their father left the United States, moving to Russia and leaving Tamerlan to take on a more paternal role in his younger brother's life. Dzhokhar's friends noticed.
"His older brother didn't approve of his partying lifestyle. Religious and he really didn't condone drinking and partying and that stuff," said Barry.
The question now is did the older brother's influence go further than that?
On Friday, Ruslan Tsarni was burning with rage toward his nephews.
"He put a shame, he put a shame on our family, the Tsarni family! He put a shame on the entire Chechen ethnicity!" Ruslan Tsarni exclaimed, burning with rage on Friday.
A day later, the horrible reality seemed to set in and he quietly remembered how different they once were, especially the younger brother Dzhokhar.
"He was an awesome kid. Happy kid. With nice big ears. Always smiling. He was special," Tsarni to CBS News' Chip Reid.
He said there was a time when older brother Tamerlan was special, too.
"I wanted Tamerlan to be big brother to all my family to my children, my girls," he said.
But that was before a deeply disturbing phone call with Tamerlan in 2009, the last time they spoke.
"It was a different Tamerlan, seeing no purpose in life, but pursue path of God. When I ask what is the path...he would say some kind of jihad," Tsnari explained.
Tamerlan, he says, had suddenly become radicalized.
"It's a very, very sort of flow of words, love in the name of God, jihad," he said.
Tsarni says it wasn't coming from a foreign influence -- it was coming from his nephew's hometown.
"The seed was planted right there. The seed was planted in this little town of Cambridge area," he said.
"So it wasn't online, it wasn't from overseas, it was right there in Cambridge?" Reid asked.
"It was right there," Tsarni replied.
Tsarni says he feels deep sadness for the victims and their families and he hopes that Dzhokhar will eventually seek their forgiveness. He's horrified at what happened to his two nephews, who he once thought he knew so well.
Why does Tsarni think Dzhokhar was involved in the bombing?
"The older brother involved him. Even the worst gangster would not involve his family member, especially younger sibling, into something dirty and cruel like this," Tsarni said. "He's just another victim."
Thanks for reading CBS NEWS.
Create your free account or log in
for more features.