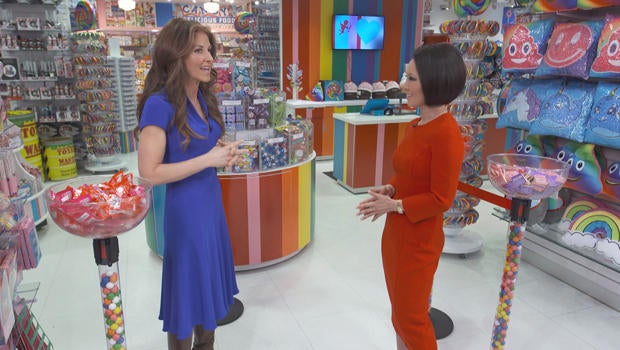 Preview: Dylan's Candy Bar founder to launch a line of healthier candies
Dylan Lauren, founder of the popular Dylan's Candy Bar candy stores, will launch a line of healthier candies soon, she reveals in an interview with Alina Cho for CBS' "Sunday Morning," to be broadcast February 11.
The new line, called "Treat Yourself," is part of Lauren's corporate expansion plans, which also include new stores in Dubai and Japan added to her current line-up of 16 outlets.
Packaging for the new candies is also different from her trademark brightly-colored offerings.
"Because everything else is so colorful," Lauren says of the new line's packaging. "I want people to understand it's vegan, it's gluten free, nut free, allergen free."
Lauren, the daughter of famed fashion designer Ralph Lauren, talks with Cho about her business, her childhood and the future.
She said her candy empire was inspired by the classic film, "Willy Wonka and the Chocolate Factory," which she watched repeatedly as a kid. She wanted to bring that candy-filled world to life.
It worked -- and she's just getting started. She's got big plans for the business, with input from her father and inspired by the vision of Walt Disney.
Could there be a candy hotel?
"You are onto something," Lauren tells Cho, laughing. "Like Disney, I hope to open a candy theme park, maybe a candy hotel -- so trust me, you're not far."
The Emmy Award-winning program, hosted by Jane Pauley, is broadcast on CBS Sundays beginning at 9:00 a.m. ET. Executive producer is Rand Morrison.
"Sunday Morning" also streams on CBSN beginning at 9:30 a.m. ET and repeated at 1 p.m. ET, and is available on cbs.com, CBS All Access, and On Demand.
You can also download the free "Sunday Morning" audio podcast at iTunes and at Play.it.
Be sure to follow us on Twitter (@CBSSunday), Facebook, Instagram (#CBSSundayMorning) and at cbssundaymorning.com.

For more info:
Thanks for reading CBS NEWS.
Create your free account or log in
for more features.