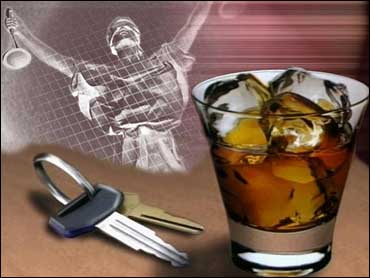 DWI Deaths: Is It Murder?
This story was first published on Jan. 4, 2009. It was updated on July 31, 2009.
Drunk driving kills more than 13,000 Americans a year - that's one every 39 minutes. Authorities call it an epidemic. They say that despite all the publicity, all the education campaigns, and all the advertising over the past decade, the number of drunk-driving fatalities has not gone down.
Some prosecutors have started taking a different approach to the problem, getting so tough on drunk drivers who kill people that the penalties they exact were unheard of in the past.
As 60 Minutes correspondent Bob Simon reported earlier this year, one of these pioneers is Kathleen Rice, district attorney of Nassau County, New York. She believes that if you want to stop drunk driving, you have to treat it as a serious crime with serious jail time. Our story begins, however, not in a courtroom but at a wedding in Nassau County - a wedding and the tragic loss of a 7-year-old girl.
---

Her name was Katie. She and her little sister - the Flynn girls - were flower girls at their aunt's wedding on July 1, 2005. It was a glorious day for the Flynn family, including Katie's parents Jennifer and Neil.

"It was a great day. It was a beautiful wedding. It was a fun time all day long and it couldn't have turned out worse," Neil remembers.

The family had hired a limo to take them home from the wedding so they could dance and party with no worries. But as they were being driven home on a parkway on Long Island, a pickup truck came barreling straight at them in the wrong direction. Chris and Denise Tangney, Katie's grandparents, saw the truck coming from the back of the limo.

"I saw this light come towards me. And I had to think for a second of what that was, 'cause that, it was just out of place," Denise remembers. "I watched this single light come toward me and all of a sudden it went from a single light to a double light. It happened so quickly I remember saying, 'Oh my God, we're gonna get hit.'"

They got hit with incredible force. Both cars were totally destroyed, but that was the least of it. Stanley Rabinowitz, the limo driver, was killed instantly. The limousine was so mangled that members of the Flynn family had to be cut out of the wreckage. Virtually everyone suffered severe, life-threatening injuries, and then there was Katie.

"The first thing I heard was my wife screaming, 'Neil, Katie's dead,'" Katie father's Neil remembers. "And I kept saying, 'No she can't be dead. She's just gotta be hurt real bad.' But I didn't know what Jen was looking at, what Jen saw."

"I reached for Kate and she was on the floor. And all that was left of Kate Marie was her head, that I was able to take," she remembers.

Martin Heidgen, a 24-year-old insurance salesman, was driving the pickup truck. He suffered minor injuries. He had a blood alcohol content over three times the legal limit. On the night of the Flynns' wedding, Heidgen was drinking at a friend's party in a house on Long Island. His friends told him not to drive. He did anyway, driving for about three miles the wrong way on the parkway before slamming into the Flynns' limousine and tearing their lives apart.

"The sadness and despair that is with me every day, I can't even put into words," Jennifer says.

"I relive the crash. I think about it every day. I have nightmares about it every night. And I live my life without my daughter because of it," Neil adds.

"One of the compelling things about this case is that it really ripped the mask off drunk driving," says Kathleen Rice, the district attorney who prosecuted the case.

Getting tough on drunk drivers has been the centerpiece of her platform since she was elected in 2005. This case showed why.

"A 7-year-old girl is beheaded. The driver of the car is crushed to death. I think too many people think about drunk driving crashes, or accidents as people like to call them, as, you know, driving off the road. Or rolling through a red light. These crimes are incredibly violent," Rice says.

Katie's funeral attracted more than 1,000 people. Her death, along with that of Stanley Rabinowitz, became rallying points for the campaign to crack down on drunk driving.

Martin Heidgen was arrested and charged not with manslaughter - meaning accidental killing, as is customary in drunk driving fatalities - but with the more severe charge of murder. That hardly ever happens in America.

Asked why Heidgen fit as a murder case, Rice says, "The statute under which he was charged required us to prove that through his actions, he had a completely depraved indifference to human life."

Heidgen was charged with murder by depraved indifference, she says, because he acted so recklessly others were likely to die.

"His actions made the deaths of Katie Flynn and Stanley Rabinowitz inevitable. It was as inevitable as taking a gun and firing it at an individual who's standing five feet away from you," Rice says.

She says she really believes that.

Heidgen hired lawyer Steven Lamagna to defend him.

Lamagna's reaction when he heard his client was being charged with murder? "I could recall saying to myself, 'They're not going there. They're not charging a vehicular homicide with murder, with a life sentence, as if he's Jeffrey Dahmer or John Gotti.' Murder in our society, and in every state in the union, is relegated to the most dangerous, cold-blooded killers."

Not for young men like Martin Heidgen, he says, a recent college graduate who had no previous convictions of any kind. If he'd been charged with manslaughter - not murder - he'd have been facing a possible sentence of probation to 15 years. Murder carries a mandatory penalty of 15 to life - too much, says Lamagna, for a young man who never intended to kill anyone.

"Are we as a society ready to water down what murder is and turn our sons and daughters into murderers who go out and drink and drive and cause a fatal accident?" Lamagna asks. "No matter how tragic these cases are, and they truly are, they're an unintentional act that was caused by the alcohol. But for the alcohol, this wouldn't have happened."

Kathleen Rice says, "Can you imagine if the law allowed Mr. Heidgen to say, 'Wait, wait, wait. But I was drunk. So I shouldn't be responsible.' What kind of lawlessness would you have if intoxication excused that kind of behavior?"

Rice says she is pushing for tough sentences because nothing else is working. In spite of sobriety checkpoints, a recent study by the federal government showed that 15 percent of adult drivers actually admitted to driving under the influence at least once in the past year.

And when it comes to recent high school graduates, a study from Duke University says that ten percent of them admitted to drinking and driving within two weeks of being questioned.

"Do you think that charging someone who's driving drunk and kills someone with murder is a deterrent?" Simon asks.

"Anything that makes someone think before they make the bad decision to drink and get behind the wheel of the car, that's gonna be a deterrent," Rice argues.

Rice says people drink and drive because they're not afraid of the law, that they think they can get away with it. And until recently, the penalties were not all that severe, even when fatalities were involved. It's been less than a decade since some maverick prosecutors have pushed for serious prison time. Even today, the sentences vary wildly from state to state, from probation to life in prison.

Right in Nassau County, Police Officer Danielle Baymack was drunk when she went driving with a friend. She crashed her car. Her friend, Marlene Rivera, a fellow police officer, was killed. Baymack plea-bargained with the judge, bypassing Kathleen Rice altogether. She got just one year.

In Los Angeles, actor Lane Garrison, one of the stars of the TV show "Prison Break," took three teenagers for a drunken ride in Beverly Hills. He smashed into a tree, killing 17-year-old Vahagn Setian and injuring two high school girls. His case went to trial.

Garrison served 18 months in prison. The prosecutor was angry that Garrison didn't get more time.

Katie Flynn's family is angry about all the light sentences being handed out. Her grandfather Chris Tangney, who was in the car that night, almost died in the crash. "They asked me if I would like last rites and the priest, that priest gave me last rites, and ironically, six months later, he was killed by a drunk driver in the Hamptons walking on the sidewalk. A woman, 44 years old. She mowed down this priest. I mean, they're killing us."

The priest was Monsignor William Costello. Karen Fisher, a repeat offender, was charged with manslaughter and is serving four to 12 years in prison.

"Is it difficult sometimes to obtain harsh sentences because so many people on the jury have, at one time or another, driven when they shouldn't have?" Simon asks Kathleen Rice.

"I think there is a lot of identification with the drunk driver, almost too much and we need, as a society, to identify first with the possibility that we could be a victim of this crime before we say, 'Wow, I can identify with the drunk driver.' We need that shift to occur," she says.

As for Martin Heidgen, his murder trial began a year after he ran into the Flynns' limousine, and the Flynns made sure they were at the courthouse every day.

"Just like some families decide they wanna forgive and ask for leniency, we were there for the opposite. I wanted that courthouse on top of him. I wanted him buried under the jail. I want him dead," Katie's father Neil says.

The trial took six weeks; Heidgen was convicted of second degree murder and sentenced to 18 years to life. The verdict sealed Rice's reputation as a leader in campaign against drunk driving. She has continued on the warpath: she pushed for and got new legislation passed in New York making it easier to get long sentences for drunk drivers who kill.

Kathleen Rice broadcasts her message wherever she thinks it will be heard. She regularly goes to high schools in her county and talks tough to students.

Her message to them is the same as it is to everyone in Nassau County and to everyone in the country: "And I can guarantee you one thing, that if you make the decision to drink and drive one of two things are going to happen. You're either going to end up dead or you're going to end up going to prison for a long, long time."
---

Martin Heidgen is filing an appeal, which he says is why he declined to talk to 60 Minutes. Meanwhile, District Attorney Rice prosecuted the case of another drunk driver who killed someone. He was also convicted of depraved indifference murder and got 25 years to life.

Produced by Catherine Olian
Thanks for reading CBS NEWS.
Create your free account or log in
for more features.