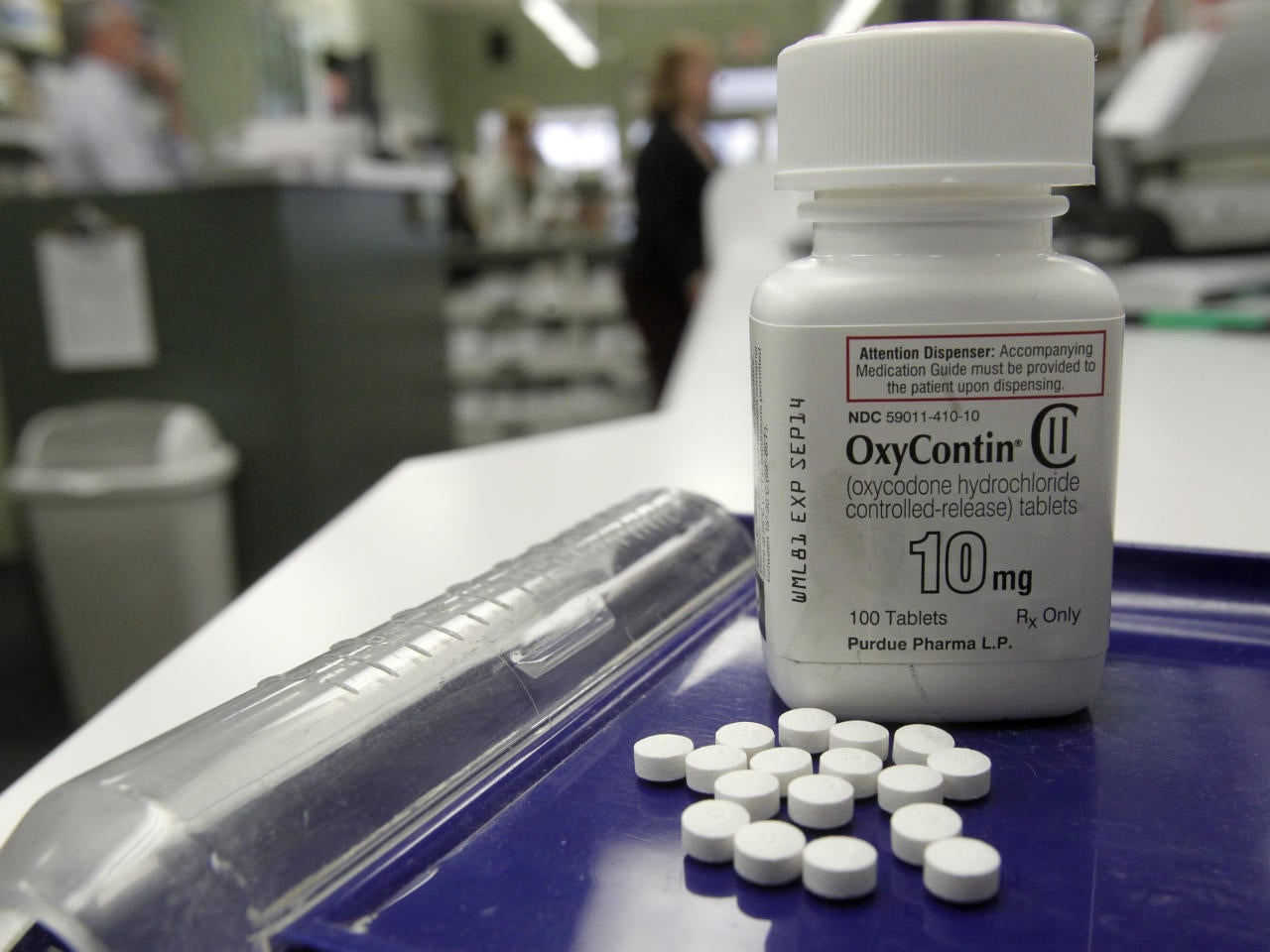 Drug companies flex lobbying muscle in fight against state opioid lawsuits
Drug makers and distributors accused of fueling America's opioid crisis will be in federal court in Cleveland next week. They are trying to negotiate a settlement as they face hundreds of lawsuits and potentially dozens more from the states -- with a flurry of maneuvering behind the scenes.
"Now I can enjoy every day that I live, I can really enjoy myself," said Johnny Sullivan, a patient Purdue Pharma profiled in a 1998 promotional video.
The video was video sent to 15,000 primary care doctors in 1998 from Purdue Pharma, the company that made $35 billion from the sales of the painkiller Oxycontin.
A pain specialist in the video also stated that "the rate of addiction amongst pain patients who are treated by doctors is much less than 1 percent."
The company says it corrected its marketing, and in 2007, it pleaded guilty to misbranding. But Ohio Attorney General Mike Dewine says the company continued deceptive marketing through 2014.
"It is very addictive and the drug companies knew that and they lied about it," he said.
More than 35 state attorneys general are investigating and negotiating with the opioid distributors and manufacturers in a group known as the "multi-state." But states like Ohio grew impatient with the slow pace of settlement talks.
So in May, Dewine sued Purdue Pharma, Endo Health Solutions, Allergan, Teva Pharmaceuticals and Johnson and Johnson. Eleven other states filed suit after Ohio. Purdue recently tried to persuade Dewine to drop Ohio's lawsuit and go back to the negotiating table.
"There's a lot at stake for them, so they have been very aggressive," Dewine said. "They've lawyered up. They've hired lobbyists."
It's a high-stakes, behind the scenes campaign to try and reduce potential damages. Donations from drug companies to political associations for state attorneys general have risen in the past three years, totaling almost $700,000 to Democrats and $1.7 million to Republicans. The contributions are legal, but they allow companies to gain access to the attorneys general at exclusive meetings, golf outings and high-end dinners where they can urge them not to sue.
Paul Nolette is a state government expert and a professor at Marquette University.
"Those under investigation are trying to influence the investigators by giving large amounts of money. They are not doing so out of the goodness of their heart," Nolette said.
Opioid manufacturers and distributors spent more than $100,000 to partially sponsor one meeting in San Francisco of attorneys general from western states. Last year, at a dinner at a Georgia resort, top corporate donors got "preferred seating" with attorneys general.
At a meeting last spring in Portland, Oregon, representatives from two opioid companies that had given the Democratic Attorneys General Association a combined $65,000 -- Mallinckrodt, which had given $50,000 and McKesson, which gave $15,000 -- got to speak on a panel, telling a group that they were not responsible for the opioid crisis, according to several attendees.
While there are nationwide rules for Congressional lobbyists, there are none when it comes to lobbying state attorneys general. Those lobbyists don't have to say how much they're being paid or with whom they meet.
"There's going to be real questions about whether that money ended up influencing how the AGs conducted their settlement," Nolette said.
Purdue Pharma declined our request for an on-camera interview, but released a statement saying:
"We are deeply troubled by the prescription and illicit opioid abuse crisis, and we are committed to working collaboratively with industry, policy makers and all other stakeholders to help solve this public health challenge. Although our medicines account for approximately 2% of total opioid prescriptions, for more than 15 years this company has led industry efforts to fight prescription drug abuse which includes collaborating with law enforcement, funding state prescription drug monitoring programs, and distributing the CDC Guideline for Prescribing Opioids for Chronic Pain. In addition, we've recently announced educational initiatives aimed at teenagers warning of the dangers of opioids and continue to fund grants to law enforcement to help with accessing naloxone."
We were given a statement from the Republican Attorneys General Association saying:
"Elected leaders have an obligation to the people they serve to hear from all sides. This means meeting with key stakeholders in industry, grassroots organizations, law enforcement, advocacy groups and of course - their bosses - voters. Republican attorneys general follow all required legal guidelines to have these conversations, and they will continue to have them because they are committed to advancing solutions that make our communities and states safer and stronger."
The Democratic Attorneys General Association said:
"It's important to keep in mind that over the past year and half as DAGA has grown from a part-time committee to a full-time professional team, we have seen an uptick in contributions across the board including unions, advocacy groups, industry, and business. Our fundraising has doubled in that time.
The powers of state AGs vary not only by state, but also in breadth, depth, and scope-and the challenges Democratic AGs face are complex, especially under this current Administration. That is one of the many reasons DAGA 2.0 is facilitating panels and conversations with not only just members, but also with policy experts, advocacy groups, and key constituencies to make sure different opinions and perspective are shared-and that our AGs are hearing from a wide variety of voices on the intricate issues facing their states."
Alex Derosier contributed reporting to this story.
Thanks for reading CBS NEWS.
Create your free account or log in
for more features.