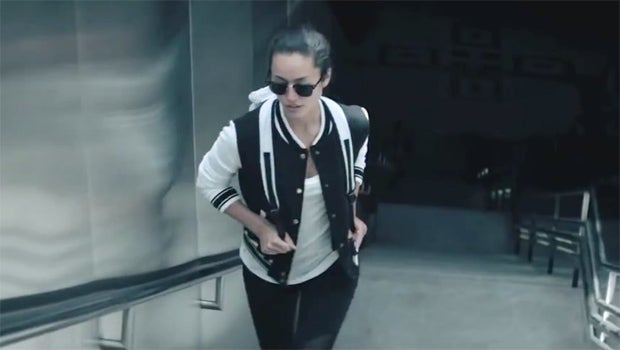 ​Dressing down: The rise of athleisure
High-tech textiles are just one of the factors that have made men and women stretch where they wear their workout wardrobe, as Martha Teichner reports:
Once upon a time there was "Casual Friday." Now, it's more like casual 24/7. In cities and suburbs coast-to-coast, for both men and women, you see it not just on the street but in offices. If a billionaire CEO like Mark Zuckerburg can wear his hoodie to work, why can't everybody else dress down?
Except now, it's about more than wearing jeans or something resembling pajamas; it's about workout clothes that have grown up.
With or without a body like Beyonce's, in or out of the gym, Americans (American women especially) have made "athleisure" the hottest thing in the apparel industry.
"As goes Beyonce, so goes, I would say, any number of trends," said Robbie Myers, editor-in-chief of Elle, which put Beyonce, wearing her own athleisure clothing brand, on its May cover.
"Being athletic and going to yoga or whatever it is you do, is actually a real part of these women's lives, and they like the way they look," Myers said. "They like the way they feel."
"What about people who never go near a gym, but wear athleisure?" asked Teichner.
"The idea that Americans want to be comfortable no matter what they do certainly, you know, has permeated the culture."
Where did it all begin? Myers has a theory: Jane Fonda's famous workout tape from 1982 -- athleisure way before it was called that.
In 1998 along came Lululemon, with premium-priced yoga apparel that took to the streets.
Which brings us to 2015. Americans spent nearly $44 billion on so-called "active wear," up 16% over 2014. Meanwhile, denim sales have taken a hit, down 5% or more every year since 2013.
Athleisure companies such as Fabletics have caught the wave.
"I think when we started, we realized pretty quickly we were onto something big, but it is very rare to be able to grow a business to $200 million in the space of 2 1/2 years," said Geraldine Martin-Coppola, general manager of the El Segundo, Calif.-based Fabletics, an athleisure line whose co-founder and inspiration is the actress Kate Hudson.
Her leggings? They were the leg-up that launched athleisure, for women anyway.
Shaun Kearney, head of design at Fabletics, says leggings is their bestselling item: "It's a core essential style that the company was founded on."
By updating their colors, textures and prints, Fabletics creates whole themed wardrobes. It's fast fashion -- from design to delivery in eight weeks.
Fabletics lives mostly online. Paying subscribers get discounts. New collections are released the first of every month, but with plenty of incentives in-between to lure shoppers.
"There's a ton of things happening with the community, with social media," said Kearney. "We have several million followers on Facebook. It's just been easier to talk to the customer."
The company has now opened seven retail stores as well. What you notice there, in addition to all the different ages and body types, is high-tech textiles.
Durand Guion, vice president for men's and kids fashion for Macy's, says the whole concept of performance fabrics in the athleisure revolution is "absolutely huge."
Showing off a jacket, Guion said, "That does everything from keeping you warm and keeping you cool and whisking away moisture."
Think fancy new synthetics, with sunscreen in them even. But the magic word is compression (meaning snug and stretchy).
And the magic name for leggings marketed to men is "compression pants." Why? "'Cause guys wouldn't buy them if they were called leggings," Guion laughed.
They wear them under shorts, but the biggie for men is the lightweight, slimmed-down sweat pant, now known as the jogger.
The influencers for men's athleisure are superstar athletes like Steph Curry, Lebron James and Russell Westbrook.
But athleisure has also made it out of the locker room and onto the runway.
Here's Alexander Wang for H&M:
"My real gut on this is that this is something that is here to stay," said Guion.
Elle's Robbie Myers agrees: "I don't think it's a fad."
"Totally not a fad, by any means," said Fabletics' Shaun Kearney. "It's a complete, complete lifestyle shift."

For more info:
Thanks for reading CBS NEWS.
Create your free account or log in
for more features.