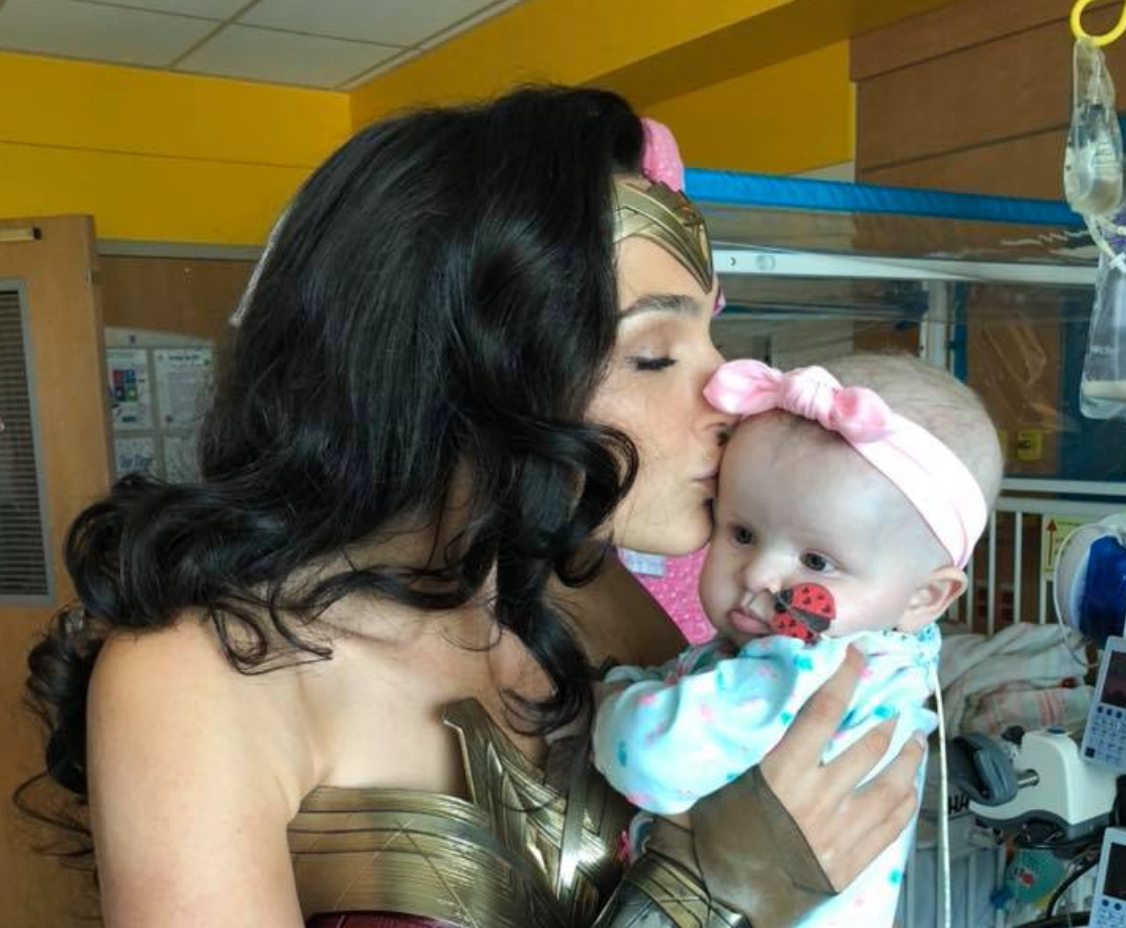 Dressed as Wonder Woman, Gal Gadot surprises kids in children's hospital
Wonder Woman herself, Gal Gadot, took a break from her duties in Washington, D.C. to visit a children's hospital in Virginia. She wasn't fighting crime in the nation's capital, she was filming the second installment of the superhero film franchise, "Wonder Woman 1984."
Wonder Woman is known for her "power, grace, wisdom, and wonder," as the film's tagline says, and Gadot adds a dose of kindness as well. Dressed in her full Wonder Woman suit, Gadot visited kids in Inova Children's Hospital in Virginia, CBS affiliate WUSA reports.
Gadot stopped to chat and take photos with patients and staff. She also brought toys for the kids and signed some autographs -- putting a smile on many people's faces.
Kelly Sahady of Sterling, Virginia, told WUSA the visit was a moment her family will never forget. Gadot held and kissed Sahady's 7-month-old daughter, Karalyne, who is being treated for an aggressive form of pediatric cancer called acute myeloid leukemia.
"I was in the room and I was talking to one of the doctors with my daughter in the middle of getting an IV antibiotic treatment and in walks Wonder Woman, fully costumed," said Sahady.
She texted her husband, "'OMG Wonder Woman was in here just holding Karalyne,' and he was like, 'Oh my gosh! I can't believe I missed it!' You know, sometimes they have people come through but it's never actually it's never actually the real celebrity."
Sahady told the station her family has been consumed by Karalyne's treatment since the little girl was diagnosed five months ago.
"After all this time being in there for so long, it was a real treat to have this happen," she said of the surprise visit. "Thank you. Thank you for taking the time out of your day to do this. You know we're fans for life now."
Several doctors and parents of hospitalized kids shared photos of the super sighting. "You are a true Wonder Woman," one doctor wrote.
Thanks for reading CBS NEWS.
Create your free account or log in
for more features.