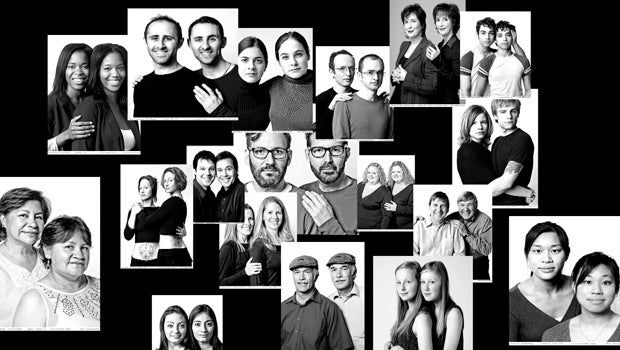 ​Double exposures: Photographing look-alikes
Seeing double comes with the territory at one photographer's studio. Anthony Mason shows us why:
When his subjects show up at a shoot in Atlanta, photographer Francois Brunelle sometimes does a double-take.
Brunelle is shooting a series of photographs on "doppelgangers." His subjects are not twins.

Charlie Chasen and Michael Malone are not even related. "Our mothers don't see the resemblance," Michael told Mason. "And when I met Charlie, I didn't see the resemblance, either."
Christy Walker and Stephanie Kazar aren't related, either.
"It's very rare you find your own twin," said Walker, who hails from Georgia; Kazar is originally from Ohio.
Lindsey Sampson and Ayanna Bryant didn't meet until they shared a room in college.
"The day I moved in, she walked into the dorm and my mom was like, 'Oh my God! She's your twin!'" laughed Bryant.
Mason said to Brunelle, "You could drive yourself mad" with his subjects.
"Yeah, I'm already mad, so that's fine," he laughed. "The mad Canadian!"
The 64-year-old photographer had the idea for the project after someone said he looked like the actor Rowan Atkinson's character, Mr. Bean.
He didn't see the resemblance at first: "Because until that moment I thought I was a little bit like Mr. Dean, James Dean!"
Then he had a dream: "I'll find two identical people, I'll bring them together, and then when they meet they will be in shock," Brunelle said. "And then I will take a picture of them. And that will be amazing to look at this picture. That was my dream!"
He's been photographing these dopplegangers for 14 years.
His first subjects, Canadians, he brought to his home studio in Montreal.
One couple looks like they could be brother and sister. Two girls -- born on the same day! -- though one's parentage is Hungarian, the other's from India.
Word about Brunelle's project began to spread over the Internet. He received emails from people all over the world -- the United States, South America, Europe, New Zealand.
"It's such a simple idea, but it's strangely powerful," said Mason.
"Yeah, and it's a total mystery to me -- I'm still amazed," said Brunelle. "I receive emails every day. I just received one today, and I see people still are fascinated by the idea."
"Have you found that people have a longing to have a double?"
"Some people, yes," he replied. "I get lots of email -- and you won't believe me -- from China, people asking me to find their look-alike. Because they have one-child family, they don't have siblings, don't have brothers and sisters."
He remembers one woman in particular from China who wrote, "Dear Mr. Brunelle, I saw your project. Would you please find my look-alike, so I feel less alone."
"People want some kind of connection?" asked Mason.
"Yes, I think so."
The government of Colombia commissioned Brunelle to shoot an advertising campaign to promote harmony. They found look-alikes who often were meeting for the first time during the shoot. The tag line of the campaign: "Let's choose to see what we have in common."
Studies have shown that unrelated people who look alike have no greater emotional connection than those who don't. But don't tell that to Ayanna Bryant and Lindsey Sampson:
"I really think that she was the ying to my yang," said Sampson. "Like, it's just really crazy."
"We are just so much alike," said Bryant. "We kind of the only two people who can tolerate each other ..."
"For long period of time!" they answered together.
"I just think we really were kind of meant to be friends," said Charlie Chasen. "I feel like we'll be friends forever, right? But at the same time, we'll be in a book where we're there forever."
Francois Brunelle's project is supposed to end with the book he plans to publish, but he says he has a problem: "If I would go photograph everyone that has written me, I would travel for years. But I want to photograph them all!"
So for now, the photographer continues to remind us how much alike we all really are.

To participate in the "I'm Not a Look-Alike!" project:
If you know a pair of doubles that can be put together for a photo, or if you are one of them, you can participate in the "I'm not a look-alike!" project by writing to Francois Brunelle at the email address info@francoisbrunelle.com. The information needed is the following:
Names of look-alikes
City and country of residence of the look-alikes
Emails or telephone numbers
Photos

For more info:
Thanks for reading CBS NEWS.
Create your free account or log in
for more features.