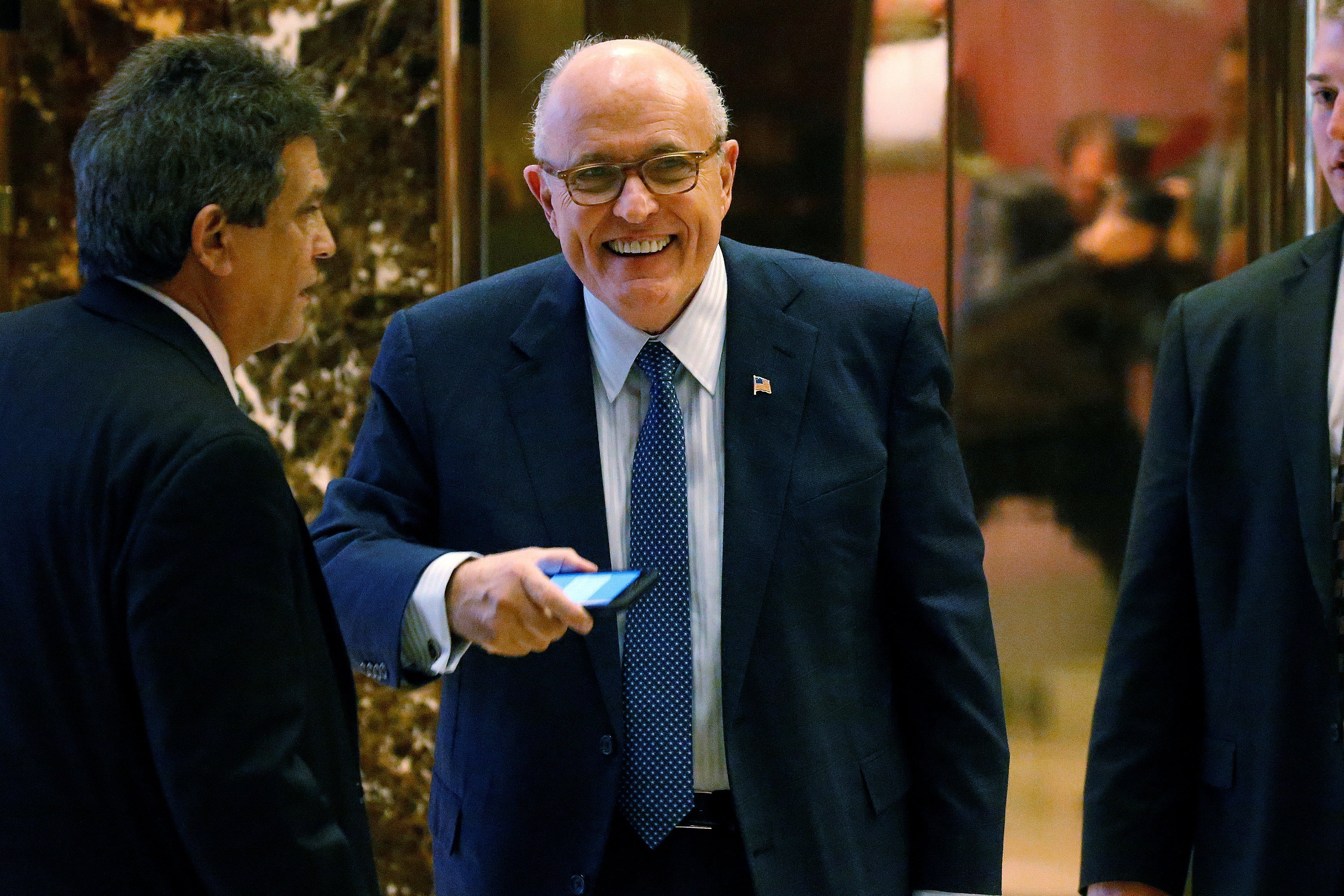 For Trump, Rudy Giuliani remains top contender for secretary of state
Former New York City mayor Rudy Giuliani remains the top contender to be the secretary of state in Donald Trump's incoming Cabinet, CBS News' Major Garrett reports.
Sunday's meeting in Bedminster, New Jersey between the president-elect and Giuliani, a longtime Trump loyalist, was the final one before the decision is made.
Giuliani, the 72-year-old former New York mayor, has never been elected to federal office, but he served as a federal prosecutor for six years in the 1980s, and Mr. Trump has praised Giuliani's strong law-and-order stance. As for his work outside the U.S., Giuliani has said that his past consulting work for foreign governments, in countries ranging from Mexico, El Salvador and Chile as to Qatar and Serbia, has given him foreign policy experience.
The possibility that Giuliani could represent the United States as its chief diplomat has even some Republicans worried, however. On CBS' "Face the Nation" Sunday, Kentucky Sen. Rand Paul slammed Giuliani for being "unrepentant" in his support for the Iraq war, saying he and another possible contender, Ambassador John Bolton, "haven't learned any of the lessons" from the Middle East conflict.
"I don't think they're very diplomatic," Paul said of Bolton and Giuliani, who will have to go through a vetting process and Senate hearing before they can be confirmed to a Cabinet post. "And I think you want the chief diplomat to be diplomatic."
Mitt Romney, the Republican presidential nominee in 2012, is also in the running to lead the State Department, according to several Trump surrogates and staff. The president-elect met with Romney Saturday in Bedminster.
Romney, a vocal critic of the Mr. Trump during the campaign cycle, spoke briefly with reporters following their meeting.
"We had a far-reaching conversation with regards to the various theaters in the world where there are interests of the United States of real significance," Romney said of Mr. Trump. "We discussed those areas and discussed our views on those topics."
Former CIA director and retired Army Gen. David Petraeus, the former head of Central Command, was also seriously considered for the top diplomat slot. Mr. Trump gave the matter serious thought, according to Garrett, consulting military advisers like Jack Keane and even News Corp. chairman Rupert Murdoch, who the president-elect has been in touch with frequently since his election victory.
Petraeus resigned his post at the CIA in 2012, following an extramarital affair with his biographer. The general also pled guilty to a misdemeanor charge of mishandling classified information while heading the agency.
Update: Former New York Mayor Giuliani called CBS News to demand clarification for a statement that appeared in this story. A previous version of this story said Giuliani "lacks federal government experience." However, though he has never held federal elected office, Giuliani was appointed associate attorney general by Ronald Reagan and also served as the U.S. attorney for the Southern District of New York from 1983 to 1989.
Thanks for reading CBS NEWS.
Create your free account or log in
for more features.