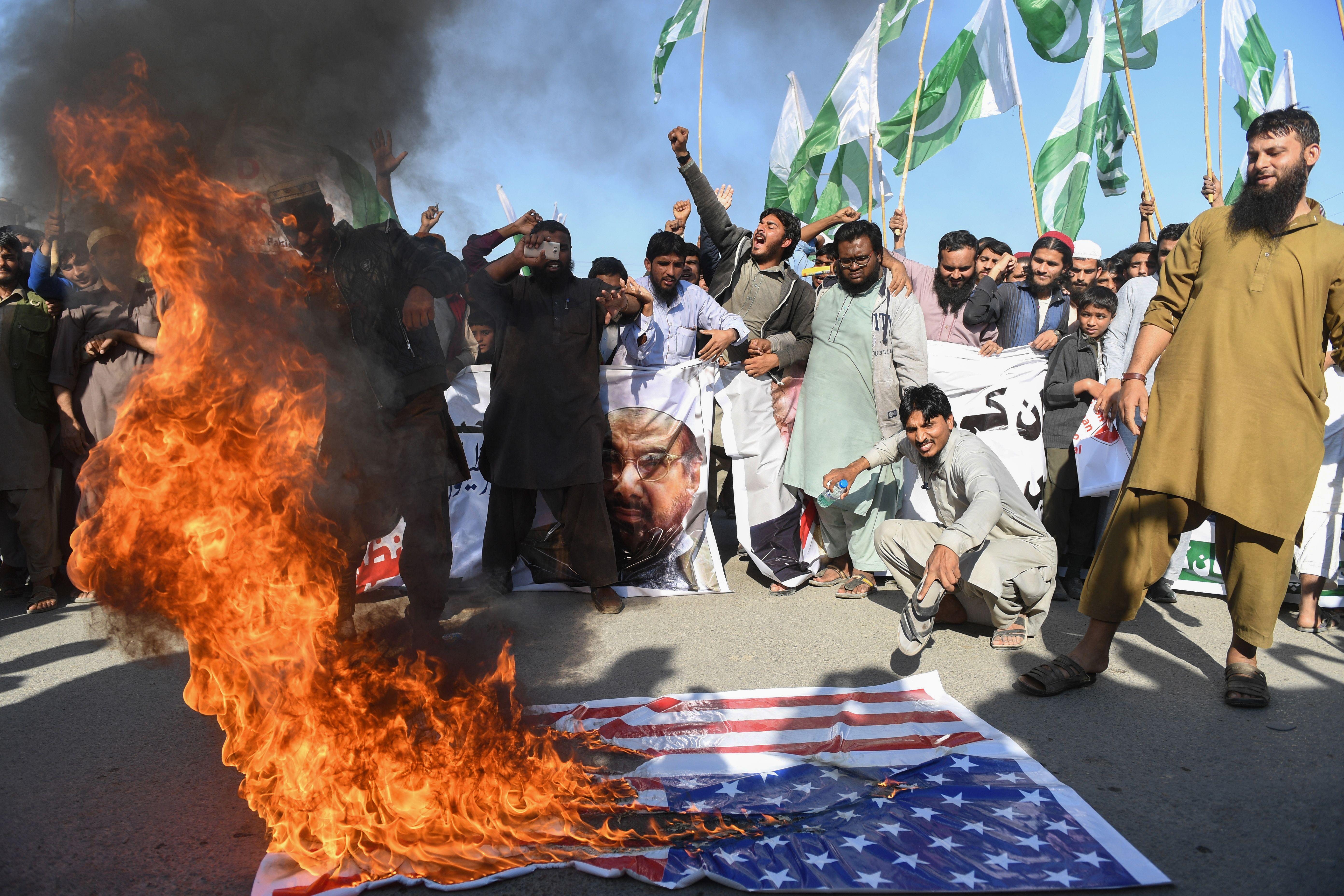 Trump's tweet on Pakistan's "lies" draws angry response
President Trump's New Year's Day lambasting of Pakistan on Twitter has drawn an angry response on the streets and an official summoning of the U.S. ambassador in Islamabad to demand an explanation.
The president began the second year of his presidency with confrontational tweets targeting Pakistan and Iran. He slammed Islamabad on Monday for "lies & deceit," saying the country had played U.S. leaders for "fools," by not doing enough to control Islamic militants.
"The United States has foolishly given Pakistan more than 33 billion dollars in aid over the last 15 years, and they have given us nothing but lies & deceit, thinking of our leaders as fools. They give safe haven to the terrorists we hunt in Afghanistan, with little help. No more!"
It was not immediately clear why the president decided to comment on Pakistan, or whether it could signal a shift in U.S. policy regarding the Asian nation. As recently as October, President Trump voiced optimism over relations with Pakistan, saying the U.S. was being "respected again" following Pakistan's compliance with a rescue operation that saw an American woman and her family released after years of captivity with a group linked to the Taliban.
Later on Monday, U.S. Ambassador David Hale was summoned to the Pakistani Foreign Office to explain Mr. Trump's tweet, according to Pakistani media reports.
A spokesperson for the embassy confirmed to the Reuters news agency that the meeting had taken place, but provided no details of the discussion.
On the streets of Karachi, meanwhile, scores of protesters hit the streets to voice their anger at Mr. Trump's rhetoric. The demonstration, organized by an umbrella group of religious-political parties, saw angry protesters burn an image of the U.S. leader and U.S. flags, as they chanted anti-American slogans.
Pakistan's Prime Minister Shahid Khaqan Abbasi was to chair a cabinet meeting later Tuesday focused on Mr. Trump's accusations, and on Wednesday the country's officials from across the military and civilian government were to meet to discuss fast-deteriorating U.S. ties, Reuters said.
According to a readout from a meeting of Pakistan's National Security Committee held on Tuesday, the body noted its "deep disappointment with some of the recent statements" by Mr. Trump.
The readout said in light of recent positive steps taken by the U.S. government, including Mr. Trump's efforts to achieving "durable peace and stability in Afghanistan" and recent "robust" visits by Secretaries Rex Tillerson and James Mattis, the president's tweets were "completely incomprehensible."
"They contradicted facts manifestly, struck with great insensitivity at the trust between two nations built over generations," the readout noted.
The Committee added that the president's comments "negated the decades of sacrifices made by the Pakistani nation – a nation that has contributed so significantly to regional and global security and peace."
The body said in light of Mr. Trump's comments, Pakistan would not respond "in haste" but instead would remain "committed to playing a constructive role towards an Afghan-led and Afghan-owned peace process."
The U.S. has long accused Islamabad of allowing militants to operate relatively freely in Pakistan's border regions to carry out operations in neighboring Afghanistan. In August, the United States said it would hold up $255 million in military assistance for Pakistan until it cracks down on extremists threatening Afghanistan.
Pakistani officials, including Foreign Minister Khawaja Asif, responded on Twitter that the country would make clear "the difference between facts and fiction."
Thanks for reading CBS NEWS.
Create your free account or log in
for more features.