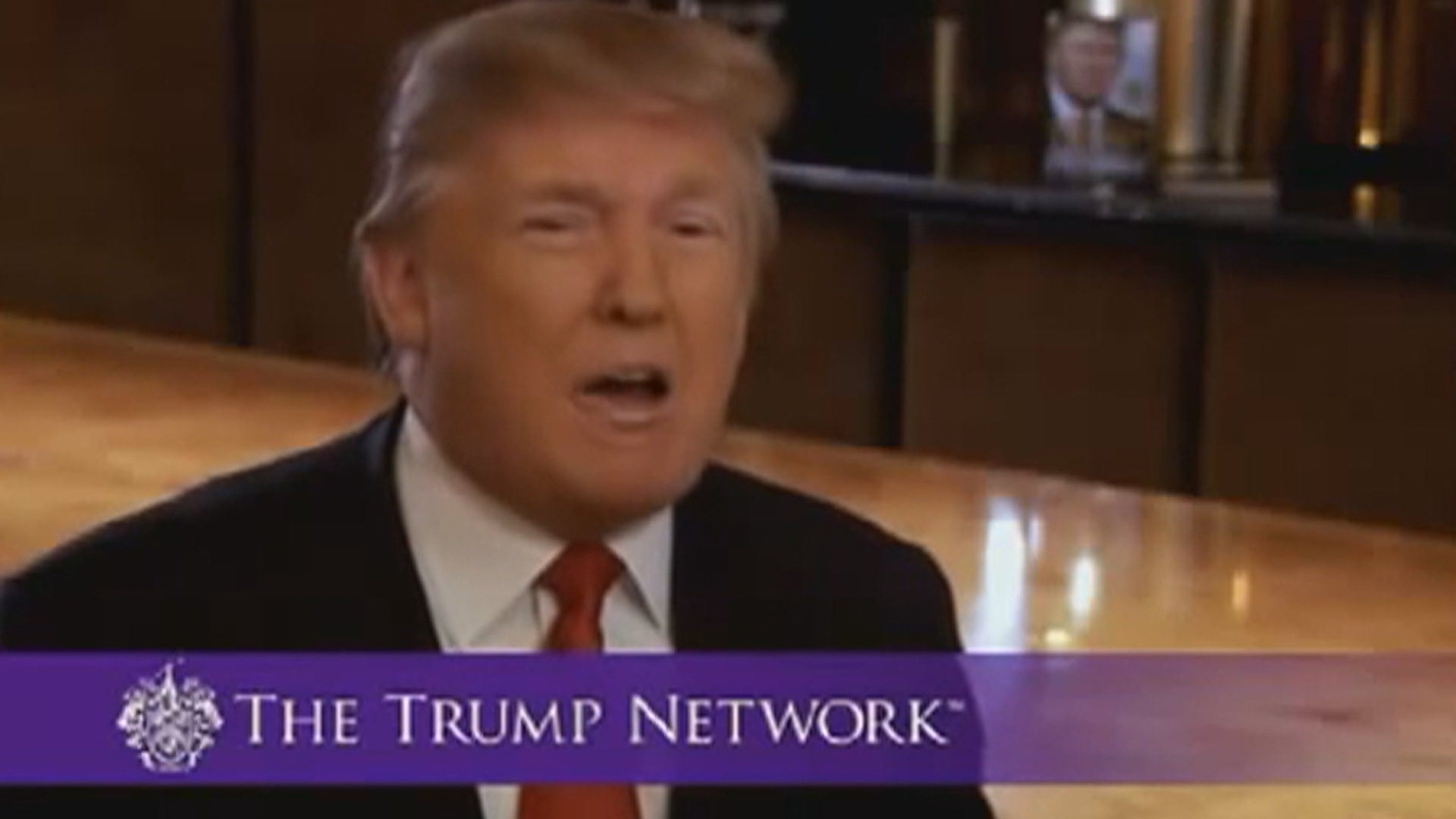 Behind the collapse of the "recession-proof" Trump Network
A CBS News investigation unravels controversy over a Donald Trump business venture. With the Trump Network, the billionaire pitched a "recession-proof" opportunity during the economic downturn in 2009. The Trump Network relied on participants to sell health supplements and other products, person to person.
The concept wasn't revolutionary. Companies like Mary Kay have sold products through what's called multi-level marketing for years. Those at the top tend to reap the most benefits. One person recruits three friends who recruits three friends, and so on down the line.
Beginner salespeople were told to buy a $497 "starter kit" of Trump products so they could get in on the soon-to-be billion-dollar business, reports CBS News correspondent Julianna Goldman.
"We thought it was going to take off," Eileen Kelley said.
Eileen and George Kelley are retired college professors who live in Florida.
"They were selling hope there to a lot of people in the middle of a recession," George said.
"I was sold on the product and the message and the testimonials -- and then of course Donald Trump coming on," Eileen said.
"The Trump Network wants to give millions of people renewed hope and with an exciting plan to opt out of the recession," Trump said in a promotional video.
A reported 20,000 independent sales representatives bought the Trump Network products and tried to recruit others to sell them too. But within two and a half years, the "recession-proof" business collapsed.
Eileen said they lost $10,000.
"I hate to see people taken in like that, like we were. I mean we're educated people, it's almost embarrassing," she said.
Trump was the company's top recruiter. He traveled the country for two years promoting the scheme, including a 2009 launch in Miami.
"When I did 'The Apprentice', it was a long shot. This is not a long shot, this is going to be something that's really amazing," Trump said at the time.
Trump sold his name and his brand for $1 million, according to a draft of the proposal from court documents.
The business was run by Lou DeCaprio and brothers Scott and Todd Stanwood. Their previous company, Ideal Health, which became the Trump Network, sparked some complaints to the Federal Trade Commission.
"Todd and Scott Stanwood and I have been diligent in our efforts to bring customized nutrition to all Americans," DeCaprio said in a Trump Network promotional video.
A key product was personalized vitamins, supposedly tailored to each customer, after they sent their urine to a lab for analysis.
"All of this is hocus pocus, and none of this is based on actual science," said Dr. Pieter Cohen, a Harvard expert on supplements.
"The test they are doing has nothing to do with their actual health, and matching their test results to the supplements is probably just a random guessing game rather than anything based on reality," Cohen said.
To push credibility in its marketing materials, the Trump Network suggested that another Harvard expert, Dr. David Ludwig, endorsed the products. But Ludwig said he never did. He said he was "mortified" when he found out his name was connected to the brand. He demanded and received an apology from the Trump Network.
CBS News contacted over 30 former sales reps for the Trump Network. Most said they believed in these products. But some told us when they look back at the fees they paid for conferences, trainings and products, they aren't sure they made any money at all. About half told us they still support Trump, but most said they were kept in the dark about looming problems in the company.
Trump declined our request for an interview. His attorney said he did not own the company or make the products. He also said Trump never endorsed the merchandise despite a letter signed by Trump saying, "I believe in the Trump Network products."
Eileen Kelley said she has delayed her retirement to pay off the debt from the Trump Network. And when she sees candidate Trump talking about how he will change America?
"I don't believe for a moment that he's going to change things. We've just went through it with him," she said.
Most of the marketers we spoke with blamed the owners for the network's demise. The three men later filed for bankruptcy and declined our request for an interview, citing confidentiality agreements with the Trump organization.
Additional reporting by Amel Guettatfi.
Thanks for reading CBS NEWS.
Create your free account or log in
for more features.