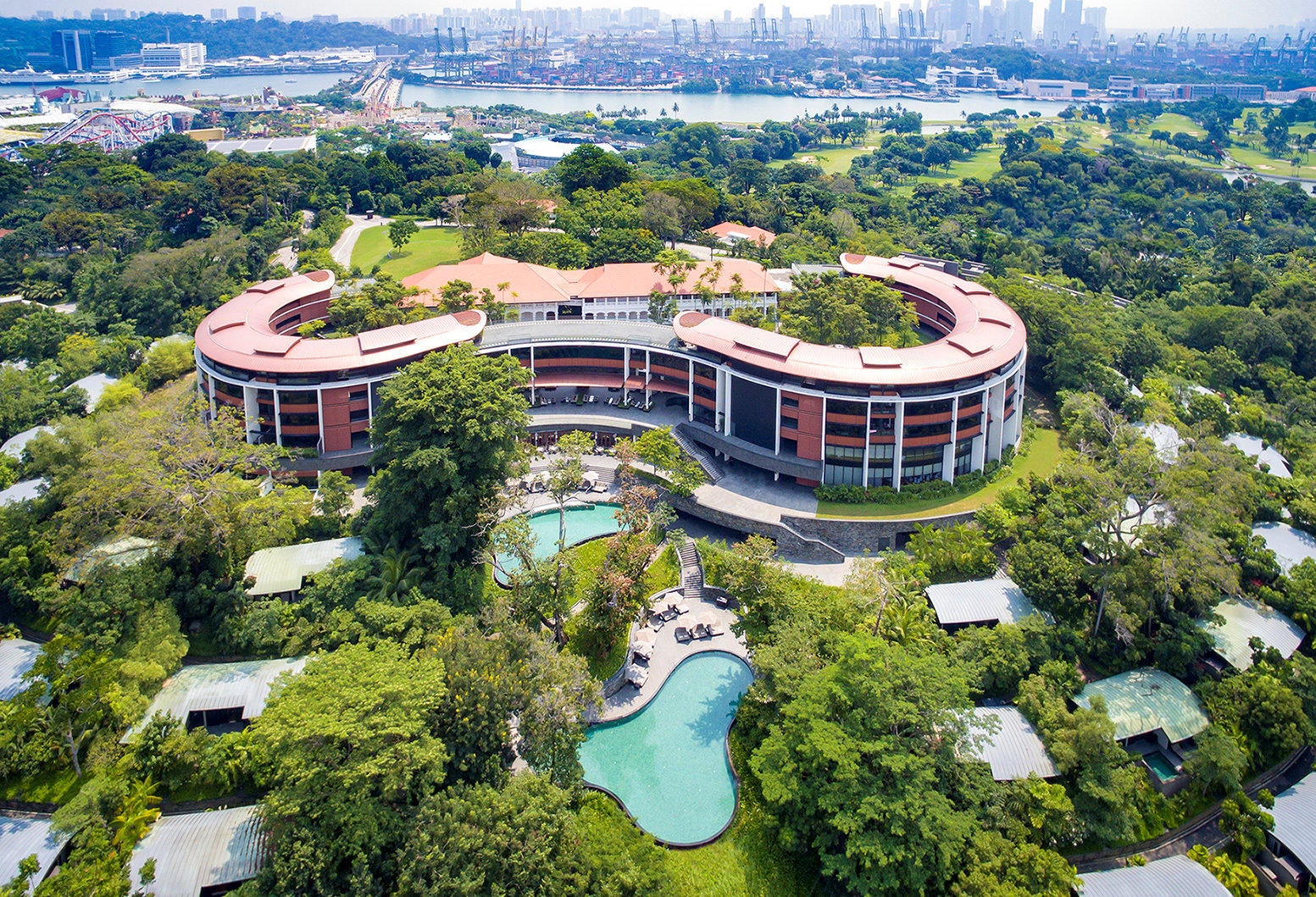 Location nailed down for Trump-Kim Jong Un summit
President Trump and North Korean leader Kim Jong Un will use a luxury resort for their nuclear summit in Singapore next week. The White House announced on Tuesday that the leaders will meet at the Capella Hotel on Singapore's Sentosa Island, an area known for its beaches, golf courses, and amusement parks.
White House press secretary Sarah Huckabee Sanders made the announcement in a tweet, thanking "our great Singaporean hosts for their hospitality."
Mr. Trump and Kim's highly anticipated meeting is scheduled for 9 a.m. local time June 12, or 9 p.m. June 11 on the East Coast of the U.S. It will come after a flurry of on-again-off-again action.
Mr. Trump hopes to secure a nuclear deal with the North Koreans, seeking for Kim to give up his nuclear program, though he stressed last week that the process would likely take longer than a single meeting.
The State Department's former special representative for North Korea, Joe Yun told a Senate committee on Tuesday that Mr. Trump shouldn't place the bar too low on his demands that North Korea denuclearize -- something he doubts Kim will agree to.
"They have not shown any signs in history they want to denuclearize," Yun told senators. "However, it is a hypothesis worth testing, that we push to the limit so that we can determine how serious it is."
Yun said he worries that a failed summit -- one which fails to yield any agreement between the leaders -- could lead to military action.
A former CIA analyst who has specialized in Korean issues during two administrations offered some advice for President Trump ahead of the summit: "Please listen to your advisers." Sue Mi Terry, now the Korea chair at the Center for Strategic and International Studies, told CBS News senior national security contributor Michael Morell on this week's episode of "Intelligence Matters" that the talks are "not something that we can wing, so please listen to your advisers. And read your PDBs (Presidential Daily Briefs)!"
Terry, whose written analyses at CIA were often included in the President's Daily Brief, said she would urge President Trump to spend time preparing for this meeting. The results of "winging it" could result in a lopsided deal, she said, one that gives up too much with too little in return, or worse, that paves the way for conflict.
"Obviously, if there is a conflict on the Korean Peninsula, it will be catastrophic," Terry said.
Located a quarter-mile off the coast of the city-state, Sentosa Island is known for its high-end beach hotels, golf courses and amusement parks. A U.S. advance team was spotted at the Capella Hotel last week meeting with North Korean officials in preparation for the summit.
International and U.S. aviation authorities have warned fliers that Singapore's airspace will be restricted during the summit. A notice published on the websites of the International Civil Aviation Organization (ICAO) and the U.S. Federal Aviation Administration (FAA), said temporary restrictions would be in place for parts of the day before, of and after the summit.
All flights arriving at Singapore's Changi Airport will have to fly in slower than usual and will face some restrictions on runway usage "for reasons of national security," according to the notice.
Aircraft failing to observe the restrictions "may be intercepted," it added.
Capella Hotel is known for luxury amenities, impeccable service and, above all, privacy for business and leisure. Two of the hotel's buildings were built in the 1880s for British officers based on the island.
On Tuesday evening, workers were painting a fresh coat on the façade, extra security was in place and red carpets were being rolled out at the hotel's two entrances.
Officials had also considered the Shangri-La Hotel, which hosts an annual international security summit and was the venue for a 2015 meeting between Chinese President Xi Jinping and Taiwanese President Ma Ying-jeou.
Mr. Trump is expected to stay at that hotel, which is near a major shopping district and less secluded than the island facility chosen for his meeting with Kim.
Thanks for reading CBS NEWS.
Create your free account or log in
for more features.