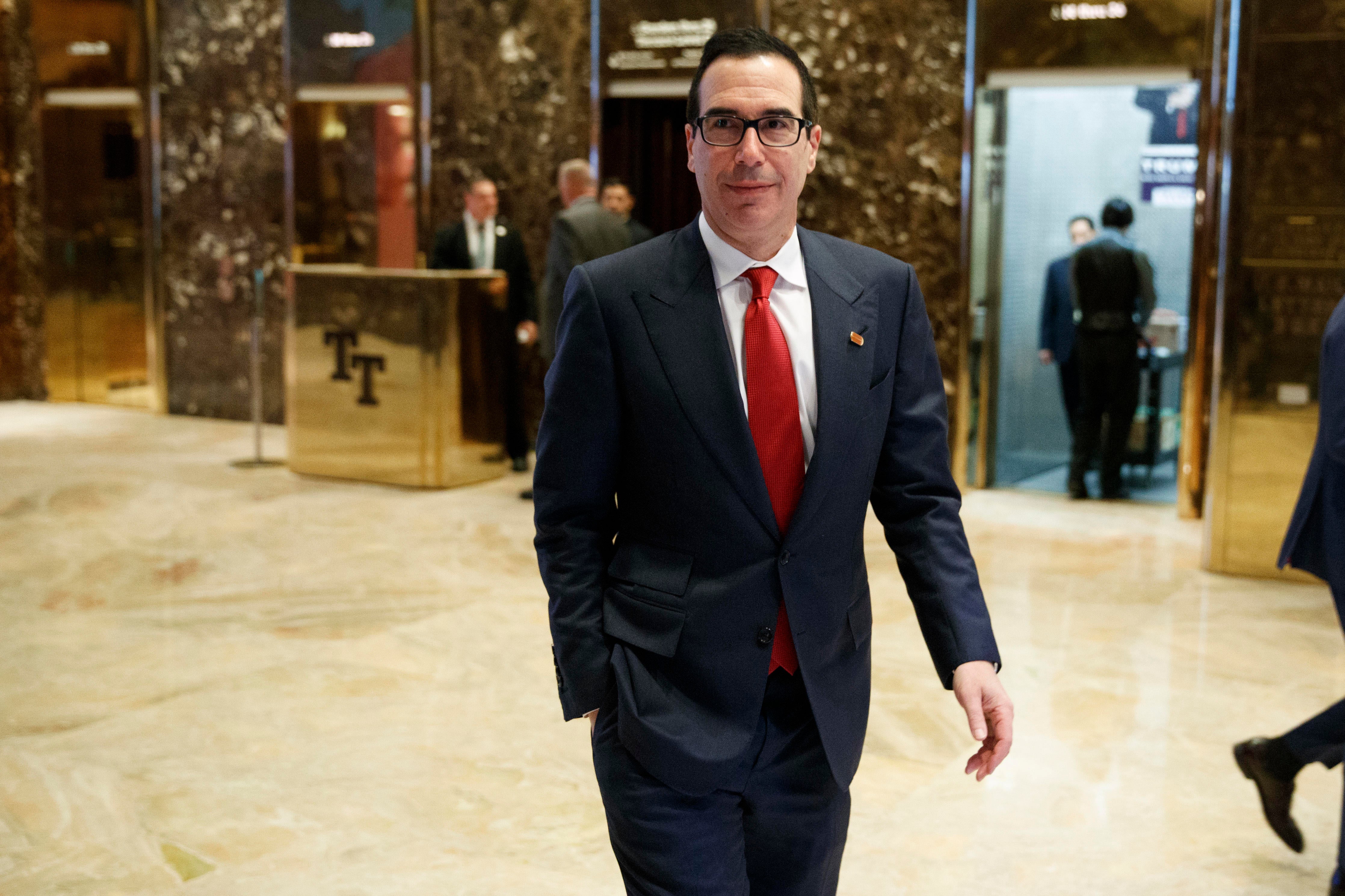 Donald Trump chooses Steven Mnuchin as treasury secretary
President-elect Donald Trump has selected Steven Mnuchin as his treasury secretary, his transition team announced Wednesday morning.
Mr. Trump praised Mnuchin as a "world-class financier, banker and businessman" in a statement.
"Steve Mnuchin is a world-class financier, banker and businessman, and has played a key role in developing our plan to build a dynamic, booming economy that will create millions of jobs," he said."His expertise and pro-growth ideas make him the ideal candidate to serve as Secretary of the Treasury."
In his own statement, Mnuchin said he was "honored" To have a role in the incoming administration.
"I understand what needs to be done to fix the economy," he said. "I look forward to helping President-elect Trump implement a bold economic agenda that creates good-paying jobs and defends the American worker."
Mnuchin spoke with reporters Wednesday at Trump Tower about his appointment and his priorities for the incoming administration.
"Our first priority is going to be the tax plan and the tax plan has both the corporate aspects to it -- lowering corporate taxes so we make U.S. companies the most competitive in the world, making sure we repatriate trillions of dollars back to the United States, and the personal income taxes where we're going to have the most significant middle income tax cut since Reagan," he said. He added that the administration intends to implement the president-elect's child care program, which Mnuchin predicted would be a "tremendous boon to the economy."
The decision to tap Mnuchin, who served as the national finance chairman of Trump's presidential campaign, for the top Treasury Department job has been widely expected since Mr. Trump won the race for the White House. Earlier this month, Mr. Trump's transition recommended Mnuchin for the post.
Mnuchin is a veteran of the finance world, spending 17 years at Goldman Sachs. He's also an interesting choice for Mr. Trump, given that he has donated more to Democratic candidates than Republicans in past elections. (In 2016, however, he gave almost entirely to Republicans, with the exception of Sen.-elect Kamala Harris in California.)
Others who were reportedly considered for the job include JP Morgan Chase & CO CEO Jamie Dimon and Rep. Jeb Hensarling (R-Texas).
Mnuchin is the latest in a flurry of post-Thanksgiving weekend Cabinet announcements from Mr. Trump. Earlier Tuesday, his team announced Rep. Tom Price (R-Georgia) as health and human services secretary, and Mr. Trump is expected to name former Labor Secretary Elaine Chao as his transportation secretary.
The treasury secretary is responsible for the important foreign policy tool of sanctions, through the Office of Foreign Assets Control, CBS News' Pamela Falk reports. And that means Mnuchin will have a say in Cuba and Iran sanctions as well as Ukraine and Russia sanctions, in addition to Syria and counter terror and counter narcotics.
The sanctions authority gives the treasury secretary the ability to add to or roll back Obama administration policies quickly, Falk added.
CBS News' Major Garrett, Reena Flores contributed to this story.
Thanks for reading CBS NEWS.
Create your free account or log in
for more features.