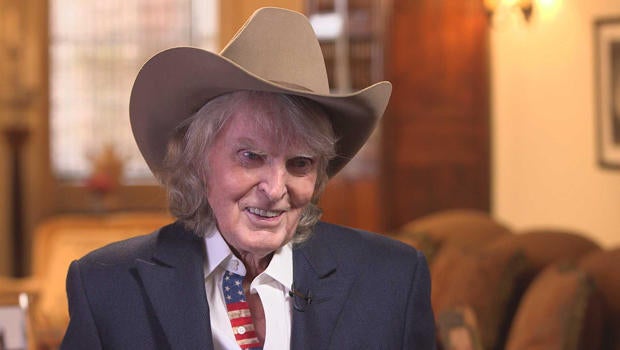 Don Imus: The sun sets on his morning radio show
The iron man of morning radio, Don Imus, is signing off after half a century behind the mic ... a tenure not without its controversies, as he reflects upon with Anthony Mason:
For fifty years, Don Imus been the flamethrower of morning drive -- a provocateur as outrageous as he's been influential.
"I wasn't trying to be outrageous," he said. "It's just the way I thought. My feeling was then, and is now, that if they didn't like what I did, get somebody else to do it."
And they did. He's been fired at least four times.
Mason asked, "Do you have any regrets?"
"A few. The Rutgers thing I regret."
"What do you regret about it?"
"'Cause I knew better."
The "Rutgers thing" happened in 2007. Imus tossed off a flip, bigoted remark about the women's basketball team ("That's some nappy-headed hos there!") that lost him his syndicated radio show on CBS, and his TV show on MSNBC.
"It did change my feeling about making fun of some people who didn't deserve to be made fun of, and didn't have a mechanism to defend themselves," he said.
But by the end of 2007 he was back on the radio -- another comeback in a career full of resurrections. "Dick Cheney is still a war criminal," he told an audience upon his return, "and I'm back on the radio!"
Mason asked, "Why do you think that is?"
"I'm not full of sh*t," Imus replied. "If I've done it, I'll own up to it. And then I have some sorta weird relationship with the audience. I think they saved me most of the time."
"Because they were still out there?"
"Yeah."
But this week, after five decades of rising before dawn to talk to America, Imus will go off the air.
He lives on a sprawling ranch halfway between Houston and Austin. Imus drove Mason, in his Bentley, down to the arena he built for his 19-year-old son, Wyatt, who's become a champion rodeo rider and calf roper.
Mason asked Imus, "You gonna spend more time at the rodeos now?"
Wyatt replied, "He went to every single one, in junior high, high school, first year of college."
"Is he a big critic?"
"Oh, no. He's really cool, calm and collected all the time," Wyatt replied, smiling.
Retirement for Imus and his wife, Deirdre, will be here at the ranch they brought about four years ago:
When asked if her husband is ready for retirement, Deirdre replied, "It's about time, don't you think? Frankly, I'll miss it a lot, 'cause I've listened all these years, every single show, since I met him in 1992. I met him on the air."
They married in 1994, and set up the first Imus ranch, a summer camp for kids suffering from cancer.
Don Imus was raised on a ranch in Arizona with his brother, Fred. He aspired to be a singer, and even made some records with Fred. To get them radio play, he applied to be a DJ. That led to his first jobs in California, where he posed as a National Guard sergeant on air and ordered 1,200 hamburgers to go from McDonalds.
In less than three years, the irreverent young DJ had made it to WNBC in the number one market, New York.
"I listened to what was on in New York and I thought, 'Man, this is gonna be easy!'" he laughed.
He was an overnight sensation. In the '80s, "Imus in the Morning" evolved into a talk show, attracting the high and mighty. More than 100 stations syndicated his broadcast, and by the 1997, Time magazine named him one of the most influential people in America.
When asked if he liked having that kind of power, Imus said, "Power to do what?"
"Shape opinion."
"No, but I never had any agenda like that at all."
Then came the Rutgers remark: "There wasn't anything I could do to take it back."
In a late-night meeting, he apologized in person to the team. Talking to the players, he said, was "one of the greatest things I ever did in my life. They were there, their parents were there, and I sat and listened for four or five hours. And there was nothing I could say other than, 'I'm sorry,' and promise them that I would never give them a reason in their lifetime to be sorry that they forgave me. And I haven't."
With that gesture, he hoped he'd redeemed himself.
"Do you think of yourself as a DJ, as a radio guy, as a broadcaster?"
"Radio guy," he said. "One of the best ever. One of the best five ever."
"Who else would you put up there?"
"[Arthur] Godfrey. Jack Benny. Wolfman Jack. I would put [Howard] Stern in there."
Imus worked with Stern at WNBC in the '80s … but not always happily.
Mason said, "Some people would be surprised that you put him in there."
"He had a big problem with me. I didn't have any with him."
"It means a lot to you to be in that group?"
"Nobody's ever done what I've done. Ever. Done this for 50 years, making a lot of money. Only person's that's won more Marconis than me is Paul Harvey. What was he on, three minutes a day? Stop it! Come on!"
He's 78 now, and battling emphyzema. But if Don Imus is sentimental about giving it all up, he doesn't show it ... until he talks about his audience.
"I always had it in my head that I was talking to one person," he said. "I felt that when I walked in there and sat down and turned the mic on, that I was talking to you. I'm gonna miss that."
"What is it you'll miss exactly?"
"Well, I can get emotional about that, so --"
"Okay."
"Well, I don't want to, but I mean ... I hear a new song or a new book or I remember when John Lennon was shot. So, stuff like that. Tell them that my brother died or ... just somebody to talk to. It's not the same as talking to my wife."
"Why is it different?"
"I'm not sure. I'm gonna miss that a little bit."
"Sounds like you might miss it more than a little bit."
He shrugged. "Well, we'll see."

For more info:

Story produced by Gabriel Falcon.
Thanks for reading CBS NEWS.
Create your free account or log in
for more features.