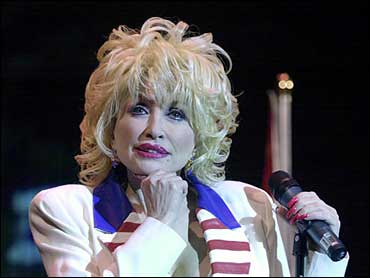 Dolly Parton Unwigged? Never!
Few stars revel in the superficiality of celebrity glamour and then pop its pretensions the way Dolly Parton does.
Parton was all dolled up like an American flag to publicize her Dixie Stampede theater in Orlando, which opened to the public Thursday.
Her high heels matched her red and gold hoop earrings. The sleeves of her tight, white leather dress were blue, covered with white stars, and the front of the dress was striped in red and white. Her lips were covered in ruby red lipstick, her eyes lined heavily. Her golden locks were feathered.
As she sat next to NBC television weatherman Al Roker in folding chairs last week, talking up the attraction, a horse from her Dixie Stampede show trotted up.
"Give me a kiss," she puckered up to the horse on national television. But when the horse got too friendly and nipped at her hair, she giggled in mock alarm, "Don't pull my wig off."
Although Parton is known for saying, "It costs a lot of money to look this cheap," there is one unbreakable rule behind her nudge-nudge, wink-wink attitude of "I'm famous and I know this is all fake." With the exception of her husband, Carl Dean, hardly anyone gets to see what's behind all the cosmetic artifice of one of the most down-to-earth celebrities.
"Part of the magic is that I look so totally artificial but I am so totally real," said Parton, 57.
She would never step outside the house without the wig and makeup, she joked, "unless my husband is dying of a heart attack, and even then I would think about it."
"It's important because I don't want someone to see me and be disappointed," she said. Then she cracked, "What they're seeing reflects the phony that I am."
Even Ted Miller, her business manager for years, has never seen Parton without a wig and makeup.
"Nor will I ever," Miller said. "Dolly is Dolly. She never steps out unless she's complete."
He added, "She may sleep in it. I assume Carl Dean has seen her not in full-regalia."
Parton's outlandish look was born of a country girl's idea of glamour and has survived four decades in show business. She started wearing the wigs years ago because her fine hair wouldn't do what she wanted it to do when it was teased and dyed.
"But then it got to be fun for me, a conversational piece," she said. "But this is how I think I look the best. I'm not a natural beauty, and this is just the look I chose."
It's a look that requires high maintenance, although she claims she can get into it in less than a half hour if necessary. Her childhood friend and personal assistant, Judy Ogle, whom Parton calls "Sissy," constantly is by her side, ready to swipe away a misplaced hair or add more makeup.
It's a look that makes her look 15 years younger than her actual age. It's also a look that belies the fact that she is one of music's most prolific songwriters, author of "I Will Always Love You" and "Coat of Many Colors," and an astute businesswoman worth hundreds of millions of dollars.
In fact, it's business that brings her to Orlando on a cloudy summer day. The $28 million Orlando theater of her Dixie Stampede dinner show is the fourth location for the show, a cross between a Las Vegas revue and a rodeo.
Parton also owns a publishing company, two television and movie production companies and Dollywood, a theme park in eastern Tennessee. She is releasing a new album, "For God and Country," in September and an album of her songs recorded by other female singers will be released the following month.
She also is planning to play movie star Mae West in a television movie. The role will give Parton a chance to try out some new wigs. At any given time, she has about a dozen wigs handy.
During a news conference for the opening of the Dixie Stampede in Orlando, Parton acknowledged that her look may come off as cartoonish to some people. But she said she hopes people see past the surface.
"I hope people see the brain underneath the wig and the heart beneath the boobs," Parton said.
By Mike Schneider
Thanks for reading CBS NEWS.
Create your free account or log in
for more features.