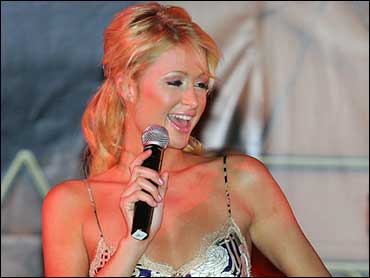 Does Paris Invite Negative Attention?
Paris Hilton is always surrounded by photographers who are eager to capture her raucous ways. On Wednesday night, they hit a goldmine and took photos of the heiress in handcuffs being arrested for DUI.
Although her spokesman Elliot Mintz says "she had one drink," police say she was driving erratically and when pulled over at a Hollywood intersection had a blood alcohol level of .08, which is considered legally intoxicated. Within hours of her release she called into a radio show hosted by Ryan Seacrest and laughed it off.
She also said that "everything I do is blown out of proportion and it hurts my feelings." But US Weekly magazine's Katrina Szish said there is no excuse for driving under the influence and that Hilton has invited the media to be obsessed with her.
"We didn't know her until she started throwing herself in front of the camera, wearing micro-mini skirts, and then she got noticed because she wanted to," Szish said. "This is something she brought upon herself and, let's face it, she thrives on it. This is what makes Paris Paris."
Szish said that people shouldn't allow the latest Paris incident to feed into her party girl image, because driving under the influence is actually a serious charge.
"It scares me she might get away with this without people considering it a big deal," she said.
Hilton's rep, Elliot Mintz, told The ShowBuzz Thursday that Hilton is prepared to face any consequences for the arrest.
"These things, obviously, are never pleasant: a visit to the police department, having your picture taken and all that business. She certainly did not take it in a lackadaisical manner," said Mintz. "There is no humor involved in any of this. Whereas we certainly don't view it as the crime of the century, the fact of the matter is that it is inappropriate for people to drink and (drive) and she regrets having done what she did and she'll face the consequences."
Hilton has become a pop culture icon, Szish said, and negative things don't really affect her. For example, the British graffiti artist Banksy doctored some of her CD covers and changed some song titles advertised on a sticker to read "Why am I Famous?" "What Have I Done?" and "What Am I For?"
"Really, he made her part of the pop cultural fabric, even though it was a negative thing to do," Szish said.
In June, she backed her range rover into another car. In August she was bitten by her exotic pet. Hilton is also notorious for her spats with other starlets such as her former best friend and "Simple Life" co-star, Nicole Richie, as well as singer and actress Lindsay Lohan.
"She seems to have brought high school back to Hollywood," Szish said. "It seems like all these girls are always fighting, somebody is always in a snit with someone else, someone is always talking meanly about someone else. It's interesting how Hollywood, all the A-list girls have become girls, not women."
Thanks for reading CBS NEWS.
Create your free account or log in
for more features.