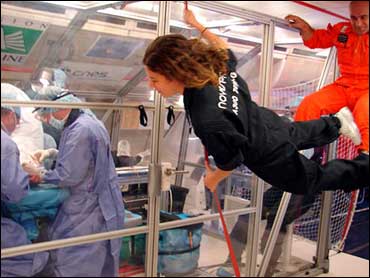 Doctors Perform Zero-Gravity Surgery
A French medical team hailed as a success pioneering surgery on a man in near zero-gravity conditions on a flight looping in the air like a roller coaster to mimic weightlessness.
The five-man team of doctors and a patient landed safely Wednesday at an airport in southwest France after a three-hour flight, but the mid-air surgery to remove a cyst from the man's arm took only about 10 minutes.
Chief surgeon Dominique Martin said the near zero-gravity operation, the first ever on a human, was not technically difficult, but was aimed at breaking a barrier in medical expertise. The experiment is part of a broader effort to develop robots for future surgeries from a distance, in space or on Earth.
The surgery went "exactly as we had expected," Martin told reporters near Merignac airport, outside Bordeaux.
"The purpose of our work was to make spatial surgery comparable to the terrestrial surgery," he told reporters.
The medical team was strapped down to the walls of a Airbus 300 Zero-G plane as it looped up and down in a total of 25 roller coaster-like maneuvers, called parabolas.
"All the anesthetic material was strapped to a tailored structure and all the instruments were fixed to an operating table with powerful magnets," Martin told the French daily Liberation, adding that two surgeons were standing by to continue the operation in case he was overcome by sickness.
Each dive, creating conditions close to weightlessness, lasted 22 seconds, and the doctors operated during those intervals only.
The operation, announced Monday by Martin and the French National Centre for Space Studies, is part of a project backed by the European Space Agency that aims to develop earth-guided surgical space robots.
"The goal is to create a prototype for the International Space Center or a future lunar station," Martin told Liberation. "Because today, in case of an emergency up there, an intracranial hematoma, for example, we don't have a response."
The patient, Philippe Sanchot, was chosen because he is an avid bungee-jumper, and accustomed to dramatic gravitational shifts, said a spokeswoman for the Bordeaux hospital where Martin works.
Sanchot and the six-member medical team underwent training in zero-gravity machines, much like astronauts use, to prepare for the operation.
Asked after the operation whether the sensations during the flight felt peculiar, Sanchot said "well, apparently it's a world premiere so yes."
The cyst removal operation was chosen because it is relatively simple and involves a local aesthetic, Martin said, adding that the procedure was mainly used as a "feasibility study" for possible surgery in space one day.
Martin and his team became the first doctors to perform microsurgery under zero-gravity conditions in 2003, mending the artery in a rat's tail, an operation far more complex than Wednesday's operation.
Thanks for reading CBS NEWS.
Create your free account or log in
for more features.