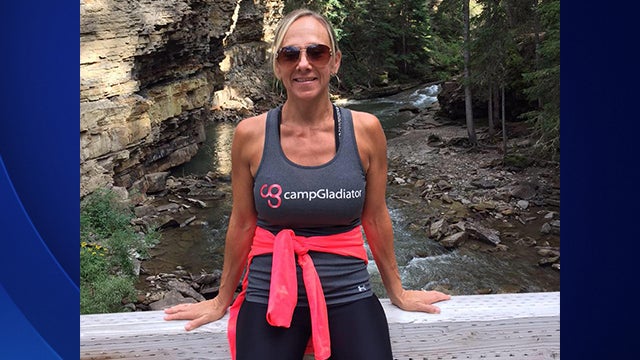 Docs: Church murder victim received "creepy" LinkedIn message
MIDLOTHIAN, Texas -- The fitness instructor found murdered inside a Texas church last month received a "creepy" LinkedIn message in the days before her death, new search warrant documents reveal. The warrants also say Terri "Missy" Bevers, 45, was having marital and financial problems, and that messages between her and her husband referred to extramarital affairs.
Previous police documents revealed the mother of three died of multiple puncture wounds to her head and her chest at the Creekside Church in Midlothian on April 18. Bevers was seen on surveillance video arriving at the church at 4:18 a.m. She was scheduled to teach a fitness class at 5 a.m. Less than an hour later, she was found dead.
Her suspected assailant was also seen on surveillance video walking the hallways of the church early that morning, using a hammer to break windows, while wearing a helmet and tactical gear. Bevers' wounds were "consistent with tools the suspect was carrying throughout the building," documents said.
Police have not said if they have suspects in the case, although they previously indicated that there was a list of persons of interest.
The new warrants seek Bevers' communications over LinkedIn, a social networking service for professionals. The documents say she was a regular user of the site. Less than three days before her murder, a friend told law enforcement, Bevers showed the friend a private Linked In message she had received.
The message "was from a male unknown to them both, and they both agreed that the message was creepy and strange," the warrant says.
The friend told police she couldn't recall the name on the account from which the message had been sent.
The warrant also says police contacted a "person of interest" who admitted communicating with Bevers over LinkedIn -- beginning in January up until the time of her death -- in messages that "ultimately turned flirtatious and familiar."
Police were able to recover only a portion of the messages using cell data because they had been deleted. The communications they recovered, according to the warrant, appeared "intimate in nature."
In another new warrant requesting cell tower data, police say that Bevers may have been in communication with her killer. The warrant alleges the suspect may have used a cell phone to check social media for workout schedules Bevers posted and possibly to record Bevers' murder.
Police also obtained warrants for cell information for several members of the Bevers family and others. Those documents say several phone messages uncovered by investigators confirm tips of financial trouble, struggles within the Bevers' marriage and extramarital affairs. They say police have received several tips on the possible identity of the suspect pictured in tactical gear in the surveillance footage -- some of them specific as to the person's build and walk. Police say the suspect had a "feminine sway" and a walk that may indicate an injury to the right leg or foot.
Police have said they haven't been able to determine the suspect's gender.
A previously released warrant revealed that authorities seized a blood-stained shirt that Bevers' father-in-law dropped off at a laundromat. He told police it was the result of a fight his dog had with another dog.
The Oak Farms Dairy has offered a $10,000 reward for information leading to an arrest and grand jury indictment of the person or persons responsible.
Thanks for reading CBS NEWS.
Create your free account or log in
for more features.