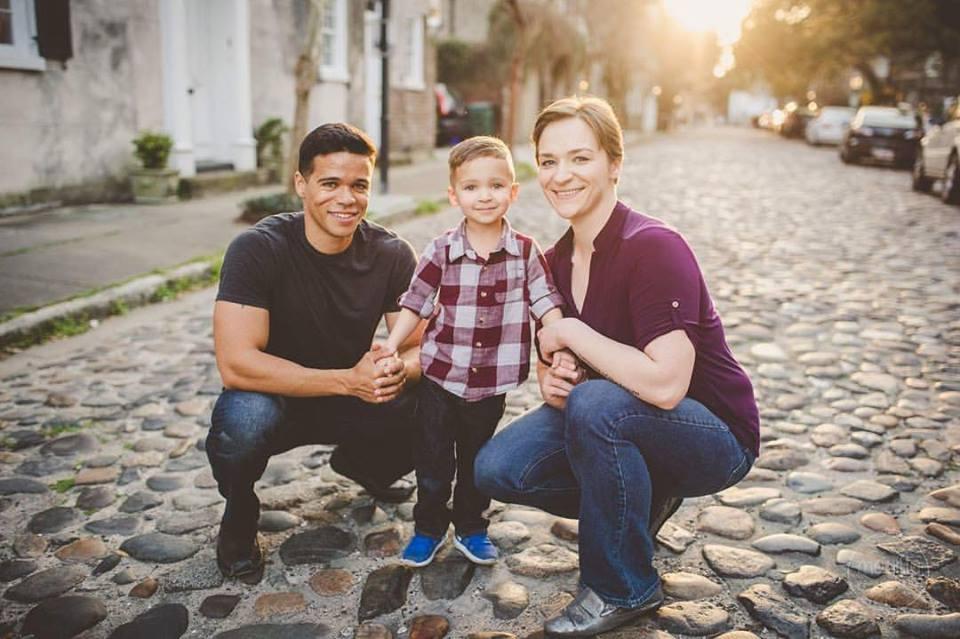 Divorced couple still takes a family portrait every year for their son
When children grow older and look back on their lives, they often turn to family portraits as the physical proof of their evolution and that of those they love. There are loving moments preserved forever, and moments we all love to laugh at, with silly grins, awkward poses and siblings in cheesy matching outfits.
But for most children of divorce, these family portraits cease the moment their parents separate.
That, however, will not be the case for Bruce Dyson, the adorable little boy in the photos below. Though Bruce's parents divorced shortly after his second birthday, they made a promise to continue taking portraits every year as a family.
"The top two photos were taken when Adam and I were married. The bottom two, taken nearly one year and over two years after our divorce was finalized," Bruce's mom, Victoria Baldwin, wrote in a now-viral post on the Love What Matters Facebook page. "We are not in love, we don't always agree, we're not best friends, sometimes we don't even like one another. But you know what we are? We are forever connected because of our beautiful, smart, kind, compassionate, funny son."
Baldwin tells CBS News that she and her ex-husband, Adam Dyson, weren't always amicable after their separation. However, she quickly realized that the tension between them was hurting their son and decided to turn it around for him.
"We had a heated discussion in front of our son, who sat crying at my feet," she recalls. "And I realized the next day I was more focused on hurting his dad than I was on comforting Bruce crying. I knew that wasn't the example I wanted to set."
So, Baldwin booked a photo session for herself and her son, then asked Adam if he wanted to join. He did, and they decided to take a family portrait, in addition to their individual photos with Bruce. And now, they've turned the family portrait into an annual tradition.
"Some people have taken the time to say I am confusing Bruce, giving him false hope that we will work it out," Baldwin tells CBS News of the sporadic negative comments amidst all of the supportive ones she's received since her post went viral.
Other naysayers have speculated that the well-intentioned tradition will likely stop once either Victoria or Adam find new partners.
"We both agree we'll continue it," Baldwin tells CBS News. "We think a step-parent or longterm partner would be welcomed and would be an addition to Bruce's life. I have ended potential relationships because they questioned intentions or the quality of Adam and my relationship. We aren't romantic, but we respect one another. I won't be with someone who wouldn't accept that."
Baldwin's own parents separated before she turned two, and she says that she has not a single photo of the three of them together as a family... not with her as a child nor an adult. She does not want that to happen to her son.
"Adam and I are not perfect co-parents, but we made a deal when we got divorced, to put our son first and to value the richness that we each bring to his life, for different reasons," she writes. "So yes, we still have a family portrait taken, and I still pay good money to have the images printed, framed, and placed in our son's bedroom; he may not grow up with parents who live in the same house... but he will grow up to see respect, kindness, empathy, compassion, perseverance, flexibility, and even sacrifice being modeled by both of his parents and he will know it is possible to fall out of love but never fall apart."
Thanks for reading CBS NEWS.
Create your free account or log in
for more features.