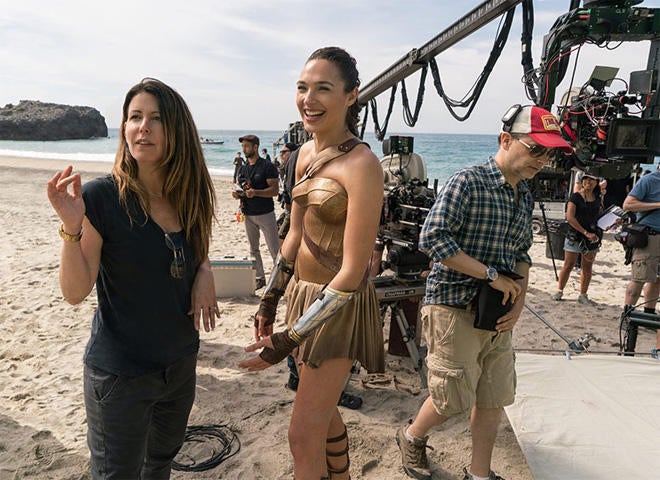 Report documents "an inclusion crisis" for women in Hollywood
"Wonder Woman," the biggest hit of the summer, is that rarity: a Hollywood studio film -- an action movie, at that -- directed by a woman. But according to a new study of diversity in front of and behind the camera, its success may not foretell a change in the depiction of women on screen.
Only one of this weekend's top 10 non-animated movies was directed by a woman, and fewer than half of them are led by female actors.
A new study from USC Annenberg's School for Communication and Journalism, "Inequality in 900 Popular Films: Examining Portrayals of Gender, Race/Ethnicity, LGBT and Disability from 2007-2016," examines equality in the film industry. Researchers looked at the top movies annually, and more than 39,000 characters, to measure any changes in diversity over the past decade.
Professor Stacy Smith, a co-researcher of the study, told "CBS This Morning" they studied every speaking character -- from those who utter one word all the way to the film's protagonist -- and looked at a variety of characteristics: gender, race/ethnicity, LGBT and characters with disabilities.
Less than a third of all speaking roles, they found, went to girls and women -- a gender ratio of 2.3 males to every one female.
"The needle is not moving for females on screen in films," Smith said.
There was also what she called an "epidemic of intersectional invisibility." Among last year's top 100 films, 45 did not feature even one female black speaking character on screen; 66 were devoid of Asian females, 72 did not feature any speaking Latina characters; and more than 90 were lacking any LGBT characters.
"We like to say we don't have a diversity problem; we actually have an inclusion crisis, on screen and behind the cameras," Smith said.
Smith said that despite the success of female-driven content, such as Oscar-nominated "Hidden Figures" (which grossed $169 million domestically), the animated "Moana" ($248 million), or this summer's biggest film, "Wonder Woman," directed by Patty Jenkins (which has grossed about $400 million), the lack of women in decision-making positions means on-screen presence has seen little change.
"Half of the box office audience is women; 49 percent [is] people of color. You would think, why are we leaving money on the table?"
According to the USC Annenberg's "Inclusion or Invisibility? Comprehensive Annenberg Report on Diversity (CARD) in Entertainment" (February 2016), there are few women at the upper echelons of power in Hollywood -- those who have the authority to hire and to green-light projects. And that lack of diversity spreads throughout the creative fields.
The latest study finds that last year, among content creators, women represented 4.2 percent of directors, 12.2 percent of screenwriters, and 20.7 percent of producers. Among composers, only 1.7 percent were women.
And of the 900 films measured from the past decade, only three were directed by African-American women, two by Asian women, and one by a Latina. "We really see that there's exclusion when it comes to who's getting to call the shots," Smith said. "They're not getting the opportunity. And our findings present a pretty condemning portrait of exclusionary and discriminatory hiring practices."
Last year, of the top 100 films, only 34 featured a female lead or co-lead. Smith blames in part a habit of decision-makers who link the gender, race and ethnicity of the film's lead character to the director. "It gives female directors fewer opportunities" to be considered, she said. "Women aren't on the consideration list."
By contrast, their 2016 study found that in short films and independent features directed by women, there were more girls and women on screen, more female leads, more women age 40 and over, and more racial and ethnic diversity.
Thanks for reading CBS NEWS.
Create your free account or log in
for more features.