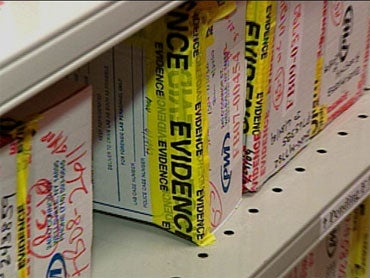 Disturbing new evidence of backlog of untested rape kits
There are still more than 9,000 untested rape kits in crime labs in five major U.S. cities, according to information obtained by the national group Joyful Heart Foundation.
The backlog includes more than 2,800 untested kits in San Diego, California; nearly 2,000 in both Jacksonville, Florida and Portland, Oregon; more than 1,300 in Kansas City, Missouri; and more than 1,000 in Charlotte, North Carolina.
Federal estimates indicate that there are probably hundreds of thousands of untested kits nationwide.
Meanwhile on Tuesday, Michigan officials announced that state law enforcement agencies would bolster resources to bring charges connected to the testing of thousands of rape kits that were found in a Detroit police storage facility in 2009.
A Senate committee will hold a hearing Wednesday in an effort to end the backlog.
In 2009, CBS News reported that investigators often ignore DNA evidence collected from victims in sexual assault kits. Thousands of these rape kits have gathered dust for years but the CBS News report and subsequent coverage have helped persuade some police departments to begin testing them.
Some cities like Memphis, Cleveland and Detroit have chosen to tackle their backlog by securing new funds to test and then prosecute the DNA hits they find. In Ohio they tested 9,000 kits and they found 490 cases connected to serial rapists according to the state crime lab. There are signs that attitudes and resources for testing kits are changing.
Last fall, CBS This Morning reported that Seattle only tested 22 percent of their rape kits. Since that story aired, Seattle announced they will test all of their kits, and just last week, the Washington state governor signed a law saying that all rape kits collected in the state are to be tested within 30 days.
Thanks for reading CBS NEWS.
Create your free account or log in
for more features.