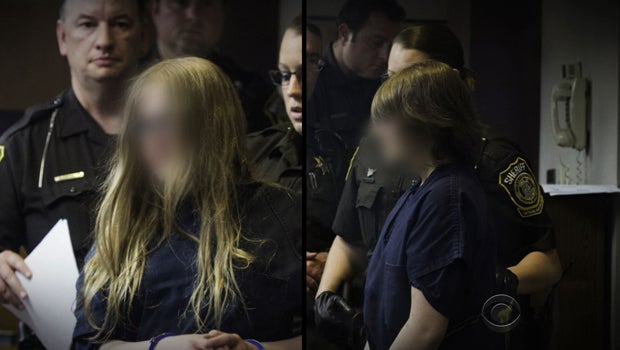 Disturbing finds revealed in Slender Man stabbing case
WAUKESHA, Wis. - Disfigured Barbie dolls and alarming drawings with scrawled phrases such as "I love killing people" and "I want to die!" were found in the bedroom of a Wisconsin girl accused of stabbing a friend repeatedly in order to please the fictional horror character Slender Man, a private investigator testified Tuesday.
David Janisch, an investigator working for the defense, said he found "numerous notebooks and pieces of paper with drawings and writings pertaining to the Slender Man character and involving death" in the bedroom of one of the two suspects, who was 12 at the time of the crime last May and is now 13, along with a number of disfigured Barbies.
Some of the sketches shown in court Tuesday included notes such as "not safe even in your house" and "I can never die. He is alive." Some of the Barbie dolls found in the room were missing their hands and feet and had been marked with a Slender Man symbol.
Janisch said the items were found in the girl's closet and that the girl's parents were present when the discovery was made. He said they did not appear to have knowledge that these things existed and that they became visibly upset upon seeing them.
The revelations were made during a preliminary hearing at which Anthony Cotton, a defense attorney for the girl, argued that the case should be moved to juvenile court on the grounds that his client is mentally disturbed and believed she had to kill to protect herself and her family from the fictional Slender Man character.
Cotton's client is accused along with another girl, age 12, in the near-fatal stabbing of their schoolmate and friend, Payton Leutner. Court documents allege the suspects lured Payton to a park in the Milwaukee suburb of Waukesha on May 31, 2014 and stabbed her 19 times.
Prosecutors have said the defendants, who are each charged as adults with attempted first-degree murder, plotted to kill Payton for months. Both girls were found competent to stand trial by a judge.
According to a criminal complaint, the accused said they plotted to please Slender Man - a mythological creature they learned about online.
Each of the alleged attackers faces up to 65 years in prison if tried in adult court and convicted. In juvenile court, the girls could not be held beyond age 25, according to the Associated Press.
Also Tuesday, clinical psychologist Deborah Collins testified that the now 13-year-old defendant told her and others at a mental health facility that she had a relationship with Slender Man and other fictional characters, like Lord Voldmort, the villain in Harry Potter, reports CBS affiliate WDJT.
Collins said the girl never wavered in her belief in the fictional character.
"When you ask [the 13-year-old] what if Slender Man doesn't exist, she can't tolerate that," Collins testified. "She becomes somewhat oppositional and says she knows it's true and it can't be proven untrue, so it's true."
Tuesday marked the second and last day of the preliminary hearing. On Monday, police detectives testified that both girls believed they had to kill their friend in order to protect themselves and their families from Slender Man.
The judge said he would make a decision on March 13 on whether the case will be moved out of adult court.
CBS News is not naming the girls accused in the case because of their young ages.
Thanks for reading CBS NEWS.
Create your free account or log in
for more features.