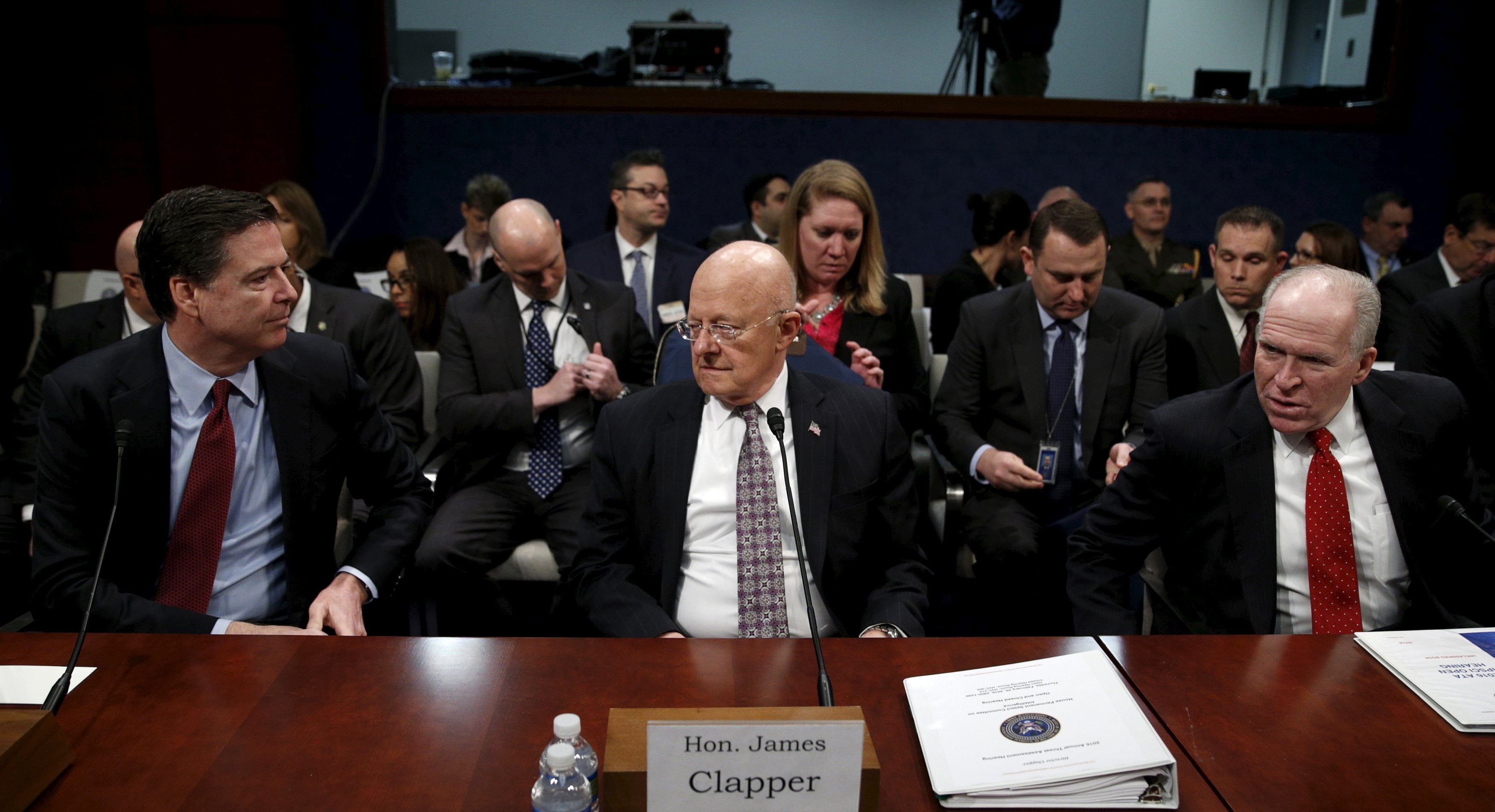 Comey: Dispute between FBI, Apple "hardest question I've seen in government"
FBI Director James Comey on Thursday told Congress that the current dispute between his agency and Apple over trying to access one of the San Bernardino attacker's phones is "the hardest question I've seen in government."
He made the comment at a House Intelligence Committee hearing focused on worldwide threats, with Director of National Intelligence James Clapper and CIA Director John Brennan testifying alongside him.
"I think conversation and negotiation is the key to resolving this," Comey told lawmakers.
Comey said the FBI has two roles to play: to conduct an investigation into the San Bernardino terrorist attack that left 14 people dead in December using "whatever lawful tools are available to us." The other is to ensure that people understand "the costs associated with universal strong encryption."
While Comey said there are benefits to encryption and privacy, he also argued that law enforcement needs information to protect the public, which they often access through court orders that are search warrants, including of mobile devices. He warned that if they lose access to that information, there could be consequences.
"If we're going to move to a world where that is not possible anymore, the world will not end, but it will be a different world than where we are today and where we were in 2014," he said.
The FBI has demanded that Apple help unlock the encrypted iPhone that was used by Syed Farook, one of the San Bernardino attackers, but Apple refused a court order last week issued by a federal magistrate judge that directed the company to override security features on his phone.
Apple CEO Tim Cook said Wednesday that it would be "bad for America" if his company complied with the FBI and said he's prepared to take the dispute all the way to the Supreme Court.
Apple has claimed that the software the FBI wants it to create doesn't exist, and if it is developed, it could make iPhones susceptible to hacking by authorities or criminals in the future. In other words, this dispute has broad implications in the debate between privacy and security.
But the FBI has maintained that its request is very narrow and only applies to Farook's phone.
"The San Bernardino litigation is not about us trying to send a message or establish some precedent," Comey said.
If the FBI prevails and Apple is required to create the requested code, one lawmaker asked about the concern that the code "gets out in the wild" for criminals and terrorists to potentially steal.
Comey, however, said that the code the judge has directed Apple to write would only be compatible with the phone at issue and the idea that the code could be hacked "is not a real thing."
Thanks for reading CBS NEWS.
Create your free account or log in
for more features.