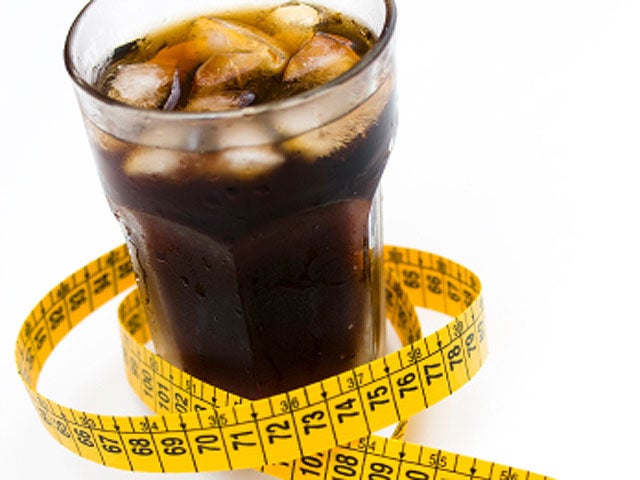 Diet soda may hurt the heart
Older healthy women who consume two or more diet drinks per day are at higher risk for heart attack, stroke and other cardiovascular problems, according to a new study presented this week at the American College of Cardiology's 63rd Annual Scientific Session in Washington D.C. These women were 30 percent more likely to experience a cardiovascular event and 50 percent more likely to die from a disease associated with heart problems than women who rarely -- or never -- drank artificially flavored beverages.
The study of 59,614 post-menopausal women is based on data from the Women's Health Initiative Observational Study and is, thus far, the largest study conducted on heart health and diet beverage consumption. The researchers used questionnaires to assess consumption of diet drinks over the prior three months, and then administered a follow-up questionnaire a year later.

The researchers categorized the women into four groups based on the number of 12-ounce size beverages regularly consumed: two or more diet drinks a day, five to seven diet drinks per week, one to four diet drinks per week, and zero to three diet drinks per month.
The researchers then followed up with study participants approximately nine years later. They found cardiovascular problems -- including coronary heart disease, congestive heart failure, heart attack, coronary revascularization procedure, ischemic stroke, peripheral arterial disease and cardiovascular death -- occurred in 8.5 percent of women who drank two or more diet drinks per day, which amounted to a minimum of 14 beverages per week. Heart-related health issues occurred in 6.9 percent of women who consumed less than half the amount per week.
Over the last decade, an increased awareness of the dangers of refined sugar has led the popularity of diet beverages. Between 1999 and 2010, diet drink consumption increased from 17.8 percent to 21.2 percent for women and 13.9 percent to 19.0 percent for males, according to the Centers for Disease Control and Prevention. The National Health and Nutrition Survey estimates that currently about 1 in 5 Americans drink some type of diet beverage each day.
However, other research suggests one's intentions to avoid refined sugar from beverages may still result in many of the same health problems. Studies have found diet drinks can elevate one's risk for metabolic syndrome, which is associated with weight gain and an increased risk for diabetes. And other researchers believe artificial sweeteners may activate reward centers in the brain, which causes people to overeat.

Ankur Vyas, a fellow at the University of Iowa Hospitals and Clinics and lead researcher of this new study, said he plans to conduct further studies on how -- and why -- diet drinks impact heart health. To fully understand this phenomenon he needs to examine a more diverse population.
"It's too soon to tell people to change their behavior based on this study; however, based on these and other findings we have a responsibility to do more research to see what is going on and further define the relationship, if one truly exists," said Vyas in a press release."This could have major public health implications."
Thanks for reading CBS NEWS.
Create your free account or log in
for more features.